Russell Westbrook: Breaking down stats from triple-double streak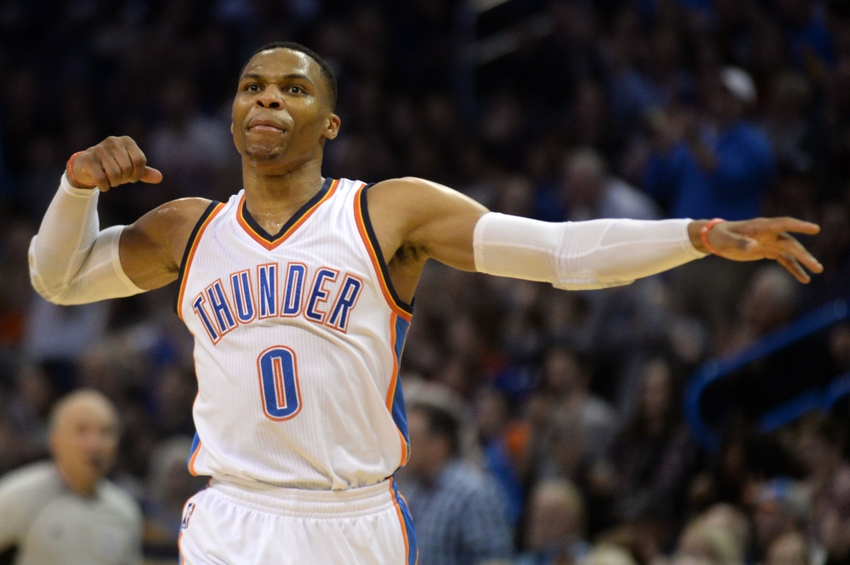 Russell Westbrook is on a 6-game consecutive triple-double streak. Diving into his stats points to the possibility for a season of historic proportions.
A month or so ago, Thunderous Intentions brought you 'Russell Westbrook: The stats from an incredible start to the season'. Now, with his new streak  the point guard could be on the verge of breaking another record thanks to his run of triple-double performances.
Russell Westbrook is recording a triple-double every other game. To wit, the point guard has registered 11 such markers out of 21 appearances.  Presently, Westbrook is averaging 31 points, 11.3 assists and 10.9 rebounds per game.
History in the making:
The six-foot-three Westbrook is currently on a run of six consecutive triple-doubles, leaving him tantalizingly close to equaling a record going into Friday's match with the Houston Rockets.
If Westbrook is able to extend the streak against James Harden and co., then he'll equal Michael Jordan's record from 1989 of seven consecutive triple-doubles. Although Jordan was the last to record that many in a row, it's a record he shares with the infamous Oscar Robertson, who did so in 1961.
Should Westbrook join that elite club, he'll have his eyes firmly set on the late Wilt Chamberlain's All-Time NBA record of nine in-a-row. The Hall of Fame center accomplished this feat in 1968.
Within a week's time we'll know whether he will manage to break the near 50-year strong record. Clearly, he will have made a noble effort in this regard.
Begin the slideshow to examine the stats behind Westbrook's historic run.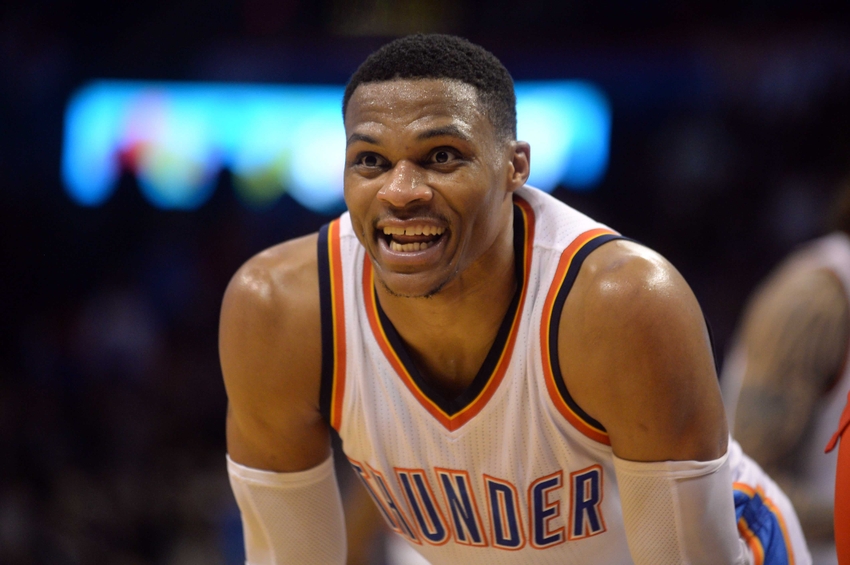 The Victims:
Nuggets:
Russell Westbrook's first triple-double of his six-game run came on November 25th, in the Thunder's 132-129 overtime win over the Denver Nuggets. But, the start of his streak could easily have started a couple of games sooner.
With 31 points, nine assists and 11 rebounds in the loss against the Sacramento Kings, the point guard was just one assist short of a triple-double. In the game prior, against the Los Angeles Lakers he lacked just two rebounds.
Pistons:
Looking ahead from the Denver game, Russ went on to grab 17 points, 15 assists, and 13 rebounds against the Detroit Pistons. That was his lowest scoring triple-double of the season.
Knicks:
Westbrook followed that up with another impressive performance, this time at Madison Square Garden against the New York Knicks. To put how rare Westbrook's accomplishment is into perspective, this eighth triple-double surpasses what the Knicks franchise have cumulatively achieved since the early nineties. (as per Royce Young of ESPN)
Westbrook has eight triple-doubles this season, with the rest of the NBA combining for eight. The Knicks, by comparison, have had seven triple-doubles as a franchise since 1992.
Wizards:
Against the Washington Wizards, the guard attempted 35 shots, the most he has taken since his career-high 44 back at the start of the season. He did grab a return of 35 points however, which is his highest tally over this six-game run.
In the month of December, so far, Westbrook has averaged exactly 30 points per game, converting exactly ten attempts at the bucket in each game.
Pelicans and Hawks:
Westbrook registered 28 points, 12 assists and 17 rebounds against the New Orleans Pelicans, before producing 32 points, 12 assists and 13 rebounds against a struggling Atlanta Hawks squad Monday evening.
Standing in the way of 10 consecutive triple-doubles are the aforementioned Rockets, Boston Celtics, Portland Trail Blazers, and Utah Jazz.  If he successfully continues the streak through these games the historic night would occur next Wednesday, December 14.
A detailed look at the stats
Field Goal Percent:
Despite puffing out the stat board with impressive numbers, Russ has in fact been less lethal with his shooting on this six-game run. The guard has successfully shot just 39% percent from the field across the run, which is lower than his season average of 42% percent.
Perimeter Shooting:
Furthermore, his three-point conversion has been incredibly mixed during the streak. Against New York he converted on two of three attempts. Prior to that,  he converted zero out of five attempts versus the Pistons .
In fact, across the four consecutive triple-doubles at the end of November, Russ shot above 50% percent on just two occasions. In the other two he was well below that marker. Russ has scored a total of 33 points from deep across the six games, out of a possible 102.
Charity Stripe:
With regard to free throws, Russ has been fairly consistent. Over the six games he has registered 48 points from the line out of a possible 59. That's a steady 80% percent conversion, which sits around his career average.
Boards:
Despite this, the former UCLA man is still the league's highest rebounding guard. Consequently, Westbrook's six-foot-three frame sits among the likes of Kevin Love and Anthony Davis on the charts.
More from Thunderous Intentions
With 85 of his 239 boards coming from the last six games alone, Russ is averaging just over 14 per game across the hot-streak. Last season Westbrook grabbed a total of 626 rebounds from 80 appearances. This season he's well on course to grab at least 750 rebounds with an upper ceiling of 800.
Assists, Fast Break Points and Usage:
Russ' streak has him leading the NBA in fast-break points per game with 6.8. Additionally his usage percentage is now up to 40.2% percent, a league-high figure. In fact, he sits ahead of both Joel Embiid and Anthony Davis, despite the latter leading the league in average points scored.
Westbrook is currently averaging 61.3 passes per game. Another area of dominance is potential assists where he ranks second (21.0 opportunities) in the league. Only James Harden's 21.4 opportunities betters that.
Moving Forward:
With a restructured roster and exit of another star, it was natural to expect Westbrook would do more. In spite of that, Westbrook's triple-doubles are occurring within the organic flow of the game.  For his part, Westbrook isn't focused on the numbers, choosing to cite winning and improving as his motivation.
Want your voice heard? Join the Thunderous Intentions team!
For NBA and Thunder fans alike, each OKC game is now a must watch event, as inadvertently Westbrook is offering an opportunity to witness history in the making.
This article originally appeared on