Robert Covington Should Not be a Long-Term Sixers Player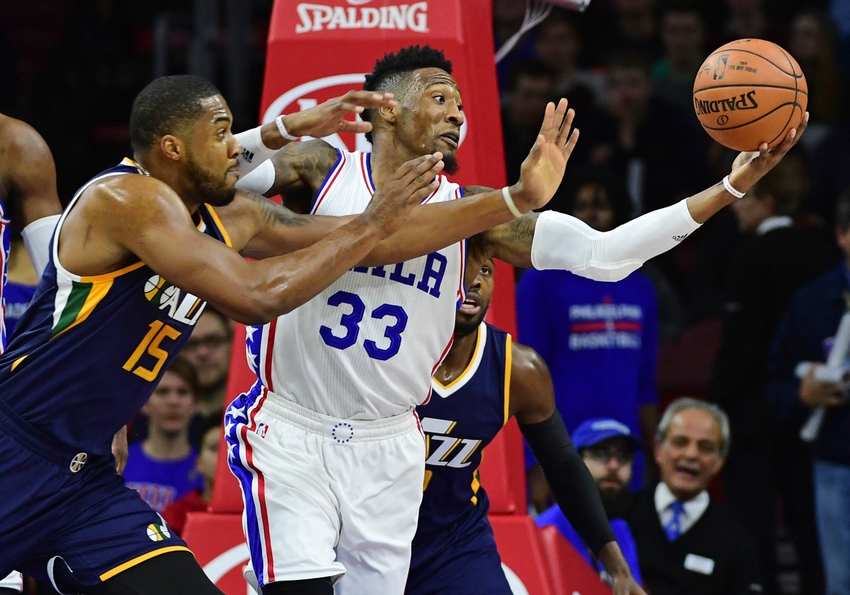 Robert Covington, although a regular player for the Philadelphia 76ers over the last few years, should not be a player the Sixers rely on moving forward.
With the Philadelphia 76ers season underway, it's becoming increasingly clear that the Sixers are far from their end goal as far as their rebuild is concerned. They have a solid road map for the next few seasons outlined, and although that could change greatly with a few variables involved, they would be wise to try and stick to their mantra of relying greatly on young cornerstones like Ben Simmons and Joel Embiid,
Perhaps even more important than the future stars of the NBA that now have roster spots with the Sixers are the players the Sixers will put around them.
We are already seeing a better all-around team when Embiid is surrounded with players like Sergio Rodriguez and Gerald Henderson. Although those may not be the players to keep long term around them, it does go to show that Embiid and Simmons won't be able to bring playoff dreams to life all on their own in Philadelphia.
More from The Sixer Sense
With that said, some players need to go.
One of those players is Robert Covington. We already saw the Sixers part ways with Jerami Grant this season as a part of a trade to bring in Ersan Ilyasova. While some felt that this was unwarranted and felt that Grant could have been a solid off-the-bench defender for the Sixers even in the coming years, it was something that, to me, felt like it was a long time coming.
I also feel that way about Covington.
These are players who have greatly benefited from the interesting rebuild that the Sixers have had, where bad players are made great simply by the context of the team they are on.
Could JaKarr Sampson really have as much of a name on any other team in the NBA? We're already seeing the answer to that — no. And that answer holds true for many other players.
I'm not saying that Covington is completely bad, nor am I saying he's even mediocre. I think, for the next several seasons, there will be a place for Covington as a deep bench player somewhere in the NBA, and Cov has former Sixers President Sam Hinkie to thank for that.
The reality with Covington is that he will not be a player that the Sixers can use a ton. He had some solid showings of shooting as well as defense throughout his career so far, but it seems like he's not ever going to develop into a 3-and-D player because when one of those components is hot, the other is not.
It's been a bit unfair for Covington this season. Shooting slumps happen to all players, and some fans have credited his recent shooting slump to seemingly his entire career. He has been called out for his bad 24 percent field goal and 23 percent 3-point shooting, and perhaps for good reason. But to conclude that he will not ever come back to what he was in previous seasons as a shooter is absurd right now.
The reality, however, is that what he was before was nothing more than a streaky shooter. Covington would have many games where he was hot from beyond the arc, and then many games where nothing would fall. That's not something the Sixers can really have moving forward. Consistincey is important for any good team, which the Sixers hope to be.
Cov is valuable now because of how bad the defense is. His 2.2 steals and near single block per game are very helpful for the Sixers at the moment. The hope is that there will be a time for the Sixers where they don't need a player to do those things, though, because they will have other defenders who can also be strong on the offensive side of the ball.
As the team gets better, we're unfortunately going to have to say goodbye to many of our favorite process pieces, even ones that seemed to be able to have the skill set to outlast the process. Covington is one of them.
This article originally appeared on