Robert Covington is Slowly Getting Out of His Slump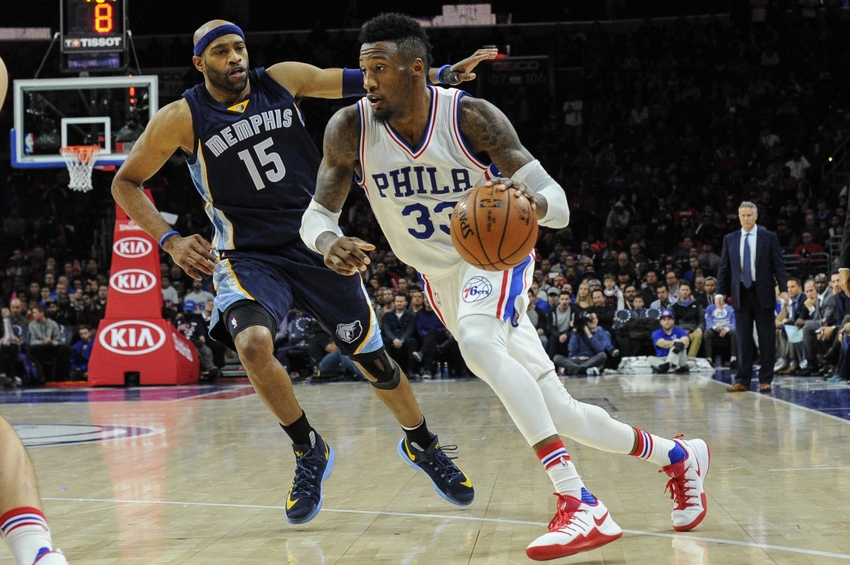 Philadelphia 76ers' wing player Robert Covington's season started in a huge slump, but he's slowly working his way out of it.
The start of the season for Philadelphia 76ers' wing Robert Covington was not pretty. In fact, despite the fact that we've seen Covington go on plenty of slumps as far as gameplay, this might have been one of the worst stretches of play for RoCo. He looked just plain ugly from the field on offense.
Although Covington has demonstrated solid defense all year up to this point, it still doesn't quite make up for just how bad he was on offense. Just as Sixers fans don't want players on the floor who are only good at offense, they don't want players who are only good at defense.
There was a point this season where Covington had several consecutive games where he totaled 5 made 3-pointers in 30 attempts.
More from The Sixer Sense
November 21st is where things started to really turn around for the most part for Cov. That was the Sixers' win over the Miami Heat, and the box score still doesn't look all that flattering for Covington. He went 4/13 from the field and 1/5 from beyond the arc.
His fourth quarter was what was truly solid in that game.
Late in that game, he hit a few solid shots that really helped the Sixers win, including one of his 3-pointers. The crowd had been on him, booing all game when he missed any shots, just like they had been all season up to this point.
Prior to that November 21st game, Covington was averaging 7.2 points, 4.5 rebounds, and 1.1 assists per game. He was shooting 25.7 percent from the field and 24.7 percent from beyond the arc in 13 games.
Now, after that Heat game, he's starting to heat up it seems.
Since then, he's averaging 11.6 points, 6.2 rebounds, 1.0 assist, and shooting 42.6 percent from the field and 43.3 percent from beyond the 3-point line in five games. That's increases of over 15 percent in both of his shooting categories.
These stats include the Heat game that, statistically, still wasn't great.
If we nullify that game and look at simply the last four games, Covington is averaging 12.3 points, 5.5 rebounds, 1.0 assists, while shooting 47.1 percent from the field and 48.0 percent from beyond the arc.
You're reading that right. The player that had a five game streak shooting below 17 percent to start the season is now having five game streaks where he's closing in on 50 percent from beyond the arc.
Add that solid offensive play over the last few games to the decent defense he's shown this season, and he looks like he's a solid player to have around. Covington is third in the NBA in deflections on defense (behind Kawhi Leonard and Chris Paul) and is averaging nearly 2 steals per game.
It's good to see that things are coming together for Covington, finally, but I can't help but notice that this has happened with Covington before. It's happened this season, even. Between November 7th this month, and November 12th, Covington appeared in four games.
Over those four games, Covington shot 42.9 percent from the field and 44.8 percent from beyond the arc. He was averaging 14.0 points, 5.3 rebounds, and 1.3 assists per game. Those stats stay competitive with his stats from the last four games. What we have that made us forget about those four games in early November and still see boos for him against Miami was retrospect.
We were able to see him fall into his old ways over the next few games, hitting a slump again with his shooting.
Covington has been decent from the field and from beyond the arc over the last few games. But he's shown us he can stay consistent for a few games, only to fall behind again later. Covington has not done enough yet to show us he's out of a slump. In fact, he's shown us that he has issues even more this season with being a streaky player.
What we need to see is Covington latching onto something good in his game that gives him some consistency. Once he can do that, he could be looked at as a long-term piece in the Sixers starting rotation.
This article originally appeared on