Return Of Patrick Beverley Has Houston Rockets Soaring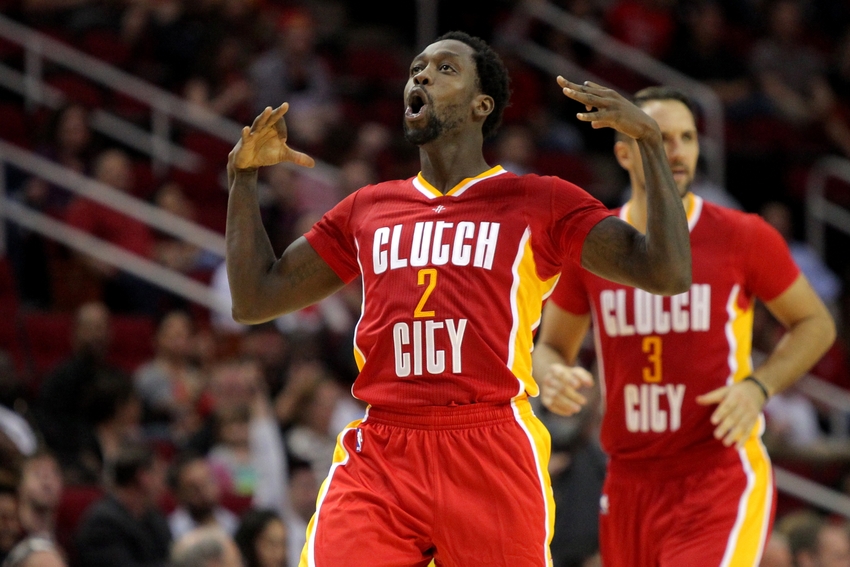 Ever since guard Patrick Beverley returned to the Houston Rockets' lineup, the team has taken off.
The Houston Rockets have found themselves with an unlikely savior to kick start their season. The Rockets commenced the season with a 6-5 record, and their output and efficiency from game-to-game was somewhat inconsistent.
But the return of guard Patrick Beverley to the starting lineup has seen the Rockets win eight of their past 10 games and showing glimpses of the potential many envisioned coming into the season.
The Rockets as a franchise underwent quite a transformation this past off-season. Signing renowned offensive guru Mike D'Antoni to be the Rockets new head coach was the first step of their summer face lift.
Next was allowing center Dwight Howard's to leave via free agency and sign with the Atlanta Hawks. With Howard's departure and the booming salary cap, this ensured that the Rockets would have the cap space necessary to make some important acquisitions.
With this newly found cap space, the Rockets went ahead and signed forward Ryan Anderson and guard Eric Gordon to multiyear deals.
D'Antoni, in conjunction with Rockets general manager Daryl Morey, foresaw a team where resident superstar guard James Harden would be flanked by the likes of prolific shooters such as Gordon and Anderson.
Under the direction of D'Antoni, Harden was now assigned as the team's full-time point guard. Although this was a change to being a shooting guard for the first seven years of his career, Harden was coming off a season where he averaged 7.5 assists per game.
With Harden now manning the ball-handling duties full-time, Beverley has transformed himself and the Rockets in his newly found role. The attitude and intensity Beverley brings at both ends of the floor has so proven to be invaluable with this new-look Rockets team.
Numbers Don't Lie
Naturally when a starter such as Beverley returns to the lineup, it's going to greatly assist with the overall depth of the side. In this case, it's meant that Eric Gordon has undertaken the role as the teams sixth man.
Beverley's return has changed some of the rotations that the Rockets were using prior to his return, and the results have been startling.
Houston Rockets
Points per game:
First 11 games: 107.4
Last 10 games: 114.9
Field goal percentage:
First 11 games: 46.2
Last 10 games: 46.7
Three-point percentage:
First 11 games: 36.9
Last 10 games: 38.5
Three-pointers made:
First 11 games: 13.6
Last 10 games:  14.4
Offensive Rating:
First 11 games: 107.5
Last nine games:  112.7
Plus Minus:
First 11 games:  +2.5
Last nine games: +4.7
These are just some of the numbers that have spiked for the Rockets as a team these past nine games. Narrowing it down further, the past six games have been particularly impressive.
The Rockets have won five of these six games (five of these on the road) and averaged 119.2 points and 15.3 three-pointers made per game at a 39.1 percent clip from downtown.
With this recent road stretch out of the way, the Rockets now play five of their next six games at home. This represents a great time to consolidate on the progress made since Beverley's return, and to push their way further up the standings.
Improved Contributions
When you look into these numbers on a individual, some of the Rockets key personnel have made notable improvements since Beverley's return.
Points per game:
First 11 games: 10.1
Last 10 games: 14.2
Field goal percentage:
First 11 games: 60
Last 10 games: 66
Minutes per game:
First 11 games: 22.9
Last 10 games: 28.6
It should be noted that the increase in Capela's minutes per game have been partly due to the decrease in playing time for fellow big man Nene.
But like the rest of his teammates, the presence that Beverley has brought to the team has seen a noticeable increase in efficiency in Capela's game.
Points per game:
First 11 games: 12.2
Last 10 games: 13.2
Field goal percentage:
First 11 games: 42.0
Last 10 games: 45.7
Three-point percentage:
First 11 games:  36.6
Last 10 games: 39.7
Minutes per game:
First 11 games: 34.4
Last 10 games: 32.8
In the case of small forward Ariza, his playing time has come down slightly, but like the team, his productivity and efficiency have surged.
Eric Gordon
Points per game:
First 11 games: 16.3
Last 10 games: 16.9
Field goal percentage:
First 11 games: 41.8
Last 10 games: 43.8
Three-point percentage:
First 11 games: 39.5
Last 10 games: 40.2
Minutes per game:
First 11 games: 32.4
Last 10 games: 30.2
Again, this is another case of a player receiving less playing time but contributing more efficiently and effectively.
Harden and Anderson's numbers have stayed relatively similar through these different stretches, with no real noticeable difference with either of their contributions.
Beverley's Value
Some players just have that intangible quality that can either separate them from the field, or simply make their teammates better. Recently, head coach D'Antoni made a good summation of Beverley's value to the Rockets:
On the surface, Beverley's numbers don't jump off the page. He is averaging 7.2 points, 4.5 rebounds and 3.9 assists in 28.8 minutes per game. When looking at his numbers alone, the impact he has made in transforming the Rockets is hard to quantify. But furthermore, there are some statistical measurements that demonstrate Beverley's real value.
Over his nine games, Beverley is a plus-7.7 when on the floor. Over the past three wins against Denver, Golden State in double overtime and Boston, Beverley is an overall plus-41 when on the floor. They are staggering numbers.
Even further, over the last six games, Beverley is an overall plus-73 when on the floor. Some players values are hard to judge and quantify, and Beverley clearly falls under this category.
An example of Beverley's worth came in the Rockets' recent 130-114 victory over the Portland Trail Blazers. Beverley posted just one point on 0-of-5 from the floor, along with four assists and two rebounds in 35 minutes of court time.
He finished the game, however, a plus-16 when on the floor, a team high. So despite a starting guard playing 35 minutes and scoring just one point, the Rockets scored 130 on the road and won the game comfortably.
Beverley is simply a great compliment for any team, but particularly the Rockets. There is after all only one ball, and Houston don't always needs five players out there whose first priority is to put the ball in the hole.
Beverley's main asset and contribution is the outright tenaciousness he brings each game at both ends. Having said that, he is more than capable of hitting the open shot, as evidenced by his 39.3 percent clip from three-point range this season on 2.8 attempts per game.
Now that the Rockets have experienced this surge with Beverley back in the lineup, it will fascinating to see how they fare moving forward.
This article originally appeared on