Resurgence of the Timberwolves' bench is underway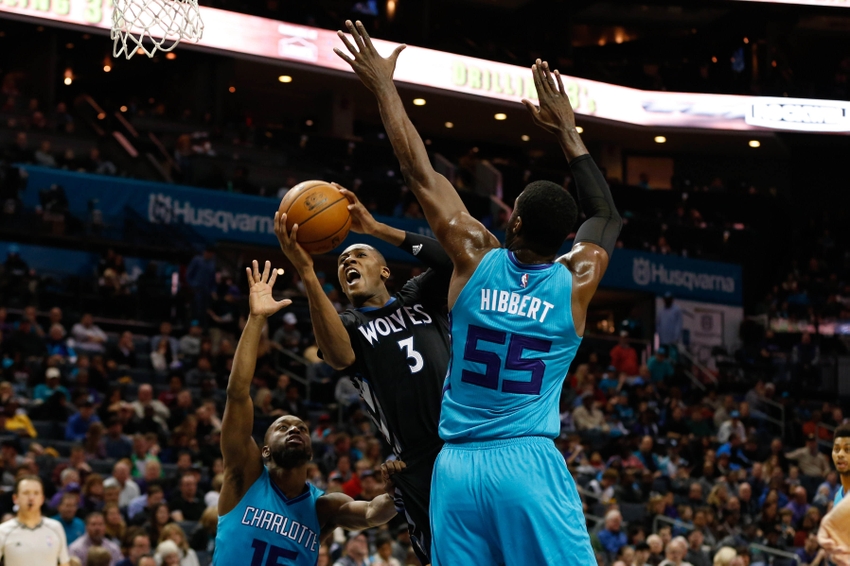 The Timberwolves bench has been much-maligned thus far this season, but has gotten back on track over the past couple of games.
Over the past few seasons, the Timberwolves bench has been consistently terrible. As the 2016-17 season got underway, however, Wolves fans largely felt better about the newest edition of reserves.
The free agent additions of Cole Aldrich, Brandon Rush, and Jordan Hill and the drafting of Kris Dunn promised to shore up a crew that returned Shabazz Muhammad and Nemanja Bjelica. The bench now boasted three-point shooting (Rush and Bjelica), strong pick-and-roll play and work on the glass (Aldrich and Hill), veteran leadership (Aldrich, Rush, and Hill), and energy/scoring (Muhammad).
For much of the first 18 games of the season, however, the reality was much, much different.
Rush struggled in the first couple of games before coming down with a toe injury that has limited him to just a handful of (horribly ineffective) appearances since. Dunn has struggled to initiate the offense and hasn't scored hardly at all. Muhammad was okay early, missed a few games due to injury, and was flat-out bad in the games following his return.
Bjelica has been decidedly up and down, scoring a career-high in his lone start in a game in which Zach LaVine sat due to a sore knee, but hasn't quite taken the jump that many expected to occur under new head coach Tom Thibodeau.
Aldrich has mostly been solid but went through a rough patch in which he was barely seen the floor, while Hill has only appeared in garbage time — two games played in the first 20 contests.
But after a horrific performance at home on Wednesday, scoring just five points as a unit against the Knicks, the bench showed out in New York on Friday and Charlotte on Saturday.
On Friday, Bjelica, Aldrich, Muhammad, and Bjelica combined to shoot 19-of-32 (59.3 percent) from the field. Aldrich had a double-double with 10 points and 12 rebounds in 27 minutes as Gorgui Dieng struggled with foul trouble all night, and Bjelica put up 17 points, seven rebounds, and three assists in 20 minutes.
More from Dunking with Wolves
Dunn played his best game of the still-young season, scoring six points on 2-of-3 shooting and dishing out five assists to one turnover in 18 minutes.
Quite frankly, the Wolves bench kept them in the game, although a furious fourth quarter comeback was not enough to land a road win. But less than 24 hours later in Charlotte, the bench stepped up their game another notch.
The reserves actually scored less points against the Hornets than they did at Madison Square Garden on Friday, but their timing was impeccable, ultimately propelling the Wolves to a chance at an overtime win.
Dunn surpassed his impressive Friday night performance with an eight-point, six-assist showing on Saturday, shooting 3-of-5 from the field and knocking down a game-tying three-pointer in the fourth quarter. Bjelica followed up his 17 points on Friday with an efficient 5-for-7 shooting night, chipping in three assists and a pair of rebounds.
The Timberwolves trailed by 10 points as the fourth quarter began, and Dunn's three at the 8:18 mark tied the game. They played most of their minutes with Zach LaVine at the shooting guard, and the starters reentered the game right at about the midway point of the frame, but the timeliness of such a dominant run could not have been better.
Also of note: Cole Aldrich and Tyus Jones (who hasn't played in the past two games) are two of Minnesota's top-three performers in Win Shares per 48 minutes, joining Karl-Anthony Towns. (Side note: Andrew Wiggins is second-to-last in the this metric on the list of Wolves players who have played significant minutes, ahead of only Dunn.)
The bench story line is absolutely one to keep an eye on, as the likes of Bjelica and Muhammad should both play better moving forward, and the unit continues to gel while learning how to play with the rookie Dunn at the helm. But as it stands today, Thibodeau and his coaches have to be happy with the way the bench unit seems to be coming around as we head into the meat of the NBA campaign.
This article originally appeared on