Report: Orlando Magic considering lineup change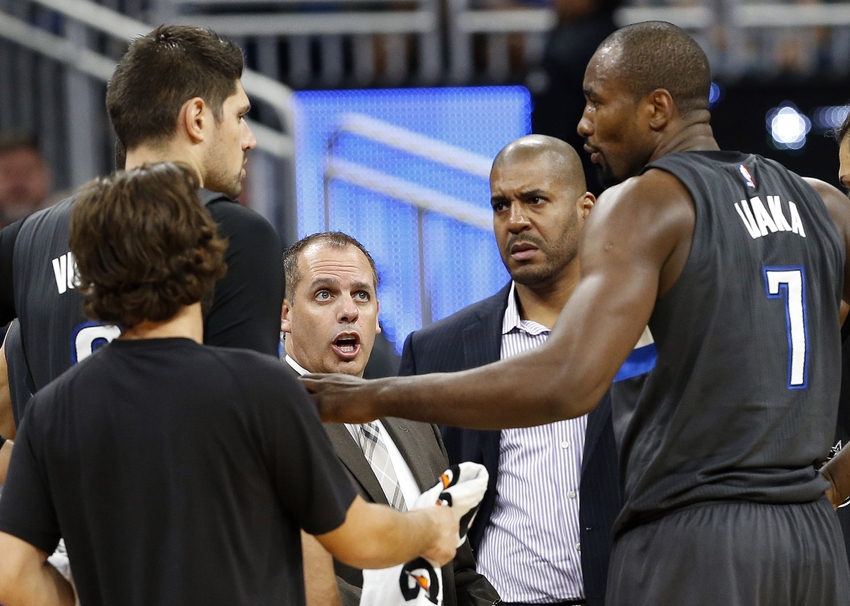 The Orlando Magic are reportedly considering a lineup change. Nothing appears imminent but the numbers show the team could benefit from a change.
The Orlando Magic's 3-4 start has been noted for its inconsistency. The Magic lost the first three games of the season pretty handily. Then won the next three with some gritty, tough defensive efforts. And then took a blowout loss at Chicago.
The one thing that has perhaps been consistent throughout all those games is the Magic had to play from behind. In all but the game against the Sacramento Kings, they fell behind by double digits.
Something was clearly off about this Magic team though. The lineups seemed out of whack and it was hard to get any consistency from the team.
It might be why, now seven games into the season, the Magic are considering a change. At least considering it.
Magic coach Frank Vogel tells Brian Schmitz of the Orlando Magic he is considering a lineup change:
"I've thought about it a lot," Vogel told the Sentinel after Tuesday's practice.

Asked if he will indeed switch up his starters, Vogel said, "I'm not sure."
Perhaps this is a bit of a motivational tactic. Something he is doing to spark the team and make them play a bit better. It is hard to get a sense of what the Magic could do to fix their lineup.
But it is pretty clear the Magic are struggling with their current starting lineup. In 127 minutes so far this year according to NBA.com, the starting lineup of Elfrid Payton, Evan Fournier, Aaron Gordon, Serge Ibaka and Nikola Vucevic have an offensive rating of 102.4 and a defensive rating of 109.7. That defense is very concerning and a big reason why the Magic are starting from behind so often. That offense is not sustainable for this team.
Replace Ibaka with Bismack Biyombo and things change. In 11 minutes, the team has a 100.6 offensive rating and a 92.1 defensive rating. That is a small sample size, but at leas the defense begins to look a lot better.
Replace Vucevic with Biyombo and things look different again. In eight minutes, the Magic have an 88.2 offensive rating and an 86.5 defensive rating. The offense is extremely discouraging, but at least that is more dominant defense.
It would seem getting Biyombo and his defense in the starting lineup would be a prescient goal for the Magic. He is a game changer on defense.
So far this year, the Magic have not tried many lineups with Gordon at the power forward. He has played 11 minutes with Ibaka without Vucevic and Biyombo according to NBAWowy with 78.3 offensive rating and an 80.0 defensive rating.
In 19 minutes of Gordon playing with just Biyombo, the Magic have a 91.9 offensive rating and a 106.3 defensive rating. In eight minutes of Gordon playing with just Vucevic, the Magic have a 92.9 offensive rating and 76.5 defensive rating.
These are extremely small sample sizes and probably depends on who else plays. So who else do you have play the 3 — Mario Hezonja or Jeff Green?
It seems if the Magic are going to make a fix, it is to play Biyombo in the lineup taking out Ibaka or Vucevic to bolster the defense. Taking Ibaka out of the starting lineup is a bit of a risk considering his struggles — and everything the Magic gave up for him.
Orlando changed its starting lineup around Thanksgiving last year to much controversy. It was clear the team needed some change.
It is clear the team may need some change now. What that change is or when it comes could be determined in the next few games. The Magic need a fire lit under them to get moving int he right direction.
More from Orlando Magic Daily
This article originally appeared on