Report: Miami Heat not in a rush to make a roster move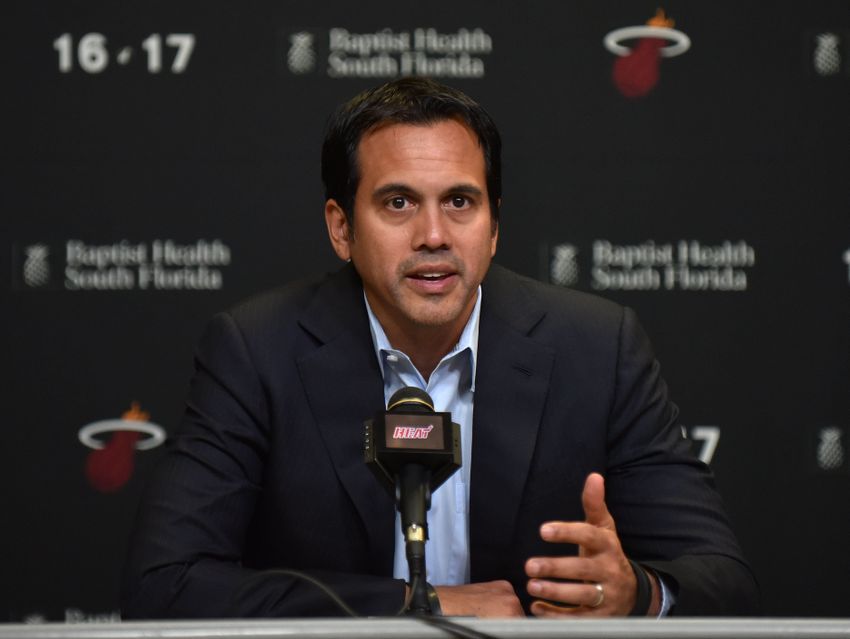 The Miami Heat are in a position to be players in the trade market, but will be patient when it comes to improving the roster.
The unofficial start of trade season is just around the corner. On Dec. 15, players who signed this summer become trade eligible, including eight Miami Heat players.
With the team well-below .500, many are asking if the team should tank by dealing away some its players, or go the other way and seek an upgrade that could push them back into playoff contention.
Yes, the ESPN Trade Machine is hot in Miami. But the team president Pat Riley and the Heat aren't in a rush to make any decision, reports the Miami Herald's Barry Jackson:
While the Heat knows it needs a talent infusion, there will be patience. There isn't an urgency to make moves beginning next week, and no urgency to start shedding salary, either.

The Heat would like to see this roster healthy in the next month (before the Feb. 23 trade deadline) and Miami isn't going to jeopardize next summer's projected $39 million to $43 million in cap space by adding players under contract beyond this season — unless the player added is a high-quality starter.
"A high-quality starter" is what it might take for the Heat to budge on adding additional salary for next season. That could include someone like John Wall or DeMarcus Cousins should their respective teams decide it time to move on. It could also include Rudy Gay but, as Jackson later writes, the Heat don't plan on trading for him because they know they can sign him as a free agent next summer.
Riley has said he wants to acquire a second first-round draft pick, but from the sound of this report he won't dump salaries–such as Goran Dragic's–just to do it. While that remains a possibility, the Heat likely want to see what this team can do when its healthy before making that sort of decision.
Riley may have learned something from the last time the team was in position to be in the NBA Draft lottery, when he hastily cobbled together a deal that sent two future first-round picks to the Suns in exchange for Dragic in a deal that severely depleted Miami's tool chest of assets.
All of this is to say that while anything is still possible, just hold on.
This article originally appeared on