Report: Miami Heat keep Rodney McGruder, cut Udrih and Weber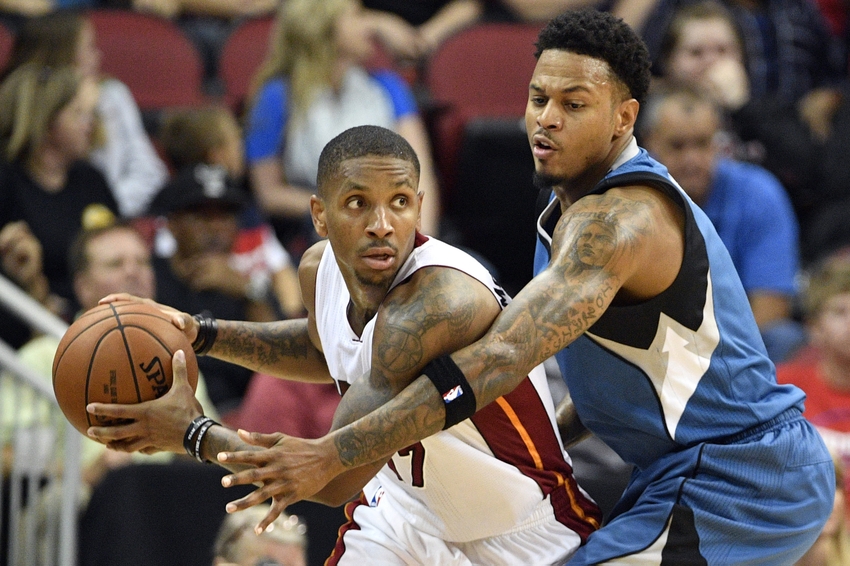 The Miami Heat will opt to go with another wing player rather than a backup point guard.
After a promising preseason, emerging young swingman Rodney McGruder is expected to make the Miami Heat's final 15-man roster, according to the Miami Herald's Barry Jackson.
McGruder beat out both veteran Beno Udrih and young point guard Briante Weber, who the Heat will cut to make room for McGruder.
The Heat's staff likes the 26-year-old McGruder's game and believes he is ready to contribute immediately, according to a source.

Whereas the Heat also was intriguing by Weber, there's a belief that he needs more development and that he needs to play regularly for his game to evolve.
Weber will likely be offered a spot on the team's D-League affiliate in Sioux Falls if he doesn't sign with another NBA team. Udrih will still be paid the $1.5 million guaranteed salary despite being cut.
McGruder emerged during summer league as one of the team's most consistent two-way players, and continued to impress during preseason averaging 7.4 points, 2.1 rebounds and 1.8 assists in 152 minutes. He shot 41.1 percent from the floor and 36.6 percent from three-point range.
He had his strongest performance of the preseason in Miami's loss to the Hornets on Thursday, scoring 19 points to go along with seven rebounds and three assists.
This was the right move by the Heat. As much as fans and the team wanted Briante Weber to pan out, he just isn't ready to play point guard in the NBA. At 6-1, Weber lacks the height to play multiple positions, and he's still developing the floor vision and anticipation it takes to lead an offense. He's probably a year or two away from being able to contribute. More seasoning in the D-League will help.
With the Heat deciding to move on from Weber and Udrih, it also shows they are comfortable not having a true backup point guard behind Goran Dragic. They'll use Tyler Johnson and Dion Waiters to run the offense when Dragic is resting.
McGruder will likely see time as Justise Winslow's backup, who Heat coaches have compared him to.
The Heat are also expected cut Okaro White, Luis Montero and Vashil Fernandez.
This article originally appeared on