Report: Anthony Davis has X-rays after Pelicans' game Sunday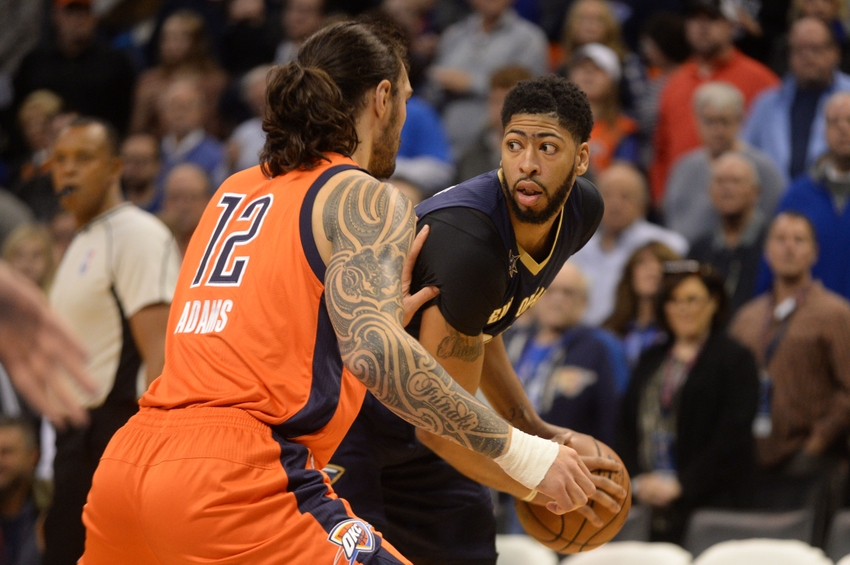 After the New Orleans Pelicans' loss Sunday, superstar Anthony Davis reportedly had X-rays done on his right foot.
Anthony Davis has become perhaps as renowned for his injury-proneness as much as his superstar performances on the basketball court. As the present and future of the New Orleans Pelicans franchise, the Brow has already showcased a transcendent skill set through his first four and a half NBA seasons.
Unfortunately, they've also been plagued by injury woes, to Davis and his Pelicans teammates alike. According to ESPN's Justin Verrier and Royce Young, there may be yet another issue for his fans to worry about.
As reported by the ESPN scribes, Davis underwent X-rays after Sunday's loss to the Oklahoma City Thunder. Though the Brow played 43 minutes and finished the game with 37 points and 15 rebounds, he looked hobbled at times and could be seen wincing throughout the game.
According to Verrier and Young, there was no noticeable limp in his step in the locker room, but he was observed receiving treatment on his right foot after the game before speaking to the media. Davis denied the report that he had received X-rays.
More on FanSided:
Last season, the Brow missed a career-high 21 games, including the last 14 games of the year because of a knee issue. Through the first four seasons of his career, he's missed a total of 68 games with a wide variety of injuries.
Davis has only missed one game so far this season due to a right thigh bruise, but has also missed parts of three others.
Losing Davis for any amount of time would be a crippling, season-altering blow to New Orleans. Not only is he leading the league in scoring and blocks at 31.8 points and 2.8 blocks per game, but he's also putting up 11.2 rebounds and 1.8 steals in 37.5 minutes per game.
Jrue Holiday's return is what fueled New Orlean's recent "turnaround" to 7-14 after a 2-10 start, but without Davis on the court, this team would struggle to reach 20 wins on the season. Here's hoping there either were no X-rays, or that they come back negative.
This article originally appeared on