Recapping the Grizzlies' Social Justice & Sports event, plus a look at the new jerseys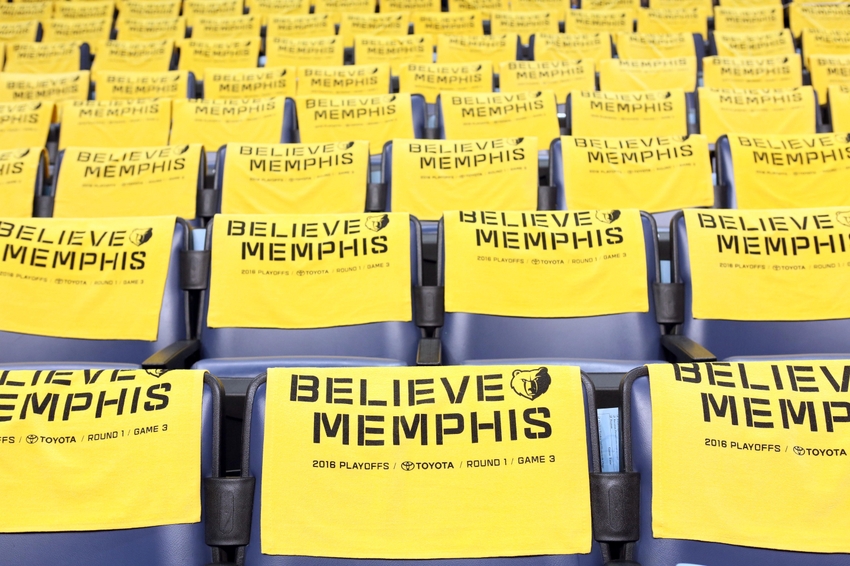 The Memphis Grizzlies' David Fizdale and Vince Carter discussed the 50th MLK Day, the community and unveiled a new jersey with a lot of meaning. Here's our recap of the event.
This evening, at the Civil Rights Museum, Memphis Grizzlies coach David Fizdale and small forward Vince Carter joined the president of the Civil Rights Museum, Terri Freeman, and Pitt Hyde, member of a committee group that brought the team to Memphis. During this conversation, they primarily touched on social justice in today's society and ended with some fresh new uniforms.
No MLK day game for the Memphis Grizzlies
This season, for the first time in the Grizzlies' tenure in Memphis, they will not play a game on Martin Luther King day. Instead, they will play the day before.
Seeing the Memphis Grizzlies organization go and serve in their communities is huge. Basketball players are like heroes to kids all around the world. Having the opportunity to serve with players like Vince Carter, Zach Randolph, Tony Allen and Mike Conley is truly inspiring, as they are able to attain wisdom from their heroes.
What did Fizdale and VC have to say?
David Fizdale and Vince Carter shared their views on social justice and the always-debated Colin Kaepernick topic.
Unity, service and education were the themes for this evening.
When Pitt Hyde brought the Grizzlies to Memphis in 2001, his goal was to unify the community with a common interest, professional basketball. Since then, it's fair to say that Memphis is coming towards his goal. He discussed the diversity throughout the crowd. "Believe Memphis" and "Grit 'n Grind" are two phrases that have become a unifier to the city. It has become like a "Hotty Toddy" or "Roll Tide" or "Rocky Top."
David Fizdale and Vince Carter are using their platforms to educate the Memphis Grizzlies players and community on the root of these social issues.
Coach Fizdale was raised in southern Los Angeles. While he was talking about his childhood, he discussed the important role his grandfather played and the Rodney King riots. Fizdale wants to use his role as a coach to educate his players on these events and how they can bring about social change.
Dave Fizdale hit the nail on the head. If you want change, you must step out in order to progress towards your goal.
Vince Carter discussed the importance of education and mentorship. In the city of Memphis, there are numerous mentorship programs sponsored by the Memphis Grizzlies for communities in dire need of guidance. In addition, he recalled his high school playing days, more importantly his coach. Carter's high school basketball coach educated his players on history, particularly black history. Carter wants to take use his guidance in order to continue to serve as an outstanding mentor on this Memphis Grizzlies basketball team.
Thoughts on Kaepernick
Coach Fizdale expressed a valid reasoning behind his support for Colin Kaepernick. While he is receiving plenty of hate from media and fans, there has not been one act of violence. Some may question his decision; however, Fizdale is right. In the midst of violent protests, Kaepernick is taking a stand in a peaceful manner.
Vince Carter won't be taking any knees or sitting down during the national anthem. He has his own method of sharing awareness. Carter looks to educate young players on this roster by telling them that it's their time to go and make a difference.
There are plenty of takes on the Kaepernick debate. Some are hateful, some are supportive. David Fizdale and Vince Carter both shared strong, inspiring opinions.
The Memphis Grizzlies Uniforms
*drum roll*
Wow, what a beauty. The Memphis Grizzlies have never realized a sleeved jersey. I am a fan of the sleeved look, always loved it on teams like Golden State, Cleveland, Charlotte and New Orleans. Seeing the Memphis Grizzlies follow suit is nice. Their design is glorious.
While their jerseys are awesome, they carry significant meaning behind it:
Black Uniform Color

The black uniform color base was chosen as a sign of respect for the moment, the movement and a reminder of the dignity of Civil Rights marchers who led us forward wearing dark suits.

Memphis Wordmark

The "MEMPHIS" wordmark across the chest showcases the marriage of the historic Lorraine Motel sign on the south side of the building and the Grizzlies' inline typeface.

Uniform Piping Design

The piping design replicates the railing surrounding the exterior walkways and balconies of the historic hotel and museum.

Sea Foam Color Accents

The sea foam color accents, numbers and piping are pulled directly from the doors at rooms 306 and 307, where Dr. King spent his last moments on April 4, 1968.

Wreath

The wreath icon on the neckline was designed to represent the wreath that hangs where Dr. King was slain, and placed in the center of the uniform to remind us of his sacrifice and work for social justice and equality.
The jerseys are cool, but the message behind them is incredible. It is rare for a sports team to commemorate an alternate jersey with such meaning behind them.
While many will be eagerly waiting to sport these new jerseys, don't forget the historical significance behind it. If you haven't watched this conversation, I would highly recommend you do so.
This article originally appeared on