Realistic Expectations For Brandon Ingram's Rookie Year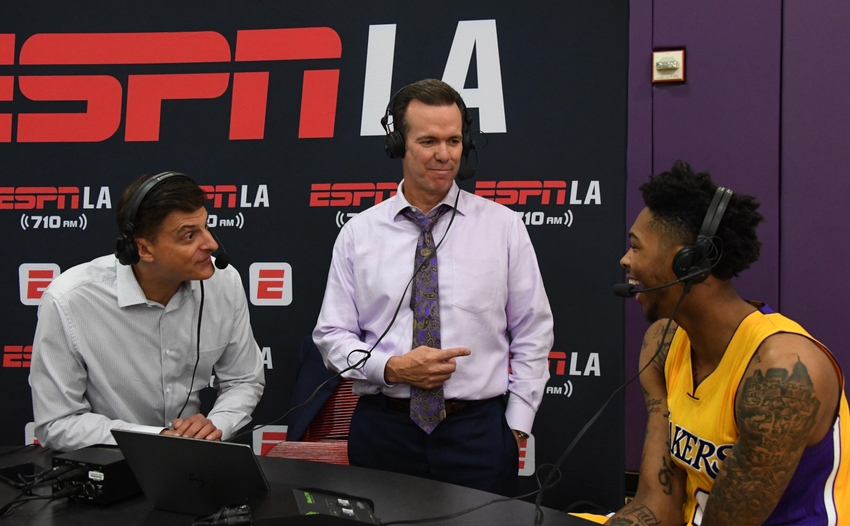 With NBA training camps opening up, here's a realistic look at what to expect from Brandon Ingram in his rookie season with the Los Angeles Lakers.
Brandon Ingram is ready for the start of his career with the Los Angeles Lakers.n
Could he knock off other challengers and win the KIA Rookie of the Year Award?
From a pure talent perspective he has the tools of a star NBA scorer. Ingram has the size and length to shoot over defenses. Meld that with his fluid athleticism and consistent stroke and you get a born outside sniper.
But it's not just his outside shooting that earned him the second overall draft selection by the Lakers. His touch both in the mid-range and around the basket are advanced for any 19-year-old.
Ingram utilizes a series of lay-ups and floaters to bring defenses off-balance and force them to adjust to his game. It's a pick-your-poison affair when guarding Ingram. If you sag off him for a second he can put it in from deep.
But come up on him and he has a quick first step to get around his man and pull up.
His scoring repertoire, attitude and overall maturity bode well for his goals as a rookie.
Most first-year players picked high in the draft come in and expect to compete for a starting role. Many of those same guys expect to win the job right away.
Ingram is different. He knows he has to earn his minutes from new head coach Luke Walton. That's the kind of tireless mentality that scouts look for in prospects.
It's clear he's not an average rookie coming out of college looking to make some sort of mark in the pros. Ingram has clear goals and is willing to work for them.
But what are some of the things that could stop him from reaching his potential early on?
Ingram's Weaknesses
While Ingram is a talented scorer (17.3 points per game at Duke), he's not going to get the same shots he saw in college and high school in the NBA. At least not yet.
He's long at 6'9″ with a 7'3″ wingspan, but he's dangerously thin at just 196 pounds.
Many executives said Andrew Wiggins would need to put on weight and muscle to succeed at the next level when he came out. Wiggins was still more than 210 pounds and shorter than Ingram.
The bottom line here is that Ingram doesn't have to put on a ton of muscle, but his strength is a real concern.
He had his series of highlight plays in the NBA Summer League, but there were plenty of situations where he struggled because of his lack of strength.
Having the size and length to finish over the defense is why he's successful to this point. Ingram can't drive through defenses and finish through contact consistently yet.
That will come in time as he gets stronger, but it's one flaw that could hold him back if he chooses not to still attack the lane.
Ingram isn't a great enough shooter to just sit and camp outside the three-point line. That's not where he's at his best.
He can hit 3-point shots in the NBA, but if ESPN's Kevin Pelton is correct, then Ingram might be due to hit a rough patch with his jump shot.
In the past free throw percentage has served as an indicator to 3-point success in the NBA. Ingram only converted on 68 percent of his attempts from the charity stripe. Yikes.
For someone that's relying on his outside shot to excel as he adds strength, that's a huge red flag if the theory holds true.
Final Projections
There's enough to go off if one wants to make the case that Ingram won't immediately have a great year. Statistical projections don't have all the answers, however.
His demeanor and confidence in himself will carry a long way, especially when he inevitably has a down night or two.
Expect Ingram to find ways to score inside and shoot well despite his current physical limitations.
Sometimes natural ability and a decent basketball IQ can wipe away minor concerns. Ingram has those things and plenty more, a big reason he was a consensus top pick in the draft.
This article originally appeared on