Reaction to scouts hot takes on the Cleveland Cavaliers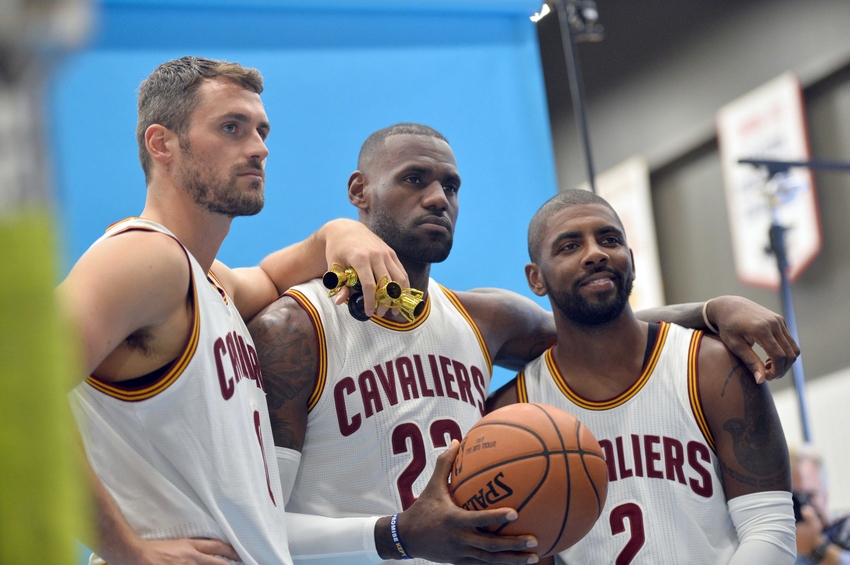 NBA Scouts previewed what the Cleveland Cavaliers season will look like and added a couple of hot takes of their own.
The Cleveland Cavaliers were put under a microscope by an anonymous NBA scout on Sports Illustrated's new NBA website, The Crossover. The scout talked everything from coaching, to talking about certain players and finishing off with input on how the season will go for the Cavs.
"(Lue will) be better this year than he was last year where there were some growing pains. Ty's always had a great ability to command respect of his peers and teammates, and now his players.
"They have a lot of good players, and he got them to try on defense, share the ball by-and-large, and that's the most important thing … It's hard for me not to see them being back in the Finals."
This first point is strong and gives good insight into what has been noticed during preseason games. The Cavs are defending with a purpose and intensity. They are also playing less hero ball and sharing the ball and moving offensively.
The scout noted that Iman Shumpert struggled in the playoffs and that the scout doesn't know what's going on with him. He's probably referring to Shumpert being arrested on suspicion of DUI in August.
"And he just seems to have a lot of weird stuff going on, in general."
The scout also said that Channing Frye is "good", and that Tristan Thompson fits a "perfect role" for the Cavs. Both are going to be key players this year as Frye will space the floor off the bench and Thompson will be starting for the Cavs. An interesting part comes next when the scout begins to talk about Kevin Love.
Want your voice heard? Join the King James Gospel team!
"Kevin Love is making it work in a difficult situation for him. … They were probably going to trade Love this summer, but then they won, he played decently…
"So after that, I think they felt like they couldn't trade him. But Kevin was very unhappy last year, and I expect he'll be pretty unhappy this year. If they don't win this year, there's a good chance they trade him."
It's nothing new that Love has been unhappy in Cleveland, especially under David Blatt. Love would just be standing on the perimeter in case someone would kick out for him to shoot. Lue has an opportunity to properly use Love, and is moving him into the post. Love no longer is an afterthought on offense, but is now part of the offense.
David Griffin planned to keep the band together after winning it all, and he did just that. Trade rumors have surface around Love ever since he became unhappy in Minnesota, and they probably won't stop until he is happy. Could he be traded away from the Cavs? It shouldn't seem too far out of the question.
Next, the scout dug into what Kyrie Irving showed at the end of last season and what his past has been like.
"I see Kyrie continuing to be a brilliant offensive player. His defense is really bad, and without Delly to push him, it might be even worse. [But] he's a terrific offensive player and he'll probably get even more recognition for it because he had such a good Finals."
There is nothing new. Irving is a great offensive player and sometimes good defensively. While Delly can't push him, Kay Felder might be able to. Felder has a high motor because his 5-foot-9 puts him at a disadvantage, yet he's still successful at getting run outs and using his quickness to stay in front of his opponent. Time will tell.
On come some of the takes that raised a few eyebrows.
"I think there's a big title hangover, figuratively and literally for some of their guys. But those guys all know there's nobody who can seriously threaten them when it matters."
More from King James Gospel
After all of the workouts the team had together in Los Angeles before training camp and watching the way they have played during preseason, that seems hard to fathom. They may coast, as suggested, in the regular season, but don't expect a hangover.
"I don't see them being anywhere near the caliber of the Warriors. The Warriors are a much, much better team. They were a much better team last year too, until Steph got hurt and wasn't at 100% after that Trail Blazers series. Cleveland can give it their best shot in the Finals, though."
Trust the scout's take on this one. The problem the Warriors face is depth because they don't have the "strength in numbers" that they did last season. That advantage belongs to the Cavs who got deeper this season.
It's going to be a fun season, and whether these takes hold true remains to be seen. The Cavs do have a deeper team and a team that will be fun to watch. Health will play a factor, as always, on the success the Cavs have this season. Any injuries that occur late in the year are going to be crucial and could derail the Cavs from defending their title.
Most of these takes are predictable, but some were a little surprising. Perhaps instead of a title hangover, the Cavs could find their way into investing too much into the Cleveland Indians' World Series run.
This article originally appeared on