Raymond Felton has been excellent for LA Clippers' bench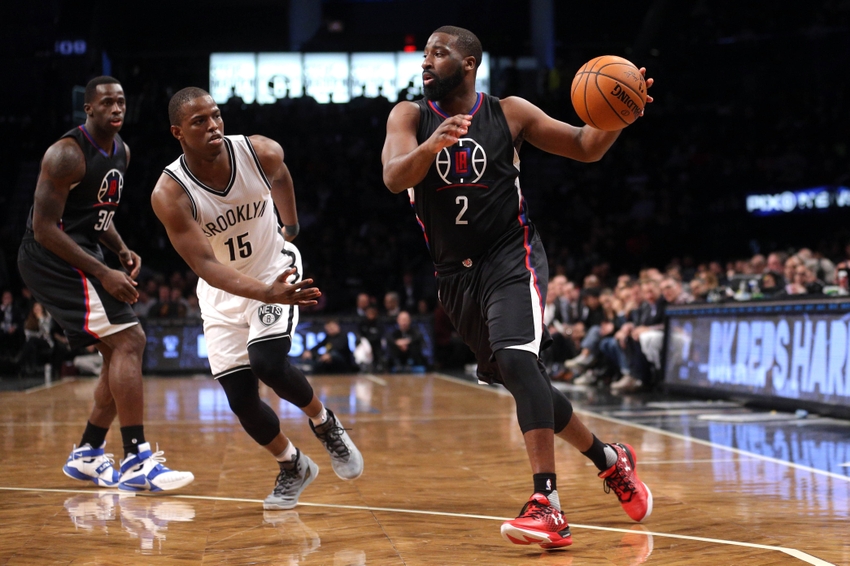 Raymond Felton may not have much flash and he went under the radar when signed in free agency, but he's been an excellent addition to the LA Clippers' bench.
Over the course of the last two seasons, the LA Clippers' Achilles heal has continued to be the fact that they don't have anyone besides Chris Paul and Blake Griffin to run the offense. Jamal Crawford is a nice option, but he's clearly more of a scorer than a facilitator. That has forced Doc Rivers' hand, and he's had to play Austin Rivers at point for the majority of the time. The results varied on a nightly basis, making Doc look at other options in NBA free agency this summer. One of those options was Raymond Felton, who chose to sign with the team for the veteran's minimum.
A solid but unspectacular guard, Felton has shown Clippers fans what to expect from him in the short amount of time he's been with the team. That's being a good backup point guard who brings it with his defensive efforts nightly, while also being able to score in a variety of different ways.
Felton is simply a steady hand at the point guard position, because Doc knows what he's going to get from him on a game-to-game basis.
The same can't be said for most of the Clippers' second unit; Crawford is an excellent sixth-man in terms of providing waves of instant offense, but he tends to be inconsistent at times, while Rivers is in that same boat as well, even though his defense is far better.
That's made Felton a nice fallback option for the bench to go to when Crawford or Rivers can't get it going. The Clippers' first game against the Detroit Pistons was a prime example in which Crawford shot just 1-of-4 from the field, so Felton stepped up, pitching in 10 points (3-of-5 shooting) and three assists on the night.
It also helps some that he can relieve Chris Paul of playing heavy minutes every game. I mean that an argument can be made that Felton is the best backup point guard the teams had since Darren Collison and Eric Bledsoe played for the team.
Now, none of this is to say Felton has been some type of star acquisition, because he hasn't. But that doesn't mean he isn't bringing his fair share to the table either, or else Doc probably wouldn't be playing and trusting him this much this early in the season.
Defensively, Raymond's done a fantastic job hounding opponents with his full-court pressure. Not known to be a great defender in the past, Felton has continued to make his presence felt on the less glamorous end of the floor.
In pick-and-roll scenarios, he's been exceptional, holding opponents to just 0.63 points per possession (placing him in the 84th percentile, per NBA.com, which is top on the team) and to spot-up shooters he's giving up only 0.94 points per possession.
Offensively, Raymond hasn't been asked to do too much. His scoring average of 5.1 points in 17 minutes per game reflects that, as he's been asked to essentially be the third scoring option behind Crawford and Rivers most nights.
That isn't because he's a worse scorer than Austin. Instead, it just has more to do with the fact that Felton is the better playmaker between the two, and has played well off the ball by making 52.2 percent of his catch-and-shoot threes (of course, this can't last forever).
Rivers has a tendency to have tunnel vision at times when he gets the ball in his hands. So, it's better that Felton gets to handle the bulk of the playmaking duties behind Crawford when the trio is out on the court together.
Felton's play is never going to jump out on the stat sheet, because that's just not his role with the team. He isn't asked to do much, but what he does do for the team can go unnoticed most nights due to his limited scoring opportunities.
However, that isn't why the team brought him over in the summer.
Want your voice heard? Join the Clipperholics team!
Raymond Felton is expected to produce when placed into the starting lineup when injuries occur or Chris Paul sits for rest. But besides that, he isn't going to be asked to do a lot. As long as he continues producing off the bench, and when put into the starting rotation, the LA Clippers can say they got themselves a steal this offseason when they essentially signed Felton for nothing at the minimum.
This article originally appeared on