Ray Allen officially retires from the NBA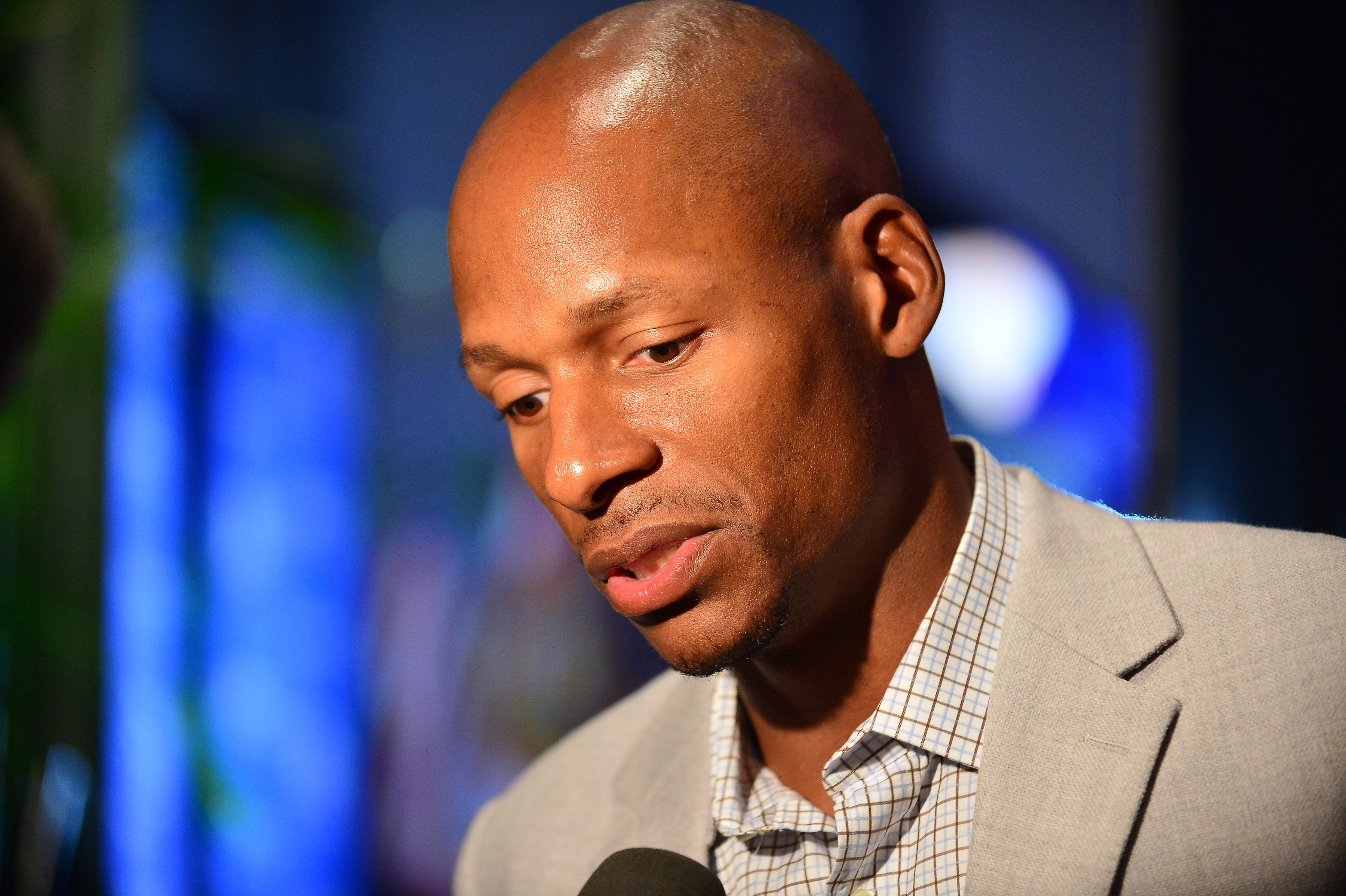 Two-time champion and all-time leading three-point scorer Ray Allen has officially retired from the NBA.
It's been two years since Ray Allen last stepped foot on an NBA court and it's now official that the two-time NBA champion will never do so again. In a heartfelt letter to his younger self on The Players Tribune, Allen officially retired from the NBA on Tuesday morning following a two-year hiatus from the league.
"I write this to you today as a 41-year-old man who is retiring from the game. I write to you as a man who is completely at peace with himself."
And Ray Allen should be completely at peace with his career. Drafted out of UConn in the legendary 1996 NBA Draft with the fifth pick by the Minnesota Timberwolves, Allen was immediately traded to the Milwaukee Bucks in exchange for Stephon Marbury and started a career that would span 18 seasons with four different teams.
Allen spent part of seven seasons in Milwaukee, leading the Bucks as far as the Eastern Conference Finals in the 2000-2001 season before losing to Allen Iverson and the Philadelphia 76ers in seven games. Allen still holds the Milwaukee record for most three-pointers made with 1,051.
In 2003, Allen was dealt to the Seattle Supersonics in a trade that involved Gary Payton and spent part of five seasons there and cemented his place as one of the most feared shooters in NBA history. He averaged a career-high 26.4 points per game in the 2006-07 season, also scoring a career-high 54 points in a game against the Utah Jazz that season.
Despite his individual accomplishments, Allen would only get as far as the Western Conference semifinals during his tenure in Seattle but would soon reach new heights following a deal that sent him to the Boston Celtics.
Prior to the 2007-2008 season, Ray Allen was traded to Boston and soon after, the Celtics also acquired Kevin Garnett to play alongside Allen and Paul Pierce, immediately making Boston and their new Big Three championship contenders. It didn't take long for them to live up to that as they would go on to defeat the Los Angeles Lakers in the NBA Finals in six games. In the Game 6 clincher, Allen would tie an NBA Finals record with seven three-pointers in the 131-92 blowout and secure his first championship.
Allen would break that record in the 2010 NBA Finals by hitting eight triples in a Game 2 win over the Lakers but the Celtics would eventually lose that series in seven games. Allen would also set another record in a game against the Lakers in 2011 as he broke Reggie Miller's all-time NBA record for three-pointers made on February 10. Allen would spend one more year in Boston before rejecting an extension and heading south to Miami.
Allen signed a deal with the Miami Heat before the 2012-13 season, joining LeBron James, Dwyane Wade and Chris Bosh in South Beach. While he wasn't the player he once was, Allen still contributed over 10 points per game in more of a supporting role but would come up big when it mattered the most.
In Game 6 of the 2013 NBA Finals against the San Antonio Spurs, Allen hit a clutch three-pointer with 5.2 seconds remaining to tie the game, which the Heat would eventually win in overtime. They defeated the Spurs in Game 7 and Allen clinched his second NBA title. They would lose a rematch with the Spurs the following season, a year that proved to be Allen's last in the NBA.
After becoming a free agent in the summer of 2014, Allen opted to sit out the 2014-15 season and ponder his future, which would also last through the 2015-16 campaign despite talk that he was mulling a comeback. Deals with the Celtics, Cleveland Cavaliers and Golden State Warriors were all discussed but nothing ever came of them and after what is sure to be a Hall of Fame career, Allen has finally decided to hang it up.
Ray Allen leaves the NBA with 24,505 points, currently good for 27th on the NBA all-time scoring list, and has made more three-pointers than anyone in history in both the regular season (2,973) and the playoffs (385). Both marks will likely be broken at some point by Steph Curry but there is no denying that Ray Allen has firmly cemented his place as one of the deadliest sharpshooters in NBA history. He leaves the game as a 10-time NBA All-Star, a two-time All-NBA selection and also won a gold medal in the 2000 Olympics in Sydney.
And even though it's already been two years since Ray Allen has played in an NBA game, it's sad to say that we'll never get to see what is arguably the prettiest jumper in history ever again. I guess we'll just have to watch He Got Game over and over to get a fix.
Congratulations to Ray Allen on a phenomenal career.
More from FanSided
This article originally appeared on