RAPTORS WEEKEND: Shot Clock Saga of '16, Lowry Rising and Boogie in Toronto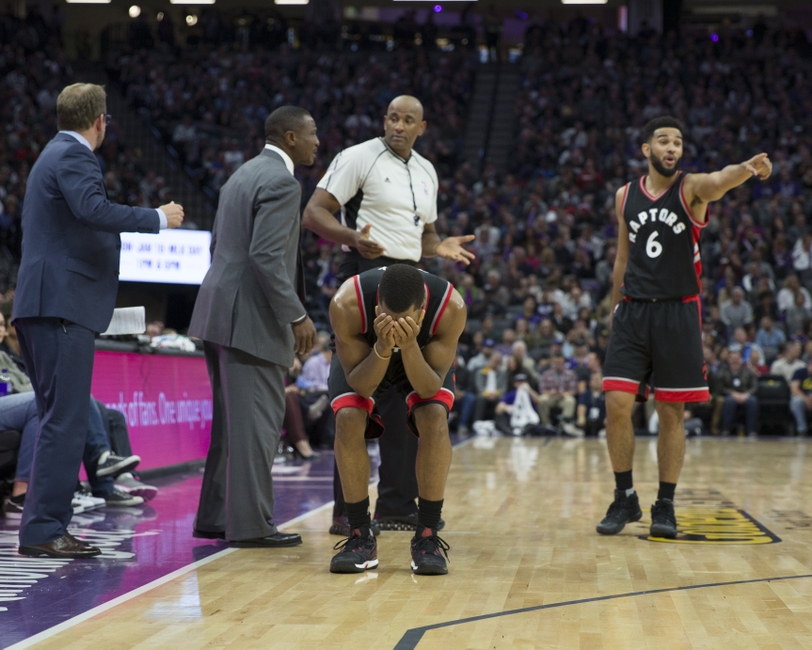 The Raptors Weekend is a look at the compelling games, plays and narratives that appeared over the weekend.
THE SHOT CLOCK SAGA IN SACREMENTO
By now most NBA pundits have seen footage of the Terrence Ross "no-bucket" three that would have sent the Kings-Raptors match into overtime. Raptors fans on Reddit are blowing up at the NBA. Cue conspiracy theories. Patrick Patterson wants answers. Kenny Smith thought it was a joke. Terrence Ross thinks the refs made a howler. Meanwhile the Raptors have hinted they are making a formal protest.
Facing the music post match was NBA Crew Chief Mike Callahan. Here's what he said:
"First of all, the trigger was a clock malfunction. We had the ball deflected, and the clock didn't start."
He followed that by confirming that the clock didn't start when DeMarcus Cousins touched the ball. If there's one thing the NBA can learn from this, is they should look at how MLB use their replay system. The Kings weren't calling for a replay and the players, knowing what they saw, were about to prep for overtime. It goes without saying the Raptors need to move on. They are 8-5. Life could be worse and writing complaints to the NBA won't change the result; it'll only evoke a negative reaction. Lowry said it best when he said nothing.
RAPTORS RANKED 7th in the NBA
ESPN's Mark Stein released his Week 5 Power Rankings and the Raptors have qualified in 7th place. Cleveland, L.A. Clippers and Golden State form the top three. The Raptors have lost to Cleveland twice and Golden State. They take on L.A. Clippers and their stingy defense tonight. San Antonio, Atlanta and Charlotte are the remaining three teams faring slightly better than the Raptors. They've lost three out of their last four games with their only recent saving grace was defeating Denver in overtime on Friday night.
After a sluggish start to the 2016-17 season, Kyle Lowry is now starting to show signs he's waking from his uncharacteristic slumber. In the first nine games Lowry has only been able to produce one score above 20, and that was a 29-point effort against Denver in Toronto when he went 10-from-20. We all know Lowry hasn't been shooting as well as he can, sinking 54-from-144 in his first nine games. But since the Cleveland match he's starting to find his shot and warm up with scores of 28, 24, 18 and 25. He's averaging 19.3 per game and racking up seven assists per game. The Raptors would love to see more hot-hand Kyle Lowry.
COULD BOOGIE MAKE IT IN TORONTO?
This thread erupted on Reddit posing the idea that Boogie Cousins could land at Toronto based on trade rumours. He's a list of pros and cons on whether or not DeMarcus Cousins could fit in with a Raptors unit that may or may not need him.
Pros
He's a damn good player; arguably the best center in the NBA
He's could be the elite X-factor the Raps need to push them into a Championship
Has rumoured friendships with DeMar DeRozan and Patrick Patterson
Adding Boogie means the Raps would have two top 10 centres, spreading the load
Cons
Tech foul junkie
The Raps become top heavy and operate possibly with a sub par bench
He's a ticking time bomb on and off the court
The Cousins-Casey relationship would make for an interesting dynamic, ultimately one that wouldn't work
Overall
It all sounds like too much of a good thing. The Raptors would have to make too many alterations and toss out their current style of play to make way for Boogie. However, if Casey could tame Cousins and if the Raptors got a watered-down version of him, he'd be an incredible addition. Boogie would catapult the Raptors deep into NBA Championship territory,  deeper than they've ever gone before.
THE CURIOUS CASE OF TERRENCE ROSS
Terrence Ross feels more like a ghost to the team until he doesn't. There's been periods during the season where the swingman seems, at times, to be struggling with his shot. And when his shot isn't falling, he looks D-League worthy and a lot like trade bait. But then there's those times when he delivers: the disqualified three against the Kings and a series of game-winning buckets against Denver. So far he's averaging 10.4 points per game, he's third for steals (15) at the Raptors, 94 percent from the charity stripe and 46.3 percent for threes. It's been a sharp turnaround after shooting 11 points in three games in 46 minutes of court time. Could we finally see a consistent Terrance Ross that lasts all season?
OTHER THINGS
This Raptors fan (RyanLeafgOaT8) created his very own Raptors Fan Survey. More than 350 people took part in it. Here's some quick highlights: More than 45.5 percent of people who voted picked DeRozan as their favourite player; least favourite was Bruno Caboclo (27.8 percent). Dwane Casey was given an 8-out-of-10 rating by 46 percent of voters. And most Raptors fans hate Golden State, then Cleveland. Read the full survey here.
Apparently DeMar DeRozan is very big deal in China. He hasn't got his shoe deal yet, but a billboard in China is the next best thing, surely.
Remember that T.V. Show Kennan and Kel? Well, someone has plastered Lowry and DeRozan's heads on them and it actually makes sense.
The Next Three Games : L.A. Clippers (tonight), Houston and Milwaukee. All road games. Clippers and Rockets are in the Top 10 for offense. And the Clippers' defense will test DeRozan and Lowry.
More from Raptors Rapture
This article originally appeared on