Raptors' DeMarre Carroll team's biggest X factor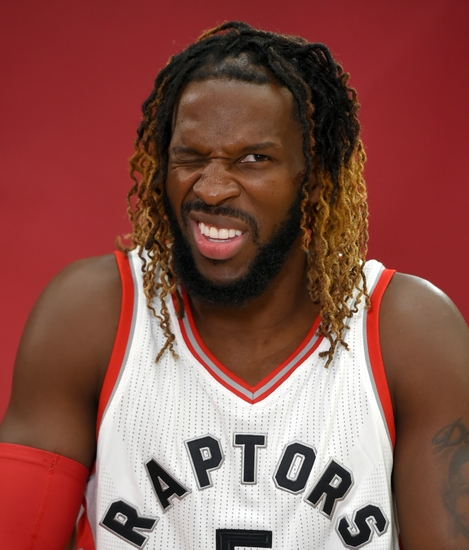 The Raptors need a healthy DeMarre Carroll if they are going to fulfil their highest hopes this season. But what if he's not ready to go?
The Toronto Raptors introduced DeMarre Carroll prior to last season as one of the biggest, splashiest free agent signings in franchise history. Sadly enough, severe health issues crippled our small forward's regular season and playoffs. He suffered a knee injury and played just 26 regular-season games. His return to the team during the playoff run was almost as painful to watch as it must have been for him to endure.
DeMarre is at training camp, but still not 100%. Coach Dwane Casey expects him to be ready to answer the bell when the games get real, but I'm not convinced.
The Raptors' depth chart lists Terrence Ross as the backup at SF (followed by Bruno Caboclo, if you can believe that). I'm of two minds on this situation. Wisdom/caution suggests starting TRoss throughout the exhibition season. [20-second timeout: I know the official word choice is "preseason", but that's too bloodless. I prefer the show-off connotation of "exhibition". These games might be the only chance many of the camp invitees have to exhibit their skills at the highest level.]
Covering Carroll's spot
I wonder whether a committee of SFs might keep the seat warm until Carroll is fully healthy again, assuming he ever is. Sorry to sound glum, but nagging injuries, particularly to joints, can be career killers. TRoss can probably provide just enough 3-&-D skill to maintain balance against his opposite number, save those nights when he's facing LeBron James, Paul George or others at that level. Bruno isn't close to being ready, so let's slot Norman Powell behind Terrence. As Powell is already behind DeMar DeRozan, Norman's chances of more floor time just improved.
At least we can hope to see this configuration for the next few weeks. Who cares if the team loses all its exhibitions? This is also a golden opportunity for a dark horse named Jarrod Uthoff. He's long and mobile, with impressive defensive stats in his college days. I'd like to see if those skills carry over to the pros, and I hope Dwane Casey want to find out as well.
DeMarre has averaged about 31 minutes per game over the past 3 seasons. I'd be surprised if he gets to 30 in 2016-17, as I'm sure his bosses are well aware of his fragility. There are a lot of minutes for his backup(s), whoever it turns out to be. The sooner this situation is stabilized, the better the Raptors chances of success.
More from Raptors Rapture
This article originally appeared on