Raptors (9-6) at Bucks (6-7): Preview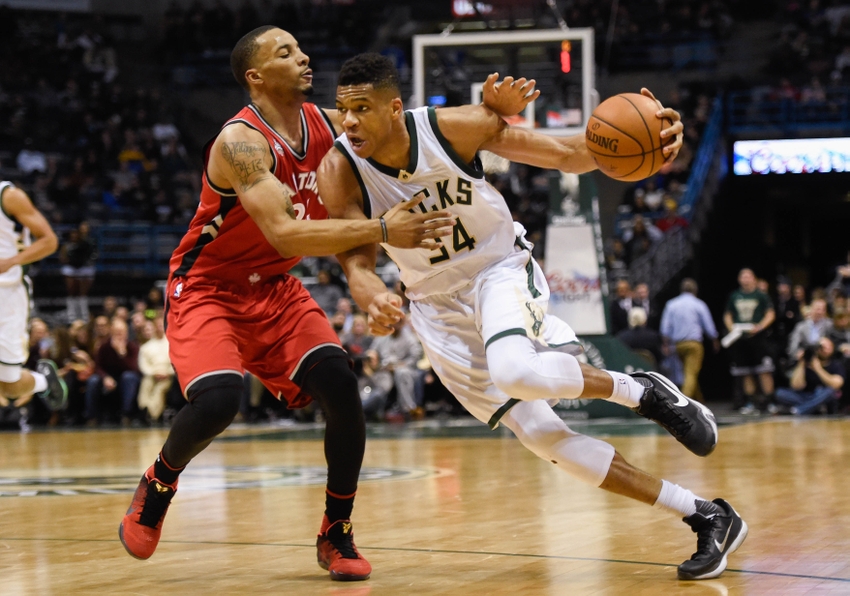 The Raptors would love to finish this 5-game road trip with a positive record, and a victory tonight in Milwaukee will do just that.
The Toronto Raptors have had enough of living out of suitcases, and will return home following tonight's game. Let's hope they do so happy, and that's possible. They should be able to handle the Milwaukee Bucks.
The Bucks have been "turning the corner" for several seasons now. When they will actually get themselves sorted out into a playoff-ready squad is impossible to say. They thought they had a taken a giant step with the signing two seasons ago of much-sought-after free-agent Greg Munroe. The huge forward always looked to these eyes like a man playing in the wrong era. He probably would have thrived in the smash-mouth Nineties against the likes of the bad boy Detroit Pistons, but in these days of pace & space, he's too slow.
Monroe is averaging 17+ minutes of playing time per game, while grinders like Tony Snell and Malcolm Brogdon are over 20. John Henson, another big body, isn't getting much burn in what should be the prime of his career. Coach Jason Kidd, once a top-rank point guard, clearly leans towards smaller lineups. However, he's handicapped by the long-term injury suffered to Kris Middleton. The deadly shooter won't be back for some months.
3 Keys to Victory for Toronto
Run more pick and pop plays for Terrence Ross. We've waited years for TRoss to become consistent from deep. This year he ranks seventh among qualified players with a 45.7% success rate, but sits in position 101 for attempts with 46. Come on, Dwane Casey. Channel your inner long-ball shooter and let Ross bomb away.
Cut down on turnovers. The Raptors started the season with excellent takeaway-giveaway numbers, but not lately. The fewest turnovers they have donated in the last 5 games is 11. Kyle Lowry has been particularly prone, with 7 in that hot mess in Sacramento.
Keep Jabari Parker under wraps. Everyone thinks it's the Greek Freak (more on him shortly) who brings prosperity to the Bucks, but my money is on swingman Parker. He's at 49.8% in eFG, meaning he's got the blend of 2- and 3-point baskets nicely worked out.
3 mega-Bucks
Giannis Antetokounmpo. A 6'11" point guard? Sure – who's going to cover him? He needs better teammates to be an All-Star, but in the meantime, he scores, passes and grabs a ton of boards.
Thon Maker. The Bucks' lottery pick this summer was projected a lot lower, but he's on the team, though not playing much. He's trying to make the leap from high school ball in Orangeville, ON (for our non-Canadian readers, that's northwest of Toronto) to the NBA. I really want to see him.
Mirza Teletovic. His numbers so far aren't much to write about, but he's capable of getting very hot from beyond the arc. His height and bulk make him a beast on those occasions.
Conclusion & Final Score
The Raptors have been scorched lately, but the Bucks don't have the kind of scoring punch teams like Golden State, the Clippers and even the Rockets regularly roll out. If the second unit can hold up its end of the bargain, the road trip will end positively.
Raptors 111 – Bucks 98
More from Raptors Rapture
This article originally appeared on