Raptors (8-4) at Kings (4-9): Preview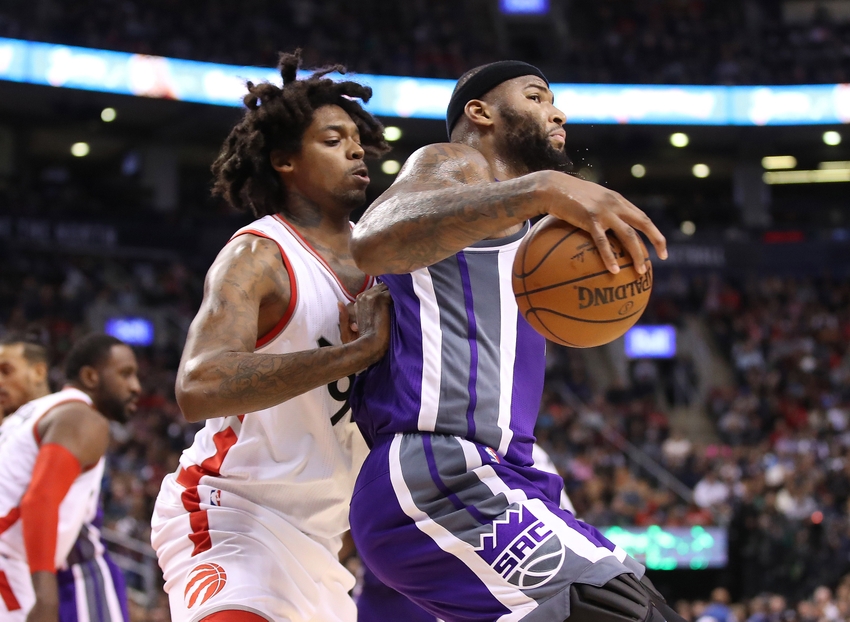 The Raptors get another chance to defeat a nemesis team, the Kings, who have great difficulty facing everyone else.
Overview
The NBA schedule-maker is a capricious beast. The Toronto Raptors face a team they have already played, just like Friday in Denver, despite not yet seeing many opponents they will be taking on four times this season.
The first match-up took place at the Air Canada Centre, and turned out to be the Raptors' worst effort so far. The Sacramento Kings took full advantage of the absence of Jonas Valanciunas to emerge with the win. I'm harping on this game because the Raptors' lack of secondary scoring was on prominent, ugly display. DeMar DeRozan, Kyle Lowry and Pascal Siakam(!) were the only Raptors in double figures.
JV is back for this game, and will be ready to battle with beastly DeMarcus Cousins. The Kings' muscular center is on everyone's Most Likely To Be Traded list, as is second-leading scorer Rudy Gay. While Kings GM Vlade Divac is spouting brave talk about keeping them both, the clock is ticking towards the February trade deadline. If the Kings are skittering around the league basement at that time, which I fully expect, Divac's hand will be forced.
3 Keys to Victory for Toronto
Control Cousins. What, you were expecting something else? The guy is the Kings' leading scorer, rebounder and shot blocker. He's second in steals and fourth in assists. Lucas Nogueira will be back with the Raptors after missing the Denver game due to the arrival of his baby daughter. Between he and JV, the Raps have the depth to make Cousins sweat.
Make some long balls. The Kings rank 22nd in opponents' 3-point percentage. This year's team is relatively old (Gay, Arron Afflalo, Ty Lawson) and don't close out terribly well. If it were my team, I'd dust half these guys and play the kids, like Willie Cauley-Stein and Skal Labissiere.
Change Patrick Patterson's diet, or warm-up routine, or something. Pascal Siakam is a rookie who's field goal percentage is 55.7. The veteran Patterson is bumping along at 28.6, meaning he's not even making his 2-pointers. How long can he play 30+ minutes while averaging 5.7 points?
3 key Kings
Darren Collison. He has played well since returning to the team after serving an 8-game suspension for domestic violence. Here's hoping I never write that sentence again about any NBA player. His return has solidified the point guard position, which had been in the unsteady hands of Ty Lawson.
Omri Casspi. His name popped up in rumors which alleged some interest in his services from our team. Great, that's all we need – a supposed stretch-4 who's shooting 22.2% from deep.
Garrett Temple. This is another young player the Kings should clear the decks for. I like this swingman's energy and diverse skills.
Conclusion & Final Score
The Raptors are a better team on both sides of the ball. They didn't prove it in Toronto, but have no excuses not to in Sac-to. Everyone's healthy; even DeMarre Carroll has held his own of late.
Raptors 111 – Kings 98
More from Raptors Rapture
This article originally appeared on