Raptors (7-2) at Cavaliers (8-1): Preview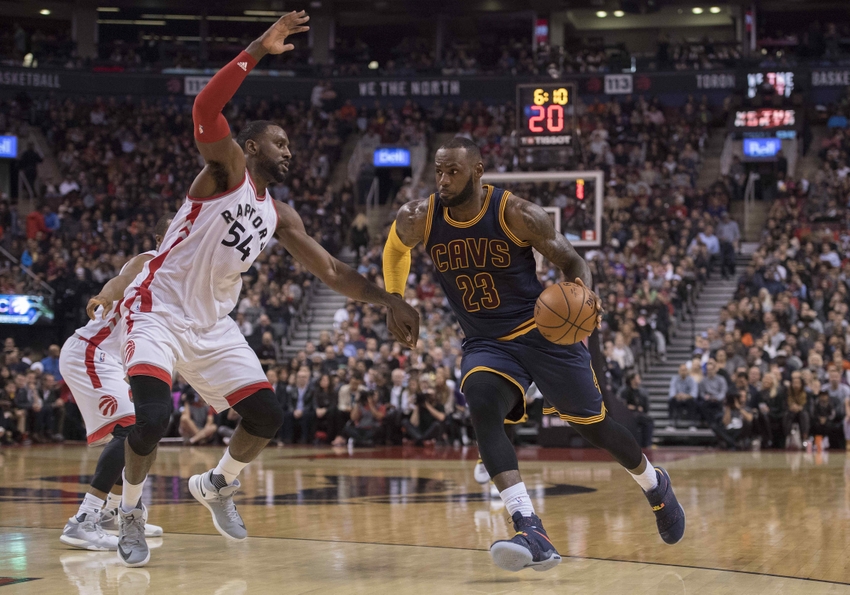 In the first game of a nasty back to back, the Raptors visit the Cavaliers. Nothing much has gotten in Cleveland's way so far this season.
The Toronto Raptors get their second chance to knock off the defending champion Cleveland Cavaliers. The only team to defeat the Cavs so far are the Hawks, as Cleveland has brushed aside most challengers to post a plus_7.4 margin. The Raptors are right behind at plus_6.1.
LeBron James heads every conversation about the Cavaliers, as he's staking a serious claim as the GOAT. The completeness of his game is what impresses me most. Sure, he scores in every way possible, but he's also averaging 9.1 assists per game [PG], and he's a legitimate DPoY candidate every season.
3 Keys to Victory for Toronto
Get on the boards. Cleveland has more than enough tools to beat the Raptors straight up. If Toronto continues to allow second- and even third-chance opportunities to the extent they have recently, the result could be ugly. The problem is worsened by the presence of two excellent Cleveland rebounders, Tristan Thompson and Kevin Love.
Limit the long ball. The Cavaliers rank second in 3-pointers made, with an eye-popping 13.2 PG. The Raptors are 28th, at 6.4.
Get some offense from Valanciunas. The Cavs are a smallish bunch, and if JV can get the ball early in the shot clock, he can do some damage. A few baskets from him, and some rebounds on the other end, will upset Cleveland's rotation. They will have to bring Chris Andersen off the bench.
3 Cavs of quality
Channing Frye. He's firing away from beyond the arc, and hitting at a 48.8% success rate. He's too tall for a wingman to cover, so the best options are to deny him the ball, or hope Siakam or 2-Pat can bother the shot.
Kyrie Irving. On any other team, he'd be the acknowledged superstar. He used to be a below-average shooter, but not anymore.
J.R. Smith. Another deadly shooter; he reminds me of Joe Johnson when that guy was hurting the Raptors as a Net. Smith has been hobbled with a sore ankle, so we may not see him.
Conclusion & Final Score
While the Raptors played these people tough in Toronto, they didn't get fazed and ultimately pulled out the win. I think the Raptors lack of secondary scoring is going to be their Achilles' heel in this game. If the margin seems hopless early in Q4, look for Dwane Casey to pull the starters.
Cavaliers 104 – Raptors 96
More from Raptors Rapture
This article originally appeared on