Raptors 122 – 76ers 95: Who needs DeRozan?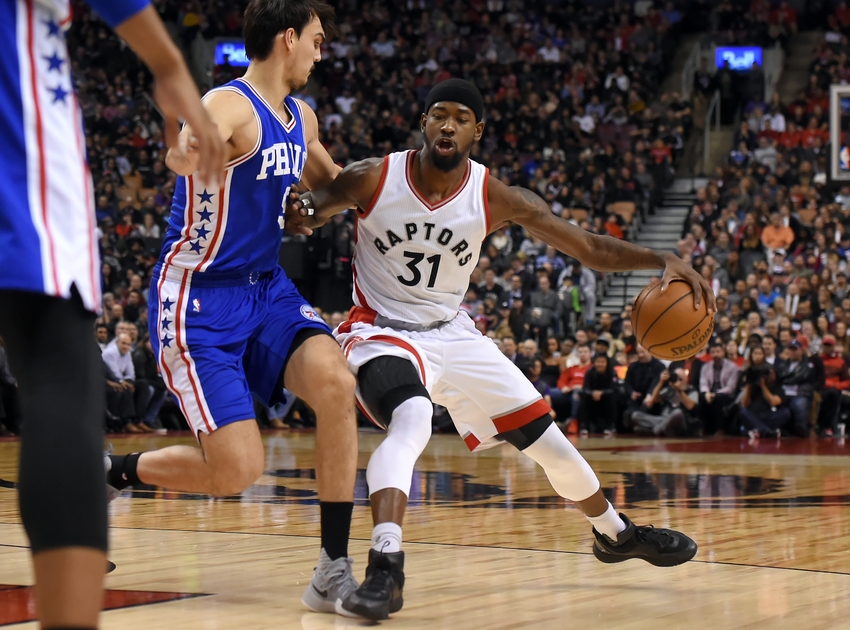 The Raptors began their longest homestand of the season in fine fashion, with their highest-scoring game against an overmatched 76er team.
The trap-game syndrome was only briefly visible in last night's victory. The Toronto Raptors fell behind late in Q1, then stepped on the gas and ran away from the Philadelphia 76ers. A poor shooting effort from DeMar DeRozan was of little consequence. The Raptors enjoyed a perfect night (6 for 6) beyond the arc from Kyle Lowry, and some impressive shotmaking from Terrence Ross, to put the game on ice.
The 76ers had more or less surrendered before tipoff, by deciding to sit Joel Embiid. Their fragile center is enjoying a spectacular NBA debut, but the team is keeping him on a tight leash minutes-wise. The Sixers played on Sunday night, and management was taking no chances. Had Robert Covington not broken out of his shooting slump with six long balls, this game would have been a travesty. Nik Stauskas chipped in with 3 threes and a left-handed hook shot off glass. The Canadian swingman looks like he'll stick in the NBA.
Lots of positives
This game offered a lot to like for Raptors' fans. Coach Dwane Casey was able to empty his bench, so ghostly figures like Fred VanVleet and Bruno Caboclo got a few minutes of PT. Everyone save those two hit the scoresheet (yes, that includes Jakob Poeltl and Norman Powell). Lowry wasn't alone with his hot hand; the Raptors ended 13 of 19 from distance. The second unit dominated their Philly counterparts. Jonas Valanciunas had a double-double in 22 minutes before sitting down because of an ankle turn. His injury is not serious, and shouldn't keep him out of Wednesday's contest.
In closing…
Those who like to criticize the Raptors for their isolation-heavy offense can take some solace in the fact the 76ers had more assists, 27 on 36 field goals to Toronto's 22 on 42.
DeRozan had an odd night. His shots at the rim were short, and his jumpers were long. I doubt there's anything to worry about; he just didn't have it.
The slow-it-down Memphis Grizzlies visit tomorrow night, as the Raptors' lengthy homestand continues.
More from Raptors Rapture
This article originally appeared on