Raptors 119 – Nets 109: Crazy times
Brian Boake/FanSided via Raptors Rapture

Fansided
The Raptors were trying to grab a win against the NBA's worst team without their key man, who needed rest. It wasn't easy, but the good guys prevailed.
The Toronto Raptors have never been an organization at the leading edge of basketball theory. Innovations like "7 seconds or less", the triangle offense, or sitting players to gain some rest…you don't think of our team as having added much to the modern game. But there's nothing wrong with borrowing others' ideas, which is exactly what coach Dwane Casey did last night against the Brooklyn Nets.
While the norm, if there is one, for resting players is to do so on the second night of a back to back, Casey gambled that his squad could live without sparkplug point guard Kyle Lowry on night 1. While Casey must have been tempted to tell his main man to get on the floor after a crummy first half, our coach stuck to his guns and was rewarded. The Raptors came back to pull out a gratifying win.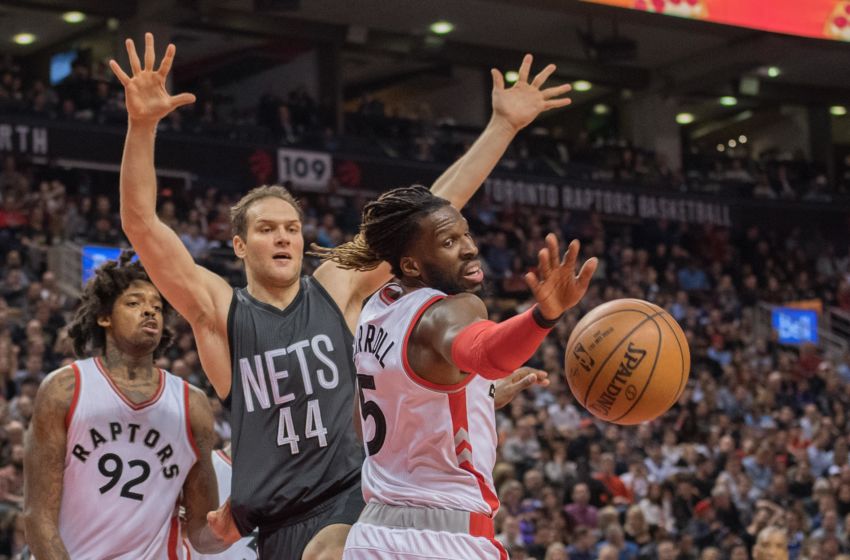 Toronto's high scorer, with 36 points, was DeMar DeRozan, which is hardly surprising. What does raise the eyebrows is the name of the player who poured in a career-high 33. Take a bow, Cory Joseph. Another guard who reached double figures was Fred VanVleet, also with a career-high number of 10.
Big minutes for almost everyone
The Raptors used all kinds of combinations to hold off the hapless Nets. Both Pascal Siakam and Jakob Poeltl got 14+ minutes of burn, and weren't outclassed. Siakam missed a couple of bunnies (relax!), but blocked 3 shots and was plus_14.
This was a game for fans of small ball. Jonas Valanciunas managed just 3 buckets against the formidable Brook Lopez. The Nets' center is their only serious NBA player; he displayed some fine footwork our big guys would do well to emulate on his way to scoring 28 points.
Lucas Nogueira got bashed in the face with an elbow while defending a driving Trevor Booker (why an offensive foul wasn't called is beyond comprehension) and left early with blurred vision. He is unlikely to dress against Philadelphia.
Will DeMar sit?
DeRozan is listed as a rest candidate as well. That's not surprising considering how many hard-working minutes he needed to play before the win was nailed down. Had he enjoyed a better shooting first half, he might have sat late, but he was misfiring from everywhere. The Nets bailed him out a number of times and sent him to the charity stripe, which was essential as he was 3 of 14 before the break.
Fortunately he was in form in the second half, draining 10 of 14 shots.
The Raptors are likely to toss out unusual combinations once again tonight, as the injury list is getting uncomfortably long.
More from Raptors Rapture
This article originally appeared on