Raptors 116 – Knicks 101: Q3 surge
Brian Boake/FanSided via Raptors Rapture

Fansided
The Knicks were in Toronto, hoping to turn around a season that headed south after a decent start. The Raptors took their time, but eventually ruined the New Yorkers' visit.
The Toronto Raptors, as is their wont, allowed the New York Knicks to hang around. Even though the Raps piled up 69 first-half points, despite another sluggish start, the Knicks managed 54.
Toronto's offense struggled early in part because DeMar DeRozan couldn't find the range. However, he's got a shooter's mentality, and traded in missed jumpers for taking the ball to the tin. It worked.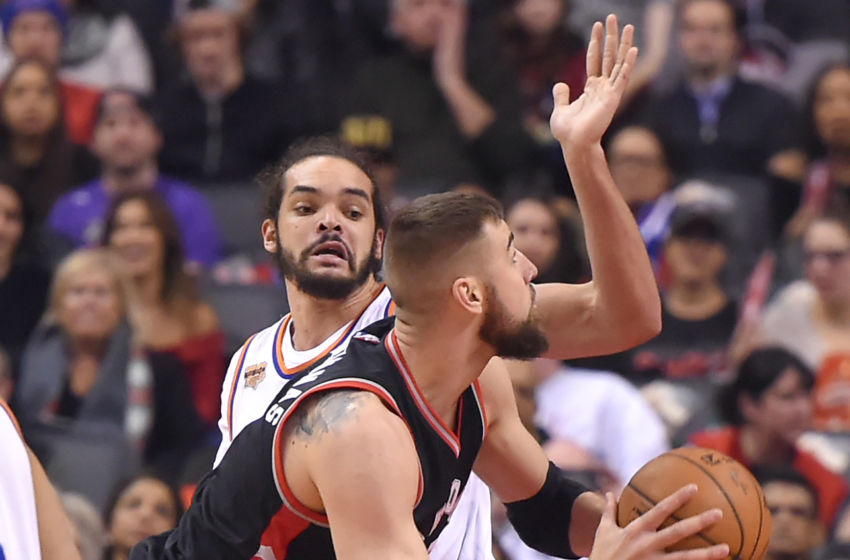 Jonas Valanciunas was doing very well at ensuring the Knicks were one and done. He pulled down 11 rebounds before break, and popped in some buckets to take the pressure off the backcourt. Terrence Ross' 4 of 5 from beyond the arc also provided some relief.
Raps dominate after break
However, the Knicks, who had enjoyed some decent shooting numbers, lost the handle in the third quarter. Toronto's starters were intruding in the passing lanes, forcing the Knicks into bad passes and low-percentage shots. The Raps rattled off a 25-2 run, and ended the quarter with a 34-point lead. DeMarre Carroll's 10 points was more than the entire Knicks team, which managed 8. What's especially astounding is the fact the New York starters scored 1 basket – this was an El Foldo of historic dimensions. (In fairness, emergency starter Lance Thomas exited after having a bone in his face broken by a JV elbow early in Q1.) Regardless, Kyle Lowry sat down after a paltry 28+ minutes with a plus_35…now that's dominance.
Knicks coach Jeff Hornacek decided he'd seen more than enough, and pulled his starters. Q4 was a coup for the Knicks' second string, who poured in 39 points. By contrast, the Raptors' kids struggled mightily. Jakob Poeltl somehow racked up 5 fouls in less than 4 minutes before being pulled. Cory Joseph shot well on Friday night, but couldn't find much string this afternoon. What scoring the benchers managed was provided by Norman Powell, who scored an efficient 21 points.
New York headed home with its tail between its legs. The Raptors are packing for a 3-game road trip starting tomorrow night in Brooklyn.
More from Raptors Rapture
This article originally appeared on