Raptors 105 – Nuggets 102: Overcoming Denver Struggles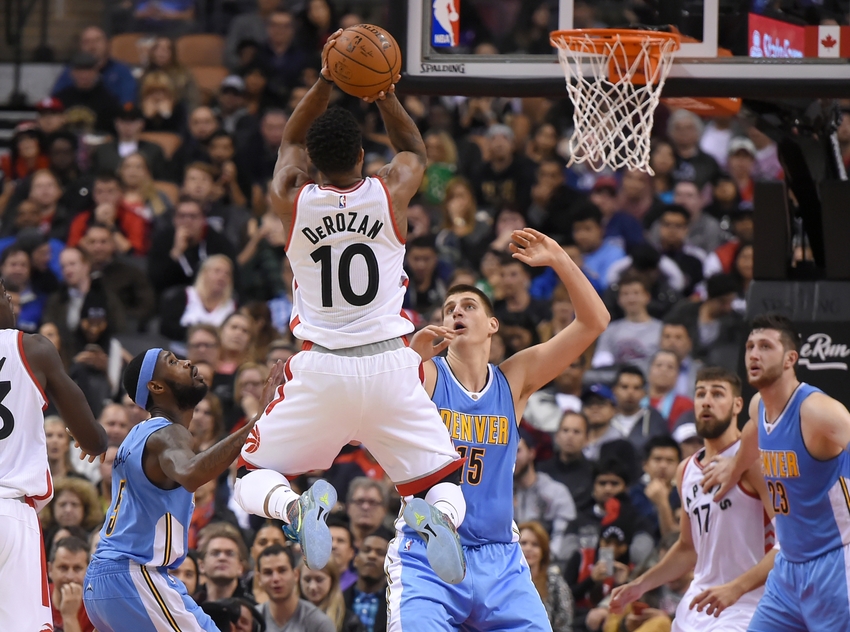 The Toronto Raptors defeated the Denver Nuggets by a final score of 105-102; an unconvincing win with many fouls, missed three-pointers, and another high-scoring performance by DeMar DeRozan.
Last season, the Toronto Raptors were swept by the Denver Nuggets; an opponent to which a team like Toronto have no business losing to… twice. Last night, the same struggles the Raptors faced in their previous encounters with the Nuggets became evident once again; fortunately, this time they came out with the win. While excessive fouling and difficulties at the three-point line nearly cost them the win, the all-star backcourt carried the team in the deciding moments of the game.

102

105
Containing Denver's big men
In his game preview, our editor Brian Boake suggested that, should Toronto win, they would have to contain the Nuggets' frontcourt. Nikola Jokic finished the game with 12 points and Jusuf Nurkic with 13; knowing that both big men could combine for forty-plus points in their best collaborative effort, limiting them to twenty-five points and under has without a doubt allowed the Raptors to outplay the Nuggets down the wire.
All-Star performances?
An aggressive left handed layup over Nurkic gave DeRozan his 31th point of the night, but, also made him the first player in Raptors' Franchise history to open a season with three consecutive 30+ point games. While his 14 points in the first quarter might have been hinting at the possibility of another 40-point game, it definitely seemed like Toronto lost their rhythm when coming back out for the second half. Fortunately, DeRozan and Lowry helped their team get the momentum necessary to compensate for Denver's unexpected 33-point quarter. Lowry's first two performances against Detroit and Cleveland simply did not look right. While his three-pointer still isn't quite there yet, he played big in the fourth quarter and finished with 29 points.
It's a great thing to see the hot start with which DeRozan commenced the season. Hopefully, he looks to find consistent efficiency rather than scoring at all cost.
Foul trouble
Allowing the opposing team an excessive amount of free throw attempts in one game is undoubtedly a recipe for disaster. The Nuggets converted 27 points from 35 free throw attempts that the Raptors granted them with their 28 fouls in total. In spite of that, foul trouble situations can result to more playing opportunities for the Raptors' youth, as we saw an increase in minutes for Jakob Poeltl. The ninth overall pick played a solid defensive performance with his two blocked shots, filling in additional minutes for Jonas Valanciunas who found himself in early foul trouble.
Next Raptors Game
Full Schedule
11/2
at

Washington Wizards
The Raptors played another hard-fought game against a gritty opponent. Though it won't always be pretty, a win is a win, and I presume they will find themselves in theses situations quite often.
More from Raptors Rapture
This article originally appeared on