Raptors 105 – Bucks 99: solid finish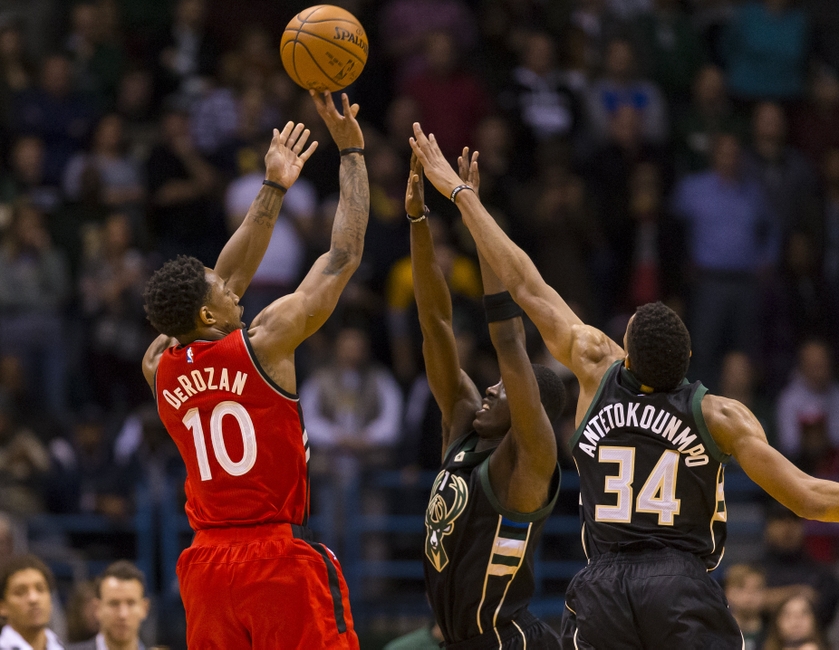 The Raptors had just enough shooting and defense to grab another road win, this time over the Milwaukee Bucks.
The Toronto Raptors came very close to breaking last night, but didn't. In a game which was tight from start to finish, the Raptors were able to fend off repeated runs by the Milwaukee Bucks to emerge with a victory. While this match wasn't the most satisfying effort we're likely to see, Toronto's players met the challenge of a Q4 Milwaukee comeback. When the Raptors needed to make shots in crunch time, they did.
If Giannis Antetokounmpo ever develops a jump shot, he will be an MVP candidate. He was brilliant for the losers, scoring 29 points (including several breathtaking dunks) and dishing 11 dimes. The Raptors tried everything and everybody on him without success, and they are fortunate his mates weren't able to match his skills.
The best players were the best players
The Raptors were led in scoring as usual by the backcourt, as DeMar DeRozan scored 26 (a number I predict he will be averaging by season's end) and Kyle Lowry added 19. As a team, the Raptors are discovering the power of the open 3-ball. Toronto shooters buried 14 of 31 attempts, both of which are numbers even a curmudgeon like me can't complain about.
Balanced scoring was in order; every Raptor save Lucas Nogueira hit the scoresheet, and Bebe redeemed himself with 4 blocked shots.
Down to the wire
The game's final few minutes were nerve-wracking but ultimately rewarding. The Greek Freak scored his team's last 10 points, singlehandedly keeping the Bucks a possession away. Meantime, Kyle Lowry salvaged a bad possession with a deep three as the time clock expired, then made a wonderful steal and layup with 7 seconds to play. DeRozan hit a critical jumper and buried the backbreaking free throws to ice the win.
The Raptors end their road trip with a 3-2 mark, and return home for a quiet weekend before Philadelphia visits on Monday night.
More from Raptors Rapture
This article originally appeared on