Ranking The Los Angeles Lakers' 5 Best Players Right Now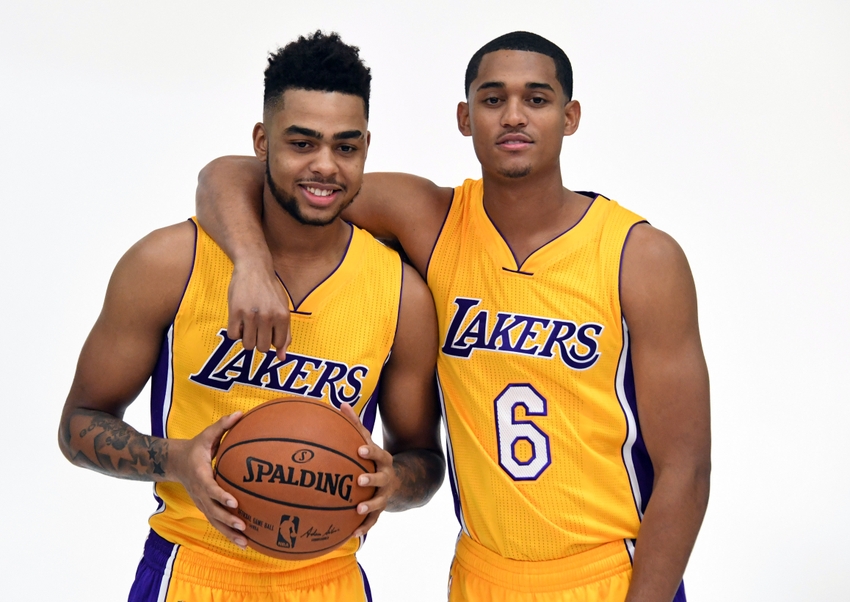 With the 2016-17 NBA season just around the corner, it seems like the appropriate time to rank the Los Angeles Lakers' best players.
In about two weeks, the Los Angeles Lakers tip off their 2016-17 season. More importantly, the post-Kobe Bryant era officially begins.
It's an exciting time for the Lakers, but one that also brings its fair share of uncertainty.
Sure, there's plenty of intrigue with a roster that boasts three recent top draft picks, including the previous two No. 2 overall selections. However, there's also plenty of room for more disappointment in this franchise's immediate future.
While no one knows for sure what we can expect from this season, we can take a look the Lakers' top players to pass the time. There's so much talent on this roster, but how do all of these young, high-upside prospects rank heading into 2016-17?
That's the question I'll answer here. I took a look at the current roster, and boiled it down to the five best players at this point in time.
As you'll notice, I left rookies off this list. We haven't seen them play in the NBA outside of Summer League and a handful of preseason games, which isn't enough to make an educated judgment. So don't lose your marbles when you realize Brandon Ingram is absent from this list.
With that in mind, here's my look at the Lakers' five best players at this very moment.
5. SG Lou Williams
Don't get me wrong–Lou Williams brings plenty to the table. He's an excellent offensive asset for the Lakers capable of scoring in bunches. Unfortunately, in terms of being a well-rounded basketball player, he's quite limited.
Put simply, Williams is a liability on defense. In some cases, it's almost as if the Lakers are at a 4-5 disadvantage on defense considering his ineffectiveness on that end. I'm not sure if he's at James Harden levels of poor defensive play, but it's apparent slowing opponents isn't a strong suit for him.
Still, he's an exciting option on offense who can create his own shot and get hot from just about anywhere on the court. While I'm not convinced entering him into the starting lineup was the best move for the Lakers, I'm not going to question Luke Walton until I have a reason to do so.
Overall, Williams brings impressive scoring and playmaking to the court. He wasn't the star the Lakers thought they were getting when they signed him, but he definitely deserves some credit–especially after those games during which he catches fire.
4. PF Julius Randle
In terms of potential, Julius Randle is one of the most intriguing players on the Lakers' roster right now. Unfortunately, he still hasn't quite lived up to the hype since landing in Los Angeles two offseasons ago.
Obviously, the broken leg in his NBA debut didn't help. It was a tedious road to recovery, and Randle fought a steep learning curve in what was essentially his rookie season a year ago. Although he gave us glimpses of greatness, it was clear he still had a long way to go before developing into the star he's capable of being.
I'm not sure what type of progress we'll see in 2016-17, but expectations are high.
Based on what we've seen between last season and this preseason, Randle is in for a big year. However, he still needs to see significant improvement, especially on the defensive end.
While Randle is more than capable of putting up points and obviously dominants the boards, he doesn't exactly make a lot of plays on defense. The Lakers will be looking to see more steals and blocks from Randle in 2016-17, while it's completely feasible for him to average a double-double in points and rebounds.
The Kentucky product is an excellent talent, but needs to step up his game in a couple of areas. If he can do that, I could see him moving up this list in a hurry.
3. SF Luol Deng
Despite his 31 years of age, Luol Deng is still a force to be reckoned with. Although he tallied some of his lowest totals since his rookie season, the veteran forward was a productive part of the Miami Heat a season ago. So what does he bring to the table for the Lakers?
Well, a lot for a declining, injury-prone player.
First, Deng is a tough, versatile asset for Los Angeles who is expected to play at small and power forward this year. His 12 years of NBA experience give the Lakers a reliable veteran presence who can help guide Ingram down his path to stardom.
Second, he's still capable of being a quality contributor. As we saw a season ago, Deng proved to be a trustworthy part of the Heat's frontcourt, averaging 12.3 points, 6 rebounds and 1.9 assists per game while connecting on 45.5 percent of his field goals. Assuming he can stay healthy, Deng should see similar production for the Lakers.
Deng's durability will be an issue, as he's already battling a bruised knee (via Lakers.com) that kept him out of some early preseason action. As long as he avoids extended visits to the trainer's table, he should play an integral role in Los Angeles in 2016-17.
2. SG Jordan Clarkson
I was a bit surprised when I saw the news that Jordan Clarkson would be coming off the bench–at least to start the year. Because, in my opinion, he's at least the second-best player on this roster heading into 2016-17.
It's a bit shocking how the former second-round pick continues to fly under the radar. Clarkson was a revelation as a rookie, and kept his momentum rolling into his sophomore season despite the presence of Bryant and Williams. With Bryant out of the way now, the door is wide open for Clarkson to emerge as a star.
Based on what we've seen, he's got the talent to do so.
Last season, he averaged 15.5 points, 4 rebounds, 2.4 assists and 1.1 steals per game while making 34.7 percent of his shots from deep. Word on the street is he's improved from long range this offseason, and has also seen a significant increase in his defensive efficiency on the perimeter (via InsideSoCal.com's Mark Medina).
The sky truly is the limit for Clarkson. If he can capitalize on this opportunity with the Lakers and continue to develop as a playmaker, we could easily see him solidify his status as a rising star in Hollywood.
1. PG D'Angelo Russell
I know a lot of folks are still skeptical, but D'Angelo Russell is the best player on this Lakers roster–at least right now. While Ingram could theoretically change that in a hurry, I'm confident the 2015 second-overall pick will be the star of the show to begin the season.
Realistically, there's a lot to like about Russell.
When given the opportunity, he's an excellent scorer with an exceptional jumper and the ability to create his own shot. While he's still got work to do as a facilitator, I'd expect him to take a big step forward in that department in Year 2.
After a tumultuous rookie season, Russell appears primed for a major breakout year in 2016-17. He's thrived in the go-to role during Summer League and the preseason, and seems to have re-earned the trust of his teammates after last year's off-court drama with Nick Young.
I'm very confident Russell will explode in his first year as the Lakers' top offensive option. Before it's all said and done, he may even assert himself as the new face of the franchise.
This article originally appeared on