Ranking The Los Angeles Lakers' 5 Best Players After One Month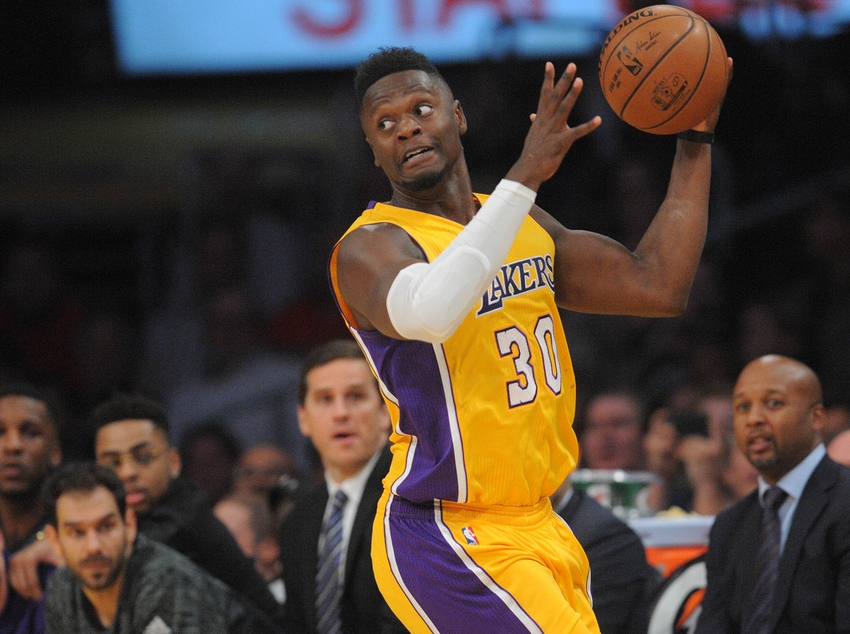 A month into the 2016-17 NBA season, it's time to put together a ranking of the Los Angeles Lakers' five best players with December just around the corner.
It's been an exciting start to the 2016-17 NBA season for the Los Angeles Lakers.
In one season, they've gone from one of the franchise's worst teams of all time to a club on the fringe of playoff contention. While there's still a lot more basketball left to be played, let's take a look at what the Lakers are doing right now.
More specifically, I want to look at who Los Angeles' best players are at this very moment. I ranked the Lakers' top five players before the start of the season, and decided to take another gander after a month of action has passed. And I'll tell you, the list looks quite different at this point in time.
Now it's important to remember that this aims to rank them based on their current play. This isn't a barometer of how good they could be or how good they were a year ago — it's a ranking of the Lakers' best players right now. There's a lot of quality talent on this roster, so there were plenty of players to consider when putting this list together.
Here is my ranking of the Lakers' five best players right now. Be forewarned: There will likely be some unhappy campers based on players I left off the list.
5. Larry Nance Jr.
It seems a bit surprising, but Larry Nance Jr. may be the most underrated player on this Lakers squad. The former first-round pick has blossomed during his third season, and is paying huge dividends as part of Los Angeles' bench unit.
What's really stood out this season is Nance's ability to shine on both ends of the floor. He's been extremely efficient on offense, connecting on 60.2 percent of his field goals and scoring 7.1 points per game. To top it off, he's playing the boards well and making life difficult for opposing scorers.
It's been a big year, but it's not a total shock.
We saw spurts of this playmaking ability from Nance in the past. The Wyoming product consistently uses his elite athleticism to gain the advance in the paint, either throwing down massive dunks or making clutch blocks. The instincts inherited from his All-Star father are also apparent on game days.
Going into the season, I wouldn't have expected Nance finding his way onto this list. However, despite coming off the bench, he's consistently created sparks for the Lakers. Given more time for him to grow and develop his skill set, Nance should become an integral part of this roster.
FYI: It was a close contest between Nance and Timofey Mozgov for this spot. Nick Young was also considered, but he's too inconsistent on offense and unreliable on defense.
4. Jordan Clarkson
I don't think the Lakers knew what they were getting when they spent a second-round pick on Jordan Clarkson in 2014. At this point, they have been pleasantly surprised by the results of their selection of the Missouri product.
While he may never be a superstar, Clarkson has given the Lakers much more than they could have ever asked for. He's one of the most reliable players on this roster, and a productive presence whether he's starting or coming off the bench.
As we've seen this season, Clarkson has excelled in his bench role. Although he hasn't been the go-to scoring option, he's putting up outstanding numbers and building on what was an impressive sophomore campaign. Just ask his 15.2 points, 2.6 rebounds and 1.9 steals per game.
My only concern is that he's already nearing his ceiling as an NBA player. We've never really seen a superstar performance from Clarkson. It appears as though he'll always be an exceptional role player, and not much else.
Regardless, every NBA team needs role players. Clarkson is an outstanding one, and it only cost the Lakers a second-round pick to bring him aboard.
3. D'Angelo Russell
Heading into this season, I expected nothing more than a breakout year for D'Angelo Russell. Heck, I even predicted he'd emerge as the next face of the franchise for the Lakers.
Obviously that hasn't been the case through one month.
Now don't get me wrong–Russell has been one of the keys to Los Angeles' early-season success. If it wasn't for him, I don't believe they'd have as many wins as they do at this point. However, he hasn't exactly been the superstar many thought he'd emerge as after an impressive Summer League/preseason showing.
Unfortunately, it won't get any easier for Russell moving forward. He's already missed the last three games, and is expected to miss at least a couple more weeks after receiving a PRP injection in his ailing knee (via Mike Bresnahan).
Russell has elite abilities, and could very well unlock them at some point this season. For now, though, he finds himself at No. 3 after an inconsistent and injury-hindered start to the 2016-17 campaign. Don't worry though, it's going to get much better for Russell in the very near future.
2. Julius Randle
It's been a bit shocking to see the leap Julius Randle has taken this year. After missing his entire rookie season and giving us glimpses of greatness as a sophomore, it's great to see the Kentucky product is finally living up to his billing as the No. 7 overall pick.
Realistically, he's outshined every one of the Lakers' other young rising stars this season. Russell hasn't been nearly as efficient or reliable, and Brandon Ingram is still a huge work in progress. Clarkson has been his dependable self, but he still hasn't reached that true star status. Randle, on the other hand, has been everything Luke Walton hoped for and more.
If Walton was looking for a Draymond Green replacement, he found it.
Randle has excelled as the Lakers' playmaker in the paint. He's routinely putting up double-doubles, and has even managed one triple-double through 15 appearances. While his averages of 13.3 points, 8.1 rebounds and 3.1 assists per game aren't MVP-worthy, the tenacity, leadership and instincts he's shown have proved he's grown a lot since last season.
We all knew the sky was the ceiling for Randle. We're finally starting to see him unlock some of that potential, and it's giving the Lakers a lot to look forward to this season and beyond.
1. Lou Williams
I would have never guessed it, but Lou Williams has been the star of the Lake Show in 2016. I had never been sold on the Lakers' decision to sign him in the first place, but I believe he's more than proven doubters (including myself) wrong this season.
Not only is Williams the Lakers' leading scorer and owns their highest Player Efficiency Rating, but he's just been the guy who gets it done.
If they need a big-time shot, they go to Williams. If they need someone to facilitate some offense, they go to Williams. He's even chipped in some clutch defensive plays so far.
Especially with Russell injured, Williams has been able to grab hold of the reins of the offense.
It makes it all the more impressive when you remember that Williams isn't even a starter. Obviously he's done well for himself as a star off the bench — that's likely the main reason the Lakers signed him in the first place. And now he's lining himself up to make a run at a second Sixth Man of the Year award.
I'm not sure whether it's Walton, more comfort within the system or something else, but Williams looks like a different player this season. He's the Lakers best player through a month, and I'm sure plenty of folks would back that assertion.
This article originally appeared on