Ranking Each Utah Jazz Player's Best Game Last Season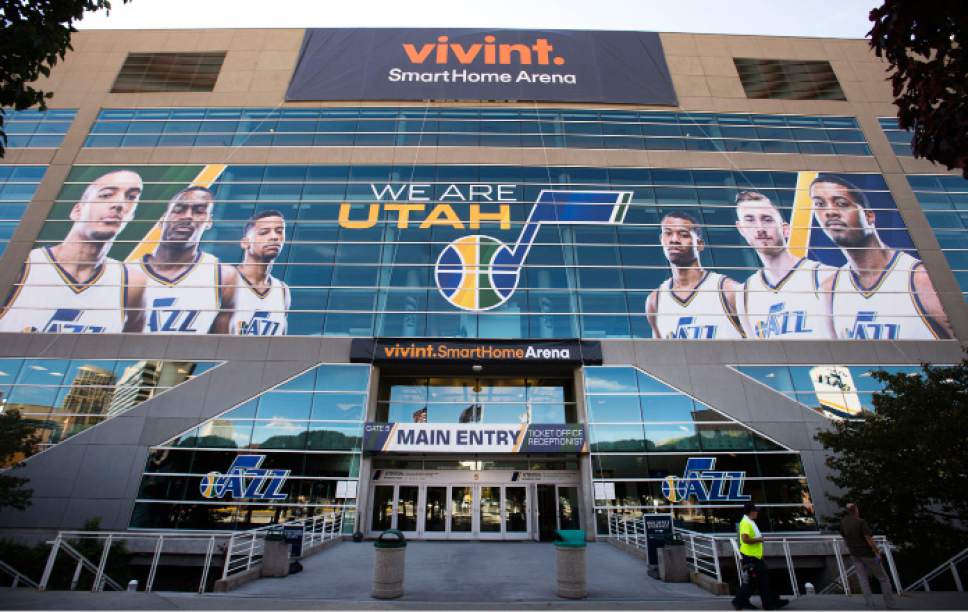 While the Utah Jazz missed the playoffs for the fourth straight year, fans were treated this past season with incredible performances from each player on the team.
The Utah Jazz went into the 2015-16 season with high hopes and aspirations of ending their playoff drought. However, the season did not end as planned. Injuries and an inability to close out close games left the Jazz a game behind the Houston Rockets for the final playoff spot.
Despite missing the postseason for the fourth consecutive year, fans' excitement and expectations for the team continue to rise this offseason. While many fanbases lose interest as their team loses games, the Jazz fanbase hasn't faltered. Why is this?
One of the many reasons is due to the connection we feel to the players. After the Jazz were swept by the Spurs in the 2012 playoffs, they made the difficult decision to overhaul the roster. They had already traded Deron Williams the season before and that offseason they let veterans Paul Millsap and Al Jefferson leave via free agency.
After a couple of years with a roster in flux, we've watched the core of Gordon Hayward, Derrick Favors, Rudy Gobert and Alec Burks develop from young kids to seasoned veterans.
The Jazz now have a solid roster which has been solidified with their off-eason acquisitions. When one player is having an off night, there's going to be another player or two ready to step up his game. With the first preseason game of the 2016-17 season less than three weeks away, let's take a look back at the best game of last season for every player on the Jazz.
17. Dante Exum
Unfortunately. Dante Exum automatically finds himself at the bottom of this list following his ACL tear last summer. But here are some highlights from his rookie season to get you excited to see him on the court this upcoming season.
16. Marcus Paige
Box Score: 30 points, five assists, five rebounds, 10-21 field goals, 5-9 three-point field goals
The North Carolina Tar Heels went to Florida State University in the middle of a 12 game winning streak and pulled out the win behind a season high 30 points from now Jazz rookie Marcus Paige.
15. Joel Bolomboy
Box Score: 26 points, 11 rebounds, 6-9 field goals, 2-2 three-point field goals
With less than a minute to play. Joel Bolomboy converted an old-fashioned three-point play to give him team the lead and then would hit the game winning three on the next possession.
14. Jeff Withey
Box Score: 12 points, 10 rebounds, 4 blocked shots, 2 assists, 5-9 field goals
Jeff Withey got the start on January 2 against the Memphis Grizzlies due to injuries to both Rudy Gobert and Derrick Favors. WIthey (four blocked shots) was the anchor of the defense helping slow down Marc Gasol and helping the Jazz pull out the victory in overtime.
13. Chris Johnson
Box Score: 14 points, 4 rebounds, 3 assists, 2 blocks, 2 steals, 6-9 field goals, 2-3 three-point field goals
While the chances of Chris Johnson making the final roster aren't great, he is going to make it very difficult for the front office to cut him. Johnson plays very aggressively and with passion which was on display on January 9 against the Miami Heat.
12. Alec Burks
Box Score: 24 points, 3 rebounds, 3 assists, 7-13 field goals, 4-5 three-point field goals, 6-6 free throws
Alec Burks started the season playing great basketball and averaged 16.2 points per game off the bench in the teams first ten games. On November 10 the Jazz found themselves in Cleveland playing the eventual champion Cavaliers. Burks was the spark plug off the bench finishing with a team high 24 points.
11. Raul Neto
Box Score: 15 points, 4 assists, 3 rebounds, 2 steals, 5-5 field goals, 2-2 three-point field goals
Raul Neto was nearly perfect on February 19 during a nationally televised game against the Boston Celtics. He finished with 15 points on 5-5 shooting and 2-2 from downtown. The only shot Neto missed all night was a free throw as he finished 3-4 on the night.
10. Trey Lyles
Box Score: 22 points, 6 rebounds, 2 assists, 9-16 field goals, 4-8 three-point field goals
Derrick Favors was expected to make the start against the Denver Nuggets on April 10, but was a late scratch due to a lingering knee injury. Rookie Trey Lyles stepped in to make his 31st start of the season.
Lyles started hot scoring seven of the teams first 14 points. The Jazz fell down by seven in the second quarter when Rodney Hood hit a three followed up by back-to-back threes from Lyles. Lyles would finish the game with 22 points on 9-16 shooting. The Jazz went on to win 100-84 thanks to the performance from Lyles and a 24-0 run in the second quarters.
9. Boris Diaw
Box Score: 20 points, 8 rebounds, 2 assists, 2 steals, 8-13 field goals, 2-2 three-point field goals
In a home game against the division rival Houston Rockets, the 39-year old Tim Duncan was returning after missing three straight games due to injury. Duncan was held scoreless and only got three shot attempts up. Reserve big Boris Diaw stepped up and played the big minutes Duncan was unable to.
Diaw scored 13 of his season high 20 points in the second half including eight in the final five minutes of the third quarter. Diaw also made an impact on the defensive end by grabbing eight boards and recording two steals. The Spurs would go on to beat the Rockets 121-103
8. Joe Ingles
Box Score: 15 points, 6 steals, 4 rebounds, 2 assists, 6-8 field goals, 3-5 three-point field goals
After missing the previous game against the Cavaliers with plantar fasciitis, Gordon Hayward missed his second consecutive game against the Phoenix Suns. Joe Ingles was making his second start of the season in place of Hayward and he had himself quite the night.
While Ingles' 15 points on 6-8 shooting overall and 3-5 from downtown is impressive, it's what he did on defense that stands out. "Slow Mo Joe" was playing the passing lanes all night and finished with a career high six steals, five in the first half.
The defense was contagious as they finished with 14 steals as a team and Rudy Gobert picked up three blocked shots. The Jazz went on to dismantle the Suns 103-69 for their fourth straight win.
7. Shelvin Mack
Box Score: 27 points, 4 assists, 3 rebounds, 11-17 field goals, 3-5 three-point field goals
When Shelvin Mack was traded to the Jazz, it was unsure what his role on the team would be. In his first game he came off the bench and by his second game with the Jazz he was permanently moved into the starting lineup.
On March 11 Mack got the start and was matched up against one of the best point guards in the league in John Wall. Mack went on to have a career night scoring a career high 27 points. Mack was 11-17 from the field and 3-5 from downtown.
The Jazz went on to defeat the Wizards 114-93. The win was the first in a six wins in seven games streak for the Jazz.
6. George Hill
Box Score: 23 points, 7 rebounds, 2 assists, 2 steals, 8-13 field goals, 4-6 three-point field goals
On November 9, George Hill and the Indiana Pacers hosted the Orlando Magic. Hill finished the night with 23 points on 8-13 shooting from the field and 4-6 from three-point range. He also added seven rebounds, two steals and two assists.
Hill was showcasing his whole game during the contest. He showed the ability to knock down the open three. He also got into the lane at will. Hill also proved that he was a gritty player who will give it all on defense and isn't afraid to get into the lane and compete for rebounds. Possibly the most impressive stat of the night was his zero turnovers from the point guard position in over 35 minutes of play.
The Pacers would win the game 97-84. The win was the first of a nine wins in ten games stretch for the Pacers.
5. Rudy Gobert
Box Score: 18 points, 18 rebounds, 5 blocks, 6-8 field goals, 6-7 free throws
On January 16, the Los Angeles Lakers made their first of two visits to Salt Lake City. (This is also their first of two visits on this list.) The Jazz were looking for Rudy Gobert, who was making his fifth start since returning from a knee injury that sidelined him for 18 games, to step up in the absence of Derrick Favors and Trevor Booker.
He did.
Gobert was aggressive on the boards hauling in 18. Five of his 18 were offensive rebounds which led to many easy put back buckets. Gobert also made his presence felt in the paint with five blocked shots.
Thanks to an efficient 6-8 shooting from the field and 6-7 shooting from the free throw line, Gobert finished with a team high 18 points. The Jazz would go on to rout the Lakers 109-82.
4. Joe Johnson
Box Score: 27 points, 11 assists, 6 rebounds, 2 steals, 11-16 field goals, 5-7 three-point field goals
While Joe Johnson finished the season with the Miami Heat, he started with the Brooklyn Nets. On February 5 his Nets played host to Sacramento Kings. Johnson would go on to record a double-double with 27 points and a season high 11 assists.
Johnson was on fire from downtown hitting five of his seven attempts. Twenty of Johnson's team high 27 points came in the first half where he hit four of his five threes. A fair amount of Johnson's 11 assists went to the sharp shooting Bojan Bogdanovic who finished the game with 23 points and seven three-pointers.
The Nets would go on to win in a shootout 128-119 despite DeMarcus Cousins recording a triple-double. The win was just the 13th on the season for Brooklyn. The Nets would cut Johnson from the team a few weeks after that game after both sides agreed to a buyout.
3. Gordon Hayward
Box Score: 36 points, 9 assists, 5 rebounds, 2 steals, 12-24 field goals, 6-12 three-point field goals, 6-6 free throws
Without a doubt, Gordon Hayward had the most games to choose from for his best game of the year. Scoring over 20 points in 43 different games, Hayward led the team with a career high 19.7 points per game. On January 18, Hayward scored a season high 36 points against the Charlotte Hornets, falling one point short of his career high that he set back in 2014.
During a Martin Luther King Jr. Day matinée against the Hornets, the Jazz fell behind as many as 15 points in third quarter. Hayward and the Jazz fought to get the game close down the stretch. With under thirty seconds left if the fourth quarter, Hayward hit a pair of free throws to cut the lead to one. After a pair of Hornets free throws, Hayward found Trey Burke in the corner and he hit the three to force overtime.
In overtime, the Jazz found themselves down by 5 with around twenty seconds left. Hayward found Joe Ingles for three to bring the Jazz within two. Hayward then stole the Hornets inbound pass and found Rudy Gobert on a pick-and-roll for the game-tying dunk.
The Jazz would go on to lose 124-119 in double overtime. The Hornets were led by a career and franchise high 52 point explosion from Kemba Walker. Although they came up short in the end, Hayward had an all around consistent game all night and came up with multiple clutch plays on both the offensive and defensive sides of the floor.
2. Derrick Favors
Box Score: 25 points, 12 rebounds, 7 blocks, 3 steals, 2 assists, 10-18 field goals
Since the 2000-01 season, only three players have had games with at least 25 points, 12 rebounds, seven blocks, and three steals: David Robinson, Anthony Davis (twice) and Derrick Favors.
Favors' game came on November 12 against the Miami Heat. Rudy Gobert missed his first game of the year that night, so Derrick Favors was going to be relied on to play his minutes at the center position. He manned the paint all night and recorded a career high seven blocked shots.
Favors was an efficient 10-18 from the field and 5-7 from the line en route to his 25 point night. He also hauled in 12 rebounds with five of them off the offensive glass. Favors was doing more on defense than just blocking shots as he recorded three steals on the night.
The Jazz would go on to lose by a point, 92-91.  Gordon Hayward and Alec Burks both added 24 points, but the Jazz didn't get much from anyone else. The next highest scorer was Rodney Hood at 10. While his game went under the radar and many didn't realize the stats he was putting up, Favors was able to keep the Jazz in the game against a very competitive Heat team on the road.
1. Rodney Hood
Box Score: 30 points, 3 rebounds, 9-11 field goals, 8-9 three-point field goals
Was there really any surprise at what number one would be? Rodney Hood finished with 30 points against the Los Angeles Lakers on an incredible 8-9 shooting from downtown and 11-13 overall. What makes Hood's performance so impressive was that it all happened in the first half.
Hood's eight threes left him four away from tying the record for most threes in a game set by Stephen Curry, Donyell Marshall, and none other than the Lakers Kobe Bryant. Who was guarding Hood on those threes? Well, no one. The majority were wide open and uncontested shots. Bryant wasn't about to let the second-year guard tie or beat his record in the second half.
Bryant stuck to Hood and wouldn't give him an inch of space. On multiple possessions the Jazz would get easy lay ups because Bryant would not rotate for help defense. Hood ended up only playing eight more minutes in the second half and was not able to get another shot off.
The game was Bryant's last game in Salt Lake City. The game was also the biggest loss of Bryant's career and in Lakers history as they went on to lose 123-75. Hood said after the game that it was a big team win and he was happy to do it against Bryant who is one of his idols. Despite the unbelievable shooting performance, the highlight of Hoods night was getting an autograph from the Mamba himself.
This article originally appeared on