Rajon Rondo Suspended by Bulls for One Game, Will Serve Suspension vs. Portland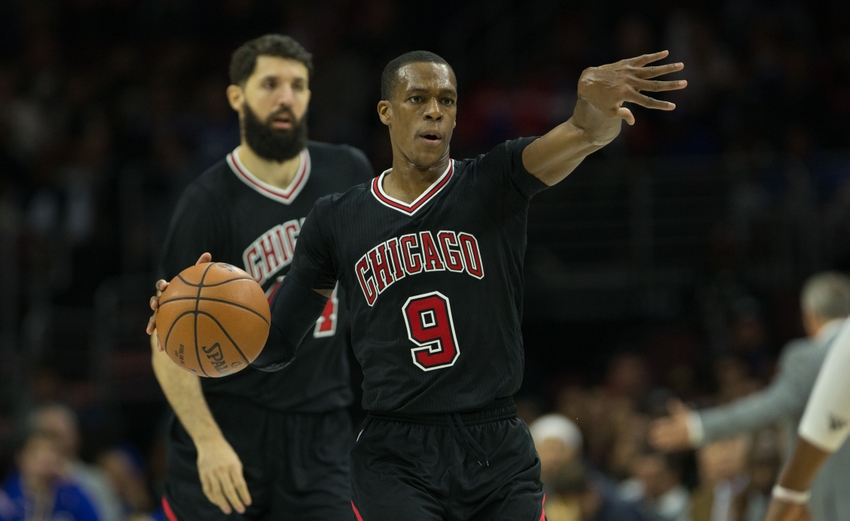 Thanks to "conduct detrimental to the team", Chicago Bulls point guard Rajon Rondo will sit out one game on Monday night against the Portland Trail Blazers.
On Monday morning, the Chicago Bulls announced that Rajon Rondo would be suspended one game for "conduct detrimental to the team".
Rondo will serve the one-game suspension on Monday night, as the Bulls host Damian Lillard, C.J. McCollum and the Portland Trail Blazers.
As of now, there's been no reports as to why Rondo will sit out Monday's game other than that he's suspended for the game.
After coming off his first triple-double as a member of the Bulls this past Friday night in a win over LeBron James and the Cleveland Cavaliers, Rondo played one of his worst games of the season in a blowout loss against the Dallas Mavericks, shooting 1-for-4 from the field with five turnovers in the 107-82 loss.
Here's a statement from the Bulls, courtesy of Bulls radio play-by-play man Chuck Swirsky:
Chicago Bulls guard Rajon Rondo has been suspended by the Bulls for one game for conduct detrimental to the team. Rondo will serve his one-game suspension tonight, when Chicago hosts the Portland Trail Blazers.

On the year, Rondo has played in 17 games (all starts) and averaged 8.2 points, 7.2 assists, 6.7 rebounds and 1.41 steals in 30.5 minutes.
The last time Rondo missed time was due to ankle injury during the Circus Trip, and the Bulls actually won games against these same Trail Blazers and against the Utah Jazz during a TNT doubleheader.
The Bulls have been better with Rondo off the floor than on it, and the numbers show it.
Bulls w/ Wade/Butler on court together and No Rondo (86 mins):
Ortg 118.3
Drtg 94.5

I'll let you guess if they're better or worse w/ Rondo

— sam esfandiari (@samesfandiari) December 5, 2016
Numbers don't lie, and neither has the "eye test" with Rondo on the floor with Dwyane Wade, Jimmy Butler and the rest of the Bulls roster.
This isn't true, but if it was, Rondo's suspension would be justified.
Heard Rondo said Portillo's wasn't that good, ergo suspension.

— Taco Trey Kerby (@treykerby) December 5, 2016
Don't ever disgrace the great name of Portillo's.
More from Pippen Ain't Easy
This article originally appeared on