Rajon Rondo: One Upon A Hall Of Famer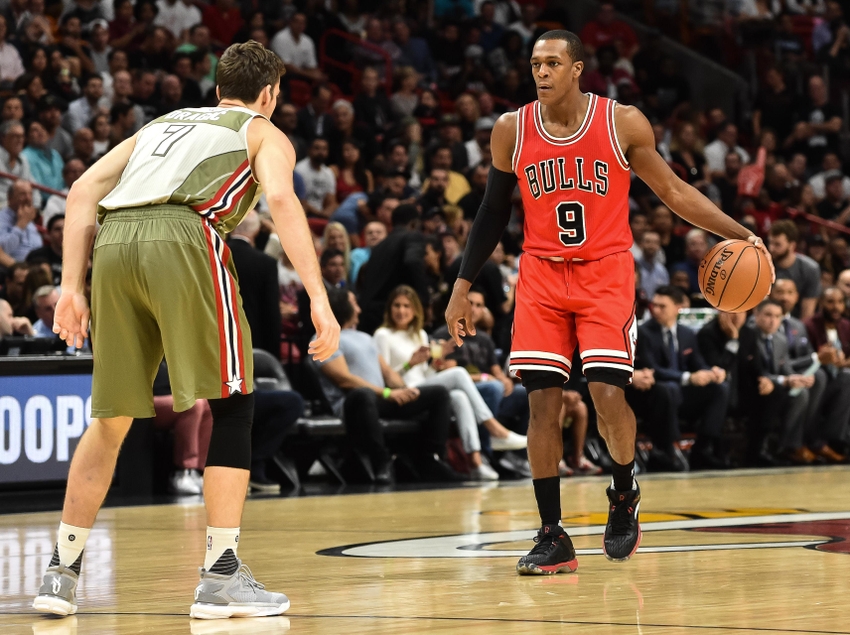 Rajon Rondo has been given a bad reputation over the last couple of years, but he should be in the Hall of Fame when he decided to retire from the NBA
Rajon Rondo will go down as one of the greatest Hall of Famers that might not be. During his best seasons with the Boston Celtics, it looked like he was a drive away from Causeway Street to Springfield.
In the green and white, his play was known as spectacular with him being in the conversation as the best point guard in the league along the likes of Chris Paul (almost traded for Rondo in '11), Derrick Rose, Tony Parker and more. What might've hurt his chances of heading to the Hall is his career after being dealt from the Celtics in 2014 to Dallas, and making stops in Sacramento and Chicago.
In Boston, Rondo was the glue for the troika of Paul Pierce, Kevin Garnett and Ray Allen. His play and ability to carry the team in pivotal points of games and series made him invaluable during that time period. What Russell Westbrook is now and what Jason Kidd will forever be known for is what Rondo was in the past, and still is today in spurts: a walking triple-double and his own style of playmaking and scoring.
More from Sir Charles In Charge
Some of the greatest triple-double threats in NBA history are in the Hall of Fame or are bound to receive the orange jacket sometime in the future.
Guys such as LeBron James, Westbrook, Kidd and with the way the 2016-17 season has gone thus far, James Harden.
All of the aforementioned players have above an 80 percent probability to make the Hall, according to basketball-reference.com.
Rondo's probability according to the website is at 38.7 percent. (Interestingly enough, though, Joe Johnson is at 50 percent). In Rondo's 11-year career, he has recorded 39 triple-doubles (29 regular-season, 10 postseason), six less than LeBron and seven less than Westbrook when it comes to career triple-doubles.
The credentials for Rondo should up his probability as he's a 4-time All-Star, 1-time All-NBA, 4-time All-Defense, 3-time Assists leader and of course an NBA champion. Are his career achievements super gaudy? No. But for comparison sake, Harden's career accomplishments are having the same number of All-Star appearances as Rondo, two more All-NBA selections and that's about it.
Nothing of significance separates the two except their style of play, which can be echoed to Westbrook and even Stephen Curry. All three of the perennial All-Stars are volume shooters and scoring experts, while Rondo isn't but had his moments, ex: 44 against the Miami Heat in 2012.
In today's NBA and the Hall of Fame in general, the main way players get in is by being prolific scorers. Such as fact is why most 20,000 point scorers in the league end up in the Hall. The only two exceptions will most likely be Tom Chambers and Antawn Jamison, who are just a few points over to make the club. The next to possibly join that club is "Iso-Jo."
Rondo gets the job done each and every night with his ability to dominate the game in multiple ways and propensity to do so in a creative way
Having to be a dominant scorer hurts Rondo's chances to a certain degree. Steve Nash and Kidd are a dim light for Rondo, as both retired point guards have career averages less than 15 points and are more distinctly known for their specialties which dominated the court. From big-time shots or huge games, Kidd and Nash both excelled, similar to Rondo.
Some of the greatest games in the history of the league belong to Rondo. If it's his 18-point, 17-rebound and 20-assist performance against the Knicks in '12 to rallying 29 points, 18 rebounds and 13 assists against the Cavs '10 or even dropping 44 points, 10 assists and 8 rebounds against the Heat in the playoffs in '12.
The historic games for Rondo can continue forever. What also can't be forgotten about him is his play in the 2009 playoffs, as he basically averaged a triple-double with a line going 16.9 points, 9.7 rebounds and 9.8 assists. He's a spotlight player, and whenever the games were on national TV or had significant meaning he showed up and performed.
Playoff stats are Rondo's friend and regular-season stats aren't. In five postseason appearances, Rondo has averaged 14.4 points, 9.1 assists, 5.9 rebounds and 1.9 steals. His 2015 appearance can be an anomaly, as he wasn't fitting in with the Mavericks at all. What's worth noting about that though is when Dallas entered the playoffs, many believed Rondo would switch gears just because of his reputation in the playoffs. He's done that a lot and has gained that much respect.
For regular-season averages in 11 completed seasons, Rondo's stats go 11.0 points, 8.7 assists and 4.8 rebounds. Numbers never lie, but the sure can misinterpret. The Dallas stint hurts him a little as his play wasn't stellar, but everything else is respectable. Just probably not enough for the Hall of Famer voters.
The now retired definition of what a point guard was is what Rondo embodies today. Setting up his teammates on a daily basis, to a point where he had a 37-game streak of 10+ assists spanning two seasons from the end of 2011-12 regular-season to the start of 2012-13. A streak of that magnitude probably won't be touched upon again with the direction, style and play of the new floor generals having a score-first mentality.
Put it like this: Rondo is like an old school cassette tape that plays sweet music with the string becoming undone sometimes like his attitude. Even though it causes trouble at times, it's still valuable. These days it's all about the aux cord and hype music. That's where the ferocity of Westbrook, range of Curry and former acrobatics of Rose come into play.
They are the norm and what people are into. Rondo isn't and that's why someone like Paul is under-appreciated, because his game isn't dazzling, but simple and gets the job done.
Rondo gets the job done each and every night with his ability to dominate the game in multiple ways and propensity to do so in a creative way.
Being creative plays a big part into legends from their dunks to shooting, and with Rondo it can be his style of passing to his sometimes surprising leaping ability and odd finishes at the rim.
Like most Hall of Famers, he can dominate a game whenever he feels like, just look at what he did to the Cavaliers this past Friday: 15 points, 12 assists and 11 rebounds. He's a big-time player when needed, and games like that add, even though it lacks magnitude, shows that he's capable of great moments like he has proven over and over again throughout his career.
Most people see Rondo in a negative light: stat chaser; hot head; catalyst for Ray Allen's departure; picking when to play hard; almost fighting Doc Rivers and maybe more. He's not the first star to be portrayed that way.
Kobe is believed to have pushed Shaq out of LA, Draymond is viewed as a hot head and Westbrook gets the reputation as a stat chaser. At least two of the three are Hall of Fame bound and Green might as well be the power forward version of Rondo, as he's the x-factor on a loaded team like Rondo was.
Either way, Rajon Rondo has proven to be a Hall of Fame caliber player. He's regaining his old form in Chicago, and if he continues to play like he did in Boston or even Sacramento, there's no reason for him not to be in Springfield come when he decides to hang it all up.
This article originally appeared on