QUICK HITS: Memphis Grizzlies beat the Charlotte Hornets 105-90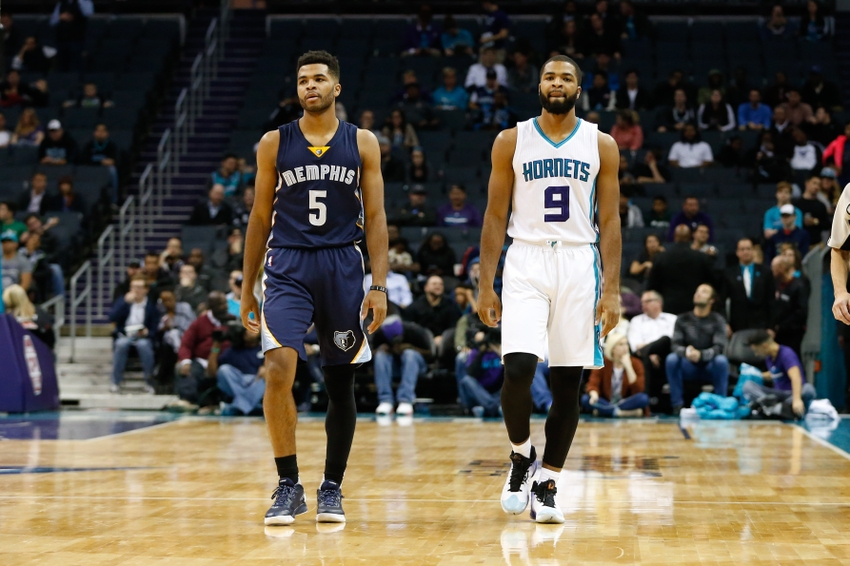 The Memphis Grizzlies defeated the Charlotte Hornets Monday night, extending their winning streak to five games, and their overall record to 9-5.
The Memphis Grizzlies are road warriors.
Four straight wins on the road (five straight overall) is tough to do in the NBA.  Considering the Grizzlies beat the Utah Jazz, the L.A. Clippers AND the Charlotte Hornets away from the Grindhouse is down right impressive.
The most impressive part?  The Grizz adapted to play at a much higher offensive pace, but continued their Grit 'n' Grind style of defense.  They held both Kemba Walker and the entire Hornets team 10 points below their nightly average, while breaking the 100-point threshold with ease.
As eluded to in yesterday's preview, the Grizzlies needed to score 100 points, lock down Kemba Walker and take advantage of the Cody Zeller absence.  Turns out, they did just that.
Life is good in (We Don't) Bluff City.
Quick Hits
Mike Conley tallied a season-high 31 points in the marquee matchup against Kemba Walker. Our conductor is winning point-guard battles left and right this season, proving he deserves to be on the All-Star ballot.
Memphis scored 69 points (editor's note: "nice") in the first half against a (really) really good defense.  Nearly half of these points came from beyond the arc.
The Grizzlies just went 10-for-16 from 3 and put 69 points on the NBA's No. 4 defense in the first half.

— Dan Devine (@YourManDevine) November 22, 2016
Every single starter for the Grizzlies finished the game with a +10 or higher in the +/- column.  Mike Conley led the team with a +21.
Vince Carter, the Great-Grindfather, accomplished yet another career milestone during his time in Memphis.
CHANDLER PARSONS DIDN'T PLAY, AND THE GRIZZLIES STILL WON BY DOUBLE DIGITS.  This is important.  Be excited about a full-health Parsons, Memphis.
Andrew Harrison and Aaron Harrison (twins, FYI) were both on the court at the same time.  Thankfully, they don't look exactly alike.
The Grizz lost the rebounding battle, per usual, but made up for it by breaking the 100-point threshold, which was a huge key to getting the W.
Also, TONY ALLEN HIT A 3.
What's next?
With a week full of cross-conference action, the Grizzlies are in a terrific spot to extend their winning streak to eight games. Memphis travels to Philadelphia (Nov. 23), returns home for a back-to-back weekend with the Miami Heat (Nov. 25 – home, Nov. 26 – Miami).  I don't know about you, but 12-5 sounds REALLY good to me.
More from Beale Street Bears
This article originally appeared on