Quick Hits: Memphis Grizzlies 89, New Orleans Pelicans 83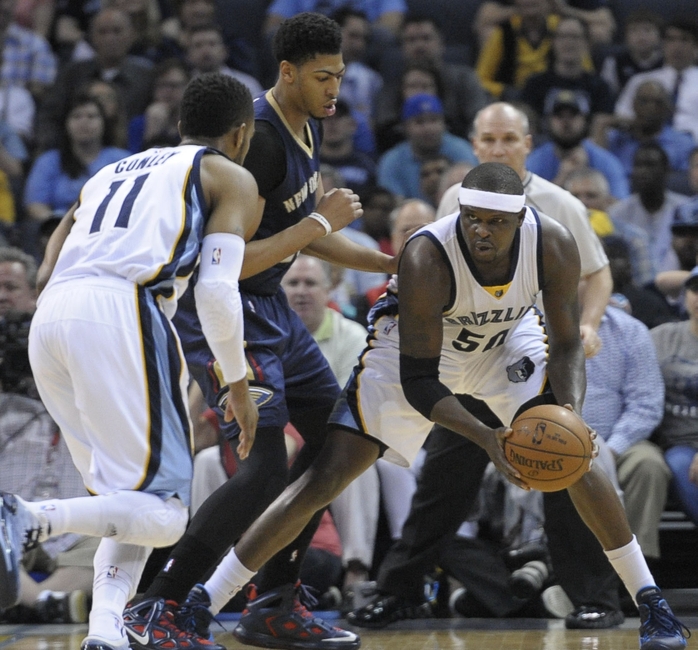 After a rough time in regulation, the Memphis Grizzlies improved to 3-2 on the season with an 89-83 overtime victory against the New Orleans Pelicans.
The Memphis Grizzlies improved to 2-0 in games where free basketball occurs with their win over the Pelicans. It was an incredibly sloppy game but the Grizzlies turned it on when it mattered most to gut out a victory.
Tony Allen returned to his long held starting role tonight after coming off the bench last night.
Zach Randolph became the Grizzlies all-time leader in field goals made.
Marc Gasol did not shoot it well (3-of-18) but he threw some amazing passes, finishing with six assists and many more "hockey assists." Gasol nailed a dagger from 3 in overtime.
Core Four's shooting total? 15-of-58 (26 percent) from the field. This is a great sign, considering the other players picked up the slack.
Those others? JaMychal Green had 21 points and 6 rebounds on a smooth 75 percent shooting from the floor and he was 3-of-5 from 3. James Ennis had 16 points and 10 boards on 63 percent shooting and he was 2-of-4 from downtown.
The Grizzlies shot 35 percent from the field and won. Return of the Grit 'n' Grind, baby!
Amazing stat courtesy of the Grizzlies broadcast crew: The Grizzlies have scored 26 points total in their two overtime wins. Mike Conley and Marc Gasol have combined for 22 of those 26 points. The Memphis Grizzlies' opponents have only scored 11 points in two overtime contests.
Andrew Harrison recorded his first DNP-CD of the season.
The Memphis Grizzlies' interior defense was incredible, limiting Anthony Davis to just 10 points on 3-of-13 shooting.
To go along with Davis' poor shooting numbers, he had five turnovers in the game. Two of those turnovers came on charges; one from ZBo and the other from Marc Gasol.
This article originally appeared on