Quick Hits: Memphis Grizzlies 112, Washington Wizards 103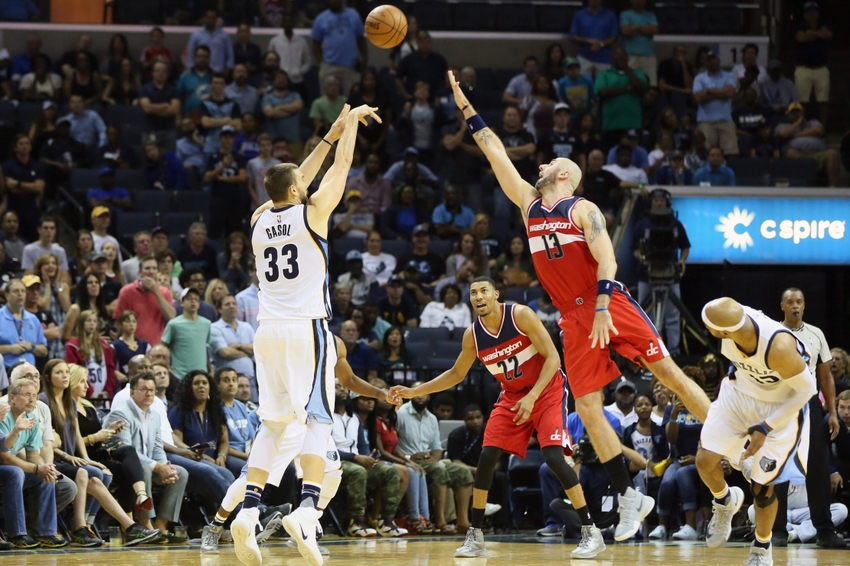 The Memphis Grizzlies improved to 2-1 in the regular season, riding the hot hands of Vince Carter and Marc Gasol to overcome the Washington Wizards in overtime.
The Memphis Grizzlies improved to 2-1 Sunday night after splitting their weekend back-to-back versus the Knicks and Wizards. The Grizzlies continued to show areas needing improvement, but were able to sneak past the Wizards thanks to a hot night from beyond the arc.
VS.
| | | | | | | |
| --- | --- | --- | --- | --- | --- | --- |
| | 1 | 2 | 3 | 4 | OT1 | T |
| Grizzlies | 27 | 31 | 20 | 22 | 12 | 112 |
| Wizards | 22 | 32 | 23 | 23 | 3 | 103 |
Quick Hits
Zach Randolph and Vince Carter carried the Grizzlies early, scoring 15 and 13 points at the half, respectively. Randolph looked like his old self, using his patented jab-step to either launch a mid-range jumper or attack the hoop with his left hand. Randolph continues to look more comfortable in his new role as the sixth man every game. Carter also had a throwback first half, nailing four 3-pointers and serving as the catalyst to a Memphis Grizzlies offense that often looked stagnant.
At the half: Zbo 15pts 4reb, Conley 13pts 7ast, Carter 13pts (4-4 3PT)

— Beale Street Bears (@BealeStBearsFS) October 31, 2016
Jarell Martin logged his first NBA start tonight, as Coach Fizdale opted to go with a larger than normal starting lineup of Conley/Ennis/Martin/Green/Gasol. While it seems clear that Martin isn't a natural fit at the small forward position, he did his best to guard the perimeter and added 5 rebounds in 19 minutes of action.
Marc Gasol had his best game of the season so far, logging 20 points and 10 rebounds. Gasol caught fire from deep late in the fourth quarter and into overtime, leading the Memphis Grizzlies to victory with his newly discovered 3-point prowess.
.@MarcGasol 3-pointers tonight: 4️⃣

The most threes he has made in a SEASON before 2016-17: 3️⃣

— Grizzlies PR (@GrizzliesPR) October 31, 2016
Gasol also recorded a late block of a Bradley Beal jumper, the 878th of his career, which elevated Gasol to the number one all-time blocks leader in Grizzlies history.
Turning Point
The Memphis Grizzlies trailed by eight late in the fourth quarter, but the momentum shifted following a flagrant foul committed by John Wall.
It was 96-88 Wizards when Wall got the flagrant. Grizzlies outscored them 24-7 to close the game.

— Jon Roser (@Jon_Roser) October 31, 2016
Young Guns
Coach Fizdale continues to play the young Grizzlies in seemingly all game situations. While it is unknown how many minutes players like Andrew Harrison and Jarell Martin will see upon the returns of Chandler Parsons and Tony Allen, it is encouraging to finally have a coach in Memphis who appears to be willing to play younger players.
Andrew Harrison logged heavy minutes once again, but did not have the greatest of showings. The second-year guard scored 9 points on 3-of-8 shooting and dished 3 assists in 30 minutes of action. Harrison committed five fouls and produced a net rating of -6 while on the court.
Beale Street Bears favorite James Ennis (#WeEnnis) also saw plenty of action. Ennis could not find his shot tonight (8 points, 3-for-8 FGs, 1-3 FTs), but found other ways to impact the game, leading the Grizzlies in rebounds with 12. Ennis is quickly becoming a favorite of Grizzlies fans and Coach Fizdale alike, due to his well-rounded game and athleticism.
Needs Improvement
The Warriors Grizzlies hit 15 3s Sunday night (the Memphis Grizzlies averaged six made 3-pointers per game last season), but struggled in an area that has conventionally been their strength: the paint. The Grizzlies allowed 54 points in the paint to the Wizards, and only scored 34 themselves. While the lack of scoring in the trenches could be attributed to the high volume of threes taken, the interior defense of the Grizzlies was severely lacking and nearly cost the Grizzlies the game. It has become quite apparent that when anyone but Gasol enters the game at center, opposing units pin their ears back and attack the rim with force. The return of Brandan Wright may help in this area, but the until his return the Grizzlies need to find a way to protect the painted area if they wish to continue their winning ways.
More from Beale Street Bears
This article originally appeared on