QUICK HITS: Memphis Grizzlies 108, Denver Nuggets 107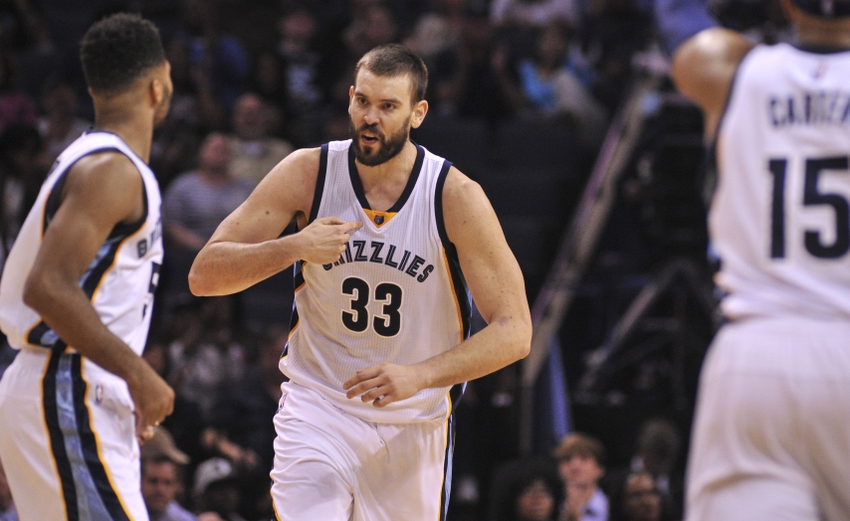 The Memphis Grizzlies capped off their home stand with a last second victory over the Denver Nuggets, ending their 2-game losing streak.
The Memphis Grizzlies (4-4) sealed a 108-107 win over the visiting Denver Nuggets (3-4) following a perfectly placed Vince Carter lob pass to Marc Gasol in the final second.  With 0.7 remaining, the 7-footer had just enough time to tip-in the winning bucket.
Here's the footage via Legion Hoops:
QUICK HITS
In vintage fashion, Vince Carter notched his first 20-point game since March of 2014, when he played for the Dallas Mavericks. The veteran also added five assists and two blocks.
Chandler Parsons shook some rust off tonight, contributing nine points on 4-of-8 shooting.  He has still yet to hit a 3-pointer, but the +/- of +13 in a game as tight as Tuesday night will definitely suffice.
Denver's Emmanuel Mudiay continued his hot streak, tallying 23 points in 36 minutes on the court.
Andrew Harrison filled the stat sheet tonight, providing the Grizzlies with 10 points, six assists, four steals and a block.
Wade Baldwin IV dressed out, but remained on the bench throughout the game.
The Zach Randolph Sixth Man of the Year hype train kept on rolling, as he 16 points on a stellar 8-of-13 shooting from the field. He also grabbed eight rebounds.
DROPPIN' DIMES
Memphis Grizzlies' point guard Mike Conley struggled shooting against the Nuggets, sinking four buckets in 15 attempts.  Where he missed the mark with his jumper, he made up for it elsewhere, dishing out seven assists, including this gem:
WHAT'S NEXT?
The Memphis Grizzlies will take the next three days off as they prepare to for one of their longest road trips of the season, visiting the Milwaukee Bucks on Nov. 12, the Utah Jazz on Nov. 14, the L.A. Clippers on Nov. 16 and the Dallas Mavericks Nov. 18, before returning to the FedEx Forum for a third meeting with the Minnesota Timberwolves.
More from Beale Street Bears
This article originally appeared on