Proposing A New Depth Chart For The Cleveland Cavaliers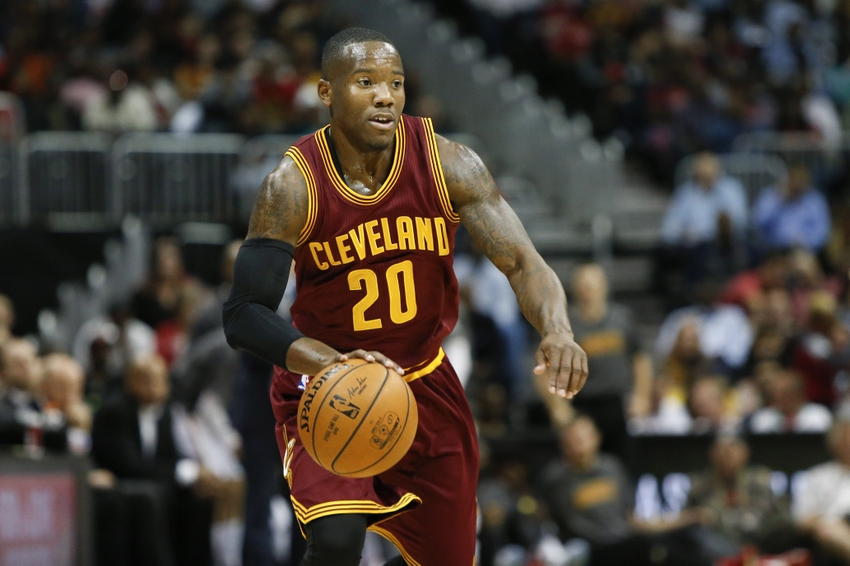 The Cleveland Cavaliers are off to a franchise-best start. A change in the rotation could make the team even more dominant.
The Cleveland Cavaliers are in need of a change. Despite their 13-2 record, the Cavs are anything but a perfect team. One of the biggest issues with this team is the lack of efficiency and activity from the bench unit.
That's not the same as saying there's a lack of talent on the Cavaliers bench. In fact, Mike Dunleavy Jr. and Channing Frye have been in the league so long because they're upper echelon catch-and-shoot players. Richard Jefferson was once a star for the New Jersey Nets alongside Jason Kidd.
Yet, Dunleavy Jr. and Jefferson are both 36. Their age is beginning to show, to say the least. Even when they are being active on the floor, their actions seem like frantic recoveries rather than savvy moves made out of precognizance. The youth is on the roster for a reason. Though veterans like Jefferson and Dunleavy Jr. will be the players the team relies on in the postseason, the Cavs are 67 games away from that point. There needs to be a change to the depth chart, and the rotation, to minimize the amount of minutes those two play.
There also needs to be a clearly defined backup point guard. The truth is, no matter who the Cavs out behind Kyrie Irving, they will be outmatched in some way. The only point guards left on the market are undersized, coming off of injury, super-seasoned veterans or simply aren't point guards at all. Yet, the Cavs were searching for a point guard that could be a better option than the young, dynamic and undersized point guard they named as the backup prior to the season. The situation begs the question, why not Kay Felder?
Kyrie Irving, Kay Felder, Jordan McRae
In this scenario, Felder returns as the clear-cut backup point guard. Jordan McRae, who might be a more effective player at point guard, will share this role with Felder to matchup with lanky second unit floor generals such as Michael Carter-Williams and Shaun Livingston. While McRae possesses a scoring mentality, his inefficiency could cease to be an issue by calling for screens that take the center out of the paint and puts the defender on his hip on his drive to the rim. Using the rim as a defender, and heavy screen action, McRae should find a way to be efficient.
Felder, who is undersized at 5-foot-8, is a player who has a legitimate chance to be one of the best sub 6-foot point guards to play in the league. An undersized point guard is like an undersized quarterback. For every Russell Wilson, Drew Brees and Dak Prescott there's ten Colt McCoys. What sets Wilson, Brees and Prescott apart are their athleticism, intellect, timing and leadership ability. Not to mention the inexplicable "it" factor. Felder is a player with the tangible and intangible qualities that can set him apart from the undersized point guards that fail.
Blessed with a 44-inch vertical, speed, quickness and strength. Felder isn't the typical "little guy". Physically, he draws parallels to Nate Robinson. Robinson occasionally found himself unable to finish efficiently in the paint or get around screens but wasn't entirely affected by a lack of size.
Felder, who is a creative finisher inside and knows how to use his ball-handling, ability to elevate and screens to get an efficient shot, is far beyond his years offensively. He shows a precognizance and control suitable of a veteran and though he has looked out-of-sorts at times, Felder is more or less being expected to get a rhythm with his teammates in real competition on-the-fly. Even the most cerebral rookies can play out-of-control at times in those circumstances. Defensively, Felder won't be the best option all the time. He's shown the ability to stick with his man on defense but is mentally further along in his offensive awareness.
J.R. Smith, Iman Shumpert, James Jones
With James Jones playing behind J.R. Smith and Iman Shumpert, the Cavs have a safety net for two players who have had inefficient games. They also have a player who, in excelling at the long ball, would be a tremendous help for both Smith and Shumpert's efficiency.
Jones shoots 39.9 percent from the three for his career and while shooting practice with an elite shooter isn't necessarily an exact science, it's been proven to help. In Miami, LeBron James' best years of three-point shooting came in the two years that Ray Allen played in South Beach. Over the summer, James worked on his shooting form with assistant coach, friend and former teammate Damon Jones.
James is shooting 36.8 percent from behind the arc this year, his best performance from three since he returned to Cleveland and a vast improvement over the 30.9 percent he shot from that range last season.
Allen shot 40.0 percent from three over his career. Jones (the coach) made 39.0 percent of his three-point attempts.
LeBron James, DeAndre Liggins, Richard Jefferson
In this scenario, DeAndre Liggins becomes the Cleveland Cavaliers backup small forward.
Usurping Richard Jefferson isn't completely a byproduct of his play. This change is also an effect of Jefferson's lack of production. A veteran like Jefferson plays with savvy and energy, and will have his moments offensively. Still, Jefferson has too many moments inactivity and inefficiency.
Jefferson's decline in production is reminiscent of Shawn Marion's decline between his final season in Dallas and his lone season in Cleveland. Marion's three-point shooting slipped drastically, going from 35.8 percent to 26.1 percent those two years. Jefferson's three-point shooting has gone down from 38.2 percent last year to 23.3 percent this year. In those two years, Marion contemplated retirement like Jefferson does now.
It could just be a coincidence but Marion, Jefferson and even teammate Mike Dunleavy Jr. are experiencing, or experienced, significant declines in their production at 36-years-old. Dunleavy Jr. who shoots 37.5 percent from three-point range in for his career, is shooting 27.8 percent this season. Liggins hasn't had much opportunity to prove himself as a scorer in the NBA. However, he shot 38.0 percent from three-point range for his career in the NBA Development league. He shot 43.4 percent from three-point range last year. He also shot 45.5 percent from three-point range for the Cavs Summer League team.
While Liggins has demonstrated potential to be a knockdown shooter in catch-and-shoot activities, he's more focused on attacking the rim and setting up his teammates offensively. He doesn't possess the speed to play point guard, which seems like his natural position, full-time. However, Liggins could thrive as a point-forward for the Cavs when LeBron James is on the bench.
Liggins is an intelligent playmaker on both sides of the ball. He can jump the passing lanes, play tight defense in the halfcourt and pick players up full-court if need be. Having him in the rotation gives the Cavs multiple defenders they can use on the perimeter.
Kevin Love, Channing Frye, Mike Dunleavy Jr.
Channing Frye has been a great backup center in terms of his rim-protection and his ability to draw centers out of the paint. He'll still be able to fill in those roles as the backup power forward, if only on occasion.
The problem with Frye playing center is his inability to stick with players on the perimeter. A center, more than a power forward, will be used as a screener because of the size and strength differential between the two. They'll also be used as a screener more so that opposing ball-handlers can feed stretch-fours the ball on the perimeter with space to shoot.
All that means is that by playing center, Frye has to play more pick-and-roll defense. Smart hedges and reasonable agility help when big men guarding players on the perimeter. Yet neither of those matter as much as natural athleticism.
Last year, Frye was Kevin Love's backup and honestly outperformed Love at times. With Love's renewed confidence that's unlike to happen again. Nonetheless, Frye is valuable insurance for Love.
Dunleavy Jr. becomes the combo forward that follows in a long line of players who transitioned from swingman to tweeners to complement James' skill-set. Behind Love and Frye, Dunleavy Jr. is a smart, lanky and fairly mobile forward who will thrive as a stretch-four.
Tristan Thompson, *Eric Moreland, Chris Andersen
Eric Moreland is the lanky and athletic center that the Cleveland Cavaliers need. Think of him as another Tristan Thompson, just with a little more length and a go-to post move.
While Moreland currently plays for the Cleveland Cavaliers exclusive NBA Development League affiliate, the Canton Charge, ability protect the paint is exceptionally important. So is his mobility. On the perimeter, Moreland's physical gifts allow him to stay with guards in the pick-and-roll or close-out on spot-up shooters.
When he shows that he's healthy and ready to make an impact on the court he should be the Cavs backup center. Until then, the team should have no problem playing the "Birdman".
Chris "Birdman" Andersen, who is an underrated playmaker from the center position with his passing ability, is a valuable center to have as insurance. He's an above-average rebounder and one of the best finishers around-the-rim. His chemistry with James is extremely important as well as finding players who can attack the rim as rollers is a play that James has been fond of in the course of his career. He's also expanded his shooting range to the three-point line.
His experience and his role as an "enforcer" for the Cavs may give him the nod over Moreland in the rotation. Nonetheless, he doesn't have the mobility on the perimeter that will prevent him from becoming mincemeat for opposing ball-handlers. In addition, Andersen has lost a bit of the explosiveness that aided him as a weakside shot-blocker earlier in his career.
Looking ahead, the Cleveland Cavaliers need to put their young legs ahead of veterans such as Jefferson and Dunleavy Jr.. While the team is 13-2, it's not due to the Cleveland Cavaliers bench.
Using a platoon of shooting specialists as a bench unit works. That is, until the shooting specialists are missing their shots and being turned around in circles on defense. The Cleveland Cavaliers also don't thrive as a rebounding team despite having two elite rebounders in the starting lineup. This isn't a problem until the team starts missing shots and the game gets down close. To that point, having a center who can roll to the rim for an easy finish will be more useful than a front court player launching a three-point attempt when their shooting is off.
Felder is a point guard that will allow Irving to rest without the team sacrificing it's pace. Liggins thrives as a facilitator. Both are energetic players who will aid the team's ball-movement. Defensively, their energy will be a welcome sight. Liggins is active enough to pick-up players full-court. Should Felder consistently pick-up players full-court, it will go a long way towards allowing him to compensate for his height.
McRae hasn't lived up to his billing just yet. Nonetheless, in a contract year, he'll be doing everything he can to get more than a qualifying offer.
What do you think the Cleveland Cavaliers should do to change their rotation? Do you think there needs to be a change at all? Let us know in the comments section or Twitter @KJG_NBA.
This article originally appeared on