Preview: Trail Blazers @ Bucks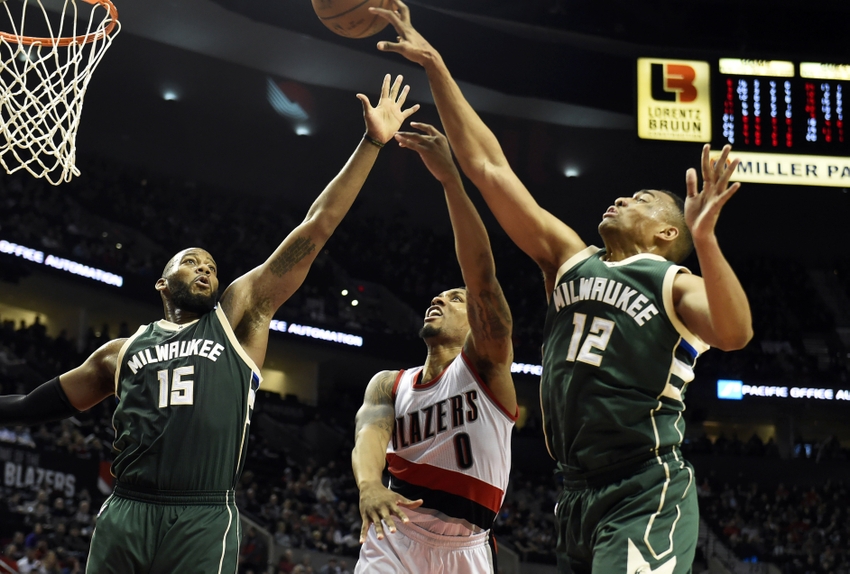 The Trail Blazers (12-10) visit the Milwaukee Bucks (10-9) in the first of a back-to-back. The Bucks present an interesting challenge combining length, versatility and a top 10 defense for Portland to overcome.
Milwaukee Bucks were on a four game win streak until the San Antonio Spurs paid them a visit Monday night (worth noting the Spurs are 12-0 on the road so far this season). The Bucks 17 point beat-down of the Cleveland Cavaliers on November 29th gave NBA fans around the globe a glimpse of how good this team could be, in spite of their record. Scarily, it also gave us a chance to see perhaps the league's most unique star do what few (if any) players have been capable of doing – going mano-a-mano with LeBron James, and coming off the better.
Buck the system
Preview: Trail Blazers @ Bulls
Reigning Eastern Conference player of the week, Giannis Antetokounmpo, has elevated himself to All-Star status this season. Listed at 6-11 "The Greek Freak", who turned 22-years-old yesterday, is averaging 22.4ppg, 8.7rpg, 5.8apg, 2.2spg and 2.2bpg. An incredible stat line and career highs across the board. Stopping him could become a nightmare for the Trail Blazers with his ability to play effectively at every position on the floor. Expect defensive duties to be split between Maurice Harkless and Al-Farouq Aminu, who represent Portland's only real defensive presence with the mobility and length to stymie Antetokounmpo.
The Buck stops here
Milwaukee's length across the roster is clearly an issue for opposition: They rank no lower than eighth in rebounds, steals and blocks per game. They are mobile and incredibly long (at least four of the Bucks have wingspans greater than 7 feet). Portland's lack of presence inside, along with their lack of size in the back-court could prove to be their undoing.
Given the Bucks abundance of size, it could be their second smallest player that proves to the biggest headache for the Blazers. 6-4 point guard, Matthew Dellavedova has developed a reputation as an aggressive and tenacious defender. A rare breed of player, perhaps only accompanied by Houston's Patrick Beverley, who thrives in the role of being a nuisance. Expect him to be chasing Damian Lillard and C.J. McCollum around all night long.
As is becoming a regular theme this season, the Trail Blazers will rely heavily on their outside shooting in their bid to separate themselves from their opponents. Milwaukee struggle to score from deep, ranking 19th in threes attempted and bottom 10 in both threes made and 3PFG%. Just like Chicago, this is a winnable road game but will not be easy.
More from Rip City Project
This article originally appeared on