Preview: Raptors (5-2) at Hornets (6-1)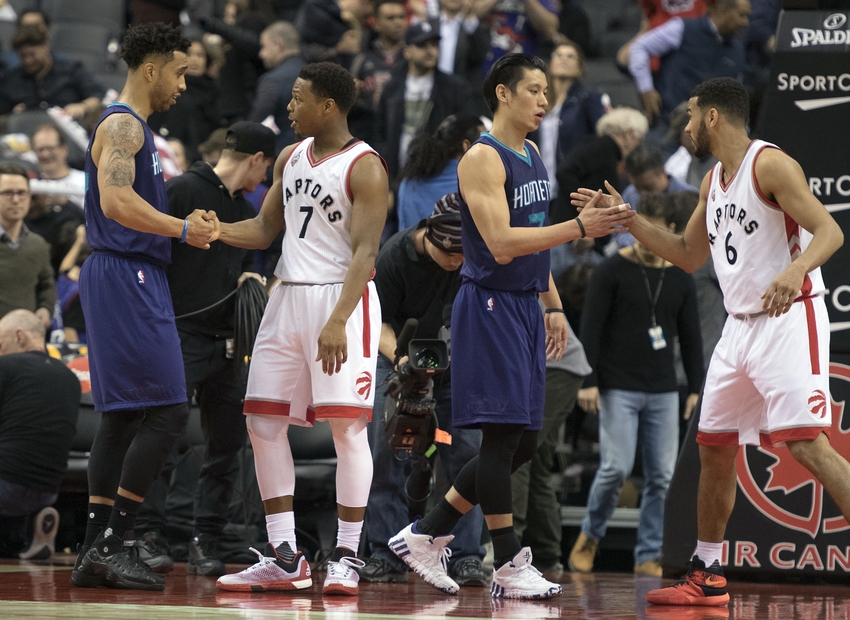 The NBA season is still relatively young, but tonight's game Raptors-Hornets appears to be a precursor of the playoffs.
The Charlotte Hornets have stepped smartly into the season, with a sparkling record which loses a few bubbles when examined more closely. They have done what they should do against punching bags like Brooklyn and Philadelphia, but dropped their only bragging-rights game against the Celtics.
The Toronto Raptors are fresh off a defeat of the OKC Thunder, despite playing shorthanded. But Charlotte has always proven a thorn in the side of Toronto; they lead the lifetime series 40-29, even though they have floored some hideous teams over the years. In the lockout-shortened 2011-12 season, Charlotte managed a 7-59 record, for a crisp .106 winning percentage. I have to give you the link so you'll believe me.
However, the Hornets look pretty solid to me. I forecast them for 43 wins, and won't be surprised if they exceed that.
3 Keys to Victory for Toronto
DeMar DeRozan continues to light up the scoreboard. I write that with little pleasure, but where's the alternative? Terrence Ross and Jonas Valanciunas are day-to-day with their irksome injuries, so the number of scoring options are limited.
Don't turn over the ball. Charlotte has an impressive +3.7 in turnovers forced vs. lost. Kemba Walker, their track-star point guard, makes almost 2 steals per game, so carelessness will be penalized.
Play loose on the perimeter. That runs contrary to my usual take on this matter, however, Charlotte ranks eighth in 3-point attempts but just twentieth in percentage made. I'll take those numbers, rather than trying too hard to close out and being beaten on the dribble.
3 Charlotte players to watch
Frank Kaminsky. Their version of Jakob Poeltl is turning out a better pro than I thought he'd be. He's mobile and has a decent handle.
Michael Kidd-Gilchrist. He's due back from injury, and will mix it up on the boards.
Nicolas Batum. The Frenchman has a nice stroke from outside.
Conclusion & Final Score
While I was greatly heartened by the performance of the Raptors' rotation players on Wednesday, I think we're wishing on a star for such results to become the norm.
I suspect we're going to see a low-scoring game.
Raptors 96 – Hornets 93
More from Raptors Rapture
This article originally appeared on