Preview: Portland Trail Blazers Visit the Chicago Bulls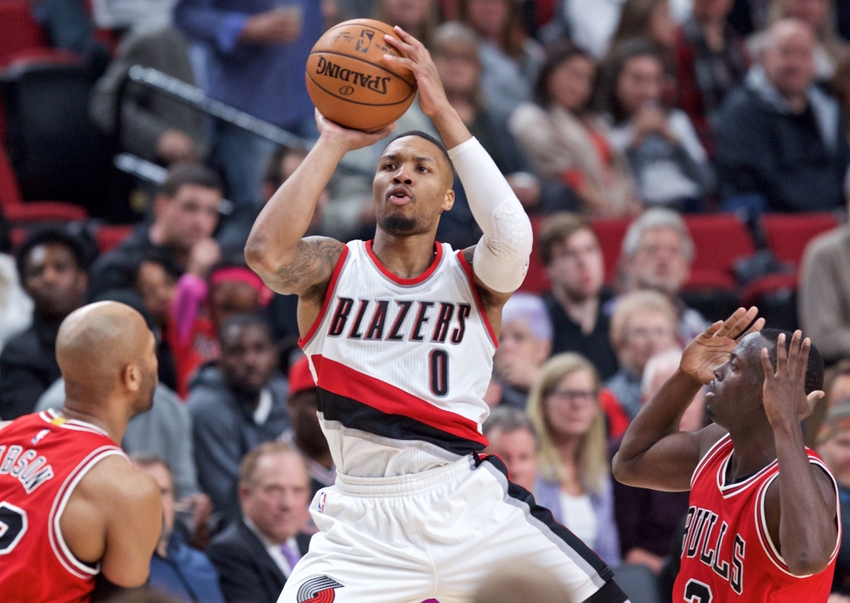 Bulls host the Trail Blazers tonight in a much-needed victory.
The Portland Trail Blazers go on the road to take on the Chicago Bulls. The Bulls come into the game with a record of 11-8 and the Portland Trail Blazers enter with a record of 11-10. This game can avenge a loss at home to the Bulls in November. Let's just hope that Portland can keep up the defensive momentum and keep the opposition under 100 points for the second straight game.
Keys:
Offensively – Find the Open Man
Portland has done a great job with letting Damian Lillard and CJ McCollum take charge of the team. Lillard is an MVP candidate through the first month and a half and has improved his offensive game. He's done an excellent job creating shots for himself and teammates. McCollum is like Thompson to Curry, his wing-man. These two will need a big game to overcome the Bulls' star players. The Trail Blazers post players, Mason Plumlee and Ed Davis have been solid since Davis joined the starting lineup. Plumlee especially helps the ball move with his exceptional passing. Portland is a potent offensive team and is at its best when moving the ball and finding the open man, rather than purely relying on Lillard and McCollum to force shots.
Defensively – STOP WADE AND BUTLER
The Trail Blazers need to limit Dwyane Wade and Jimmy Butler as Butler has been averaging 25.6 ppg and Wade with 19.1 ppg.  Portland has to find a way to force tough shots from the star duo. However, the Bulls posts are solid and troublesome for Portland as well. Taj Gibson averages 12.3 ppg and about 8.1 rpg while Robin Lopez 10.1 ppg and 7.1 rpg. Overall, Portland must get in front of some passes and force Chicago to take tough post shots that they are uncomfortable with. If we can limit the post play and force the star guards to work for their shots, Portland's offense can run away with this one.
In late breaking news, Rajon Rondo is suspended for tonight's contest due to 'conduct detrimental to the team'.
How to Watch
TV: CSNNWHD
Radio: Rip City Radio 620
Time: 5:00PM Pacific
The Portland Trail Blazers travel to Chicago to take on a streaky Bulls team with Wade and Butler.
More from Rip City Project
This article originally appeared on