Preview: Knicks (3-5) at Raptors (6-2)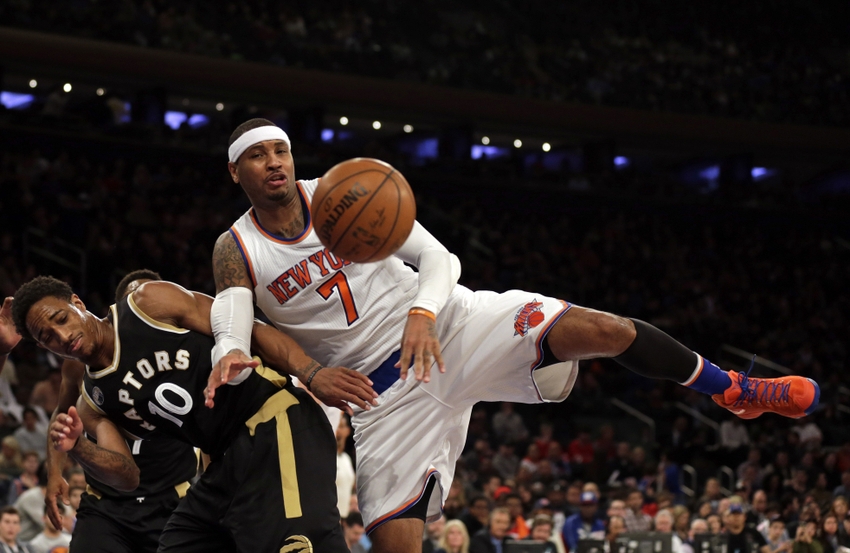 After two road wins over tough opponents, the Raptors are at the ACC for their first game this season against Atlantic Division rival New York.
Following a topsy-turvy victory over Charlotte, the Toronto Raptors return home briefly to face the New York Knickerbockers (that's their official name) before continuing their road trip.
The Knicks are also on the second game of a back to back, having been dusted in Beantown.
New York fans were talking bravely of a team worthy of a playoff appearance before the season began. I wasn't buying it, and forecast them for 37 wins and another trip to the lottery.
The Knicks are having great difficulty stopping anyone, as their twenty-sixth place ranking in points allowed indicates. In their last 3 losses, the fewest points scored against them was 114. Only Orlando and Philadelphia have a worse point differential than the Knicks' minus_7.5.
3 Keys to Victory for Toronto
Get into Carmelo Anthony's face. 'Melo was tossed last night for cussing a referee, and would appear to be dismayed by the thought of another losing season. If DeMar DeRozan can work him early for some easy buckets, Anthony may have to sit down. He's the Knicks' highest scorer, so the more minutes he's sitting, the better for the Raptors.
Keep Kristaps Porzingis off the glass. He is their top rebounder and likely to be a superstar in three years. For now, he's a scrawny giant barely out of his teens. The Raptors' defensive rebounding was miserable last night; that can't continue. Jonas Valanciunas sat much of the last half of the Charlotte game, presumably because of knee pain. Hopefully he's available tonight at full strength.
Hang on to the ball. The Raptors have committed the fewest turnovers (86) in the league, which has helped them to a plus_24. The Knicks are minus_3. That stat alone points to a Raptors win.
3 interesting Knicks
Derrick Rose. His attempt at restarting his career after a devastating series of injuries has gone reasonably well. I think his blinding speed, so much in evidence in his MVP season of 2010-11, is largely gone. If the Knicks are going to make a move upwards, neither he nor backup Brandon Jennings can be The Man, in my opinion.
Willy Hernangomez. A long Spanish rookie, this fellow is seen as a sleeper. I'll be watching him.
Courtney Lee. He's another one of those "What do people see in him that I don't?" players, like Udonis Haslem or Kirk Hinrich. Lee is referred to as a great defender and all-round glue guy, yet he's playing for his seventh team since 2008. Maybe I'll see the light tonight.
Conclusion & Final Score
I couldn't find any indications of the Knicks having health problems, unlike the plug-the-dike Raptors. That may be New York's only chance, as Toronto needs merely to make a respectable number of long balls to roll over the defenseless Knicks.
Raptors 113 – Knicks 100
More from Raptors Rapture
This article originally appeared on