Preview: Boston Celtics vs New Orleans Pelicans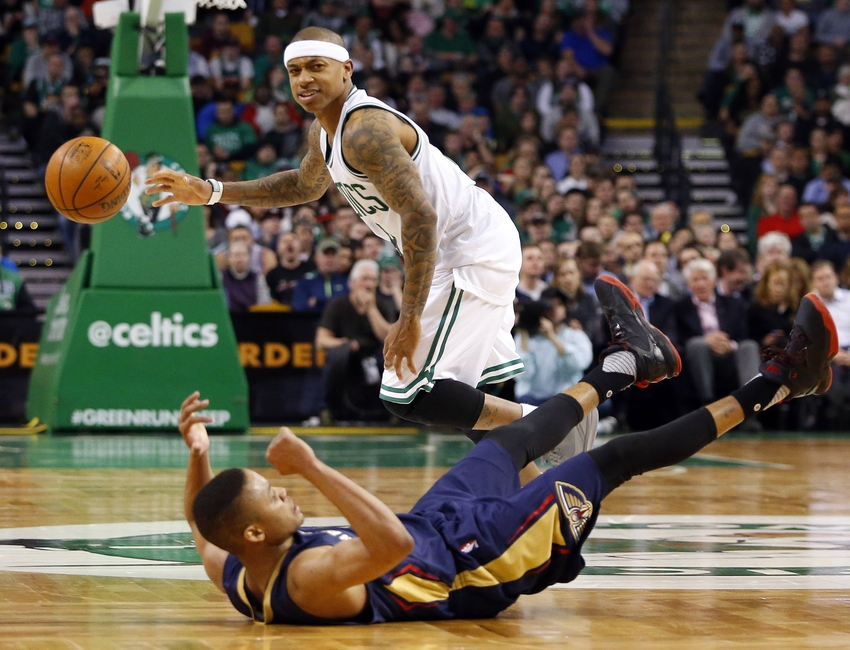 Previewing the upcoming matchup between the Boston Celtics and the New Orleans Pelicans
The Boston Celtics have had an inconsistent start to the season. There have been multiple games where it appeared as though they would never be able to overcome their injuries, but two straight victories has them feeling a lot better about keeping their heads above water until Jae Crowder and Al Horford return.
On paper, the New Orleans Pelicans should be their easiest game of the year. Anthony Davis continues to do other worldly things on the court that no one else in the league is capable of, but all they have is one win to show for it. Davis has been destroying games, and even at full strength the Celtics would have struggled to slow him down.
Davis is one of the most unstoppable forces in the NBA, and if he is on his game there may not be a single defense out there that can contain him. Fortunately, it has also been made abundantly clear that the Pelicans are very beatable even when Davis plays out of his mind.
The Celtics will go into this game understanding that Davis is an impossible matchup for them. Not even Marcus Smart has the defensive versatility to matchup to him, and they are going to have to hope that their front court does not get abused too badly.
The key for the Celtics will be making sure that Davis does not destroy their game. The Celtics cannot let his unpallarelled ability on the court force them out of their comfort zone. The Celtics need to focus on being disruptive on defense, making sure that no one else is able to get going on top of Davis. The Celtics may feel Horford's absence more than ever with Davis on the inside, but they should be in their best position to get everything else going.
The Celtics need to accept the fact that Davis is usually inevitable, and the real problems come if some of his teammates are allowed to get going to. With Smart and Avery Bradley in the back court, they should have no problem disrupting arguably the worst supporting cast in the NBA. If the Celtics play their defense properly, then everything should be forced into Davis isolation, and they should be able to do enough to withstand that and escape with a victory.
Defensively, the Celtics have come to an understanding that their front court will inevitably be a liability, but they have started getting back to contesting more shots and forcing more turnovers, and if they can do that against the Pelicans it should be enough to secure a win.
The Pelicans actually have the fifth best turnover to assist ratio. They have not been too reckless with the ball, but a negative turnover differential is a great sign for the Celtics. The turnover battle will always be a main key for this Celtics defense, and with little hope to slow down Davis, they cannot afford to lose the turnover battle on top of that.
With Tim Frazier taking on much of the Pelicans' ball handling responsibility, the Celtics should feel great about the back court matchup. The Celtics should be able to slow down any consistent ball movement, and should have no problem bogging down an offense that more often than not is reduced to just the Davis show.
That being said, Davis by himself could do a lot of damage to this Celtics front court. They cannot take anything for granted with him, and they know that they will need to push the ball on offense and get the opportunities they need to keep Davis at bay.
The Pelicans are the third worst team defending the three this year, and are right in the middle of the league in generating steals. The Celtics should be able to get comfortable, and both Isaiah Thomas and Bradley should be able to bounce back from one of their worst offensive displays against the Pacers.
The Celtics have consistently played well on offense, and with Kelly Olynyk back in proper form, they should be able to win this game on the offensive end. With Davis as the only thing they really have to worry about, they should be able to do more than enough of the other things to give the Pelicans their 10th loss of the season.
The Celtics are on the fringe of getting both Horford and Crowder back, and winning these intermediately games could make a huge difference in the Eastern Conference race. The Celtics have done a solid job staying above .500, but they have an opportunity to get a third straight victory with an outside chance that both Crowder and Horford could be back after that.
Davis is the kind of player that can never be ruled out. He is dominant in all phases of the game. He has countless ways of blowing things up on both ends, and his talents have been on full display early on in this season. Stevens, however, should have more than enough material to go after in this game. The Pelicans have been exposed on multiple occasions, and there is no reason for the Celtics to not know what they need to do in order to account for Davis' mass production on the court.
It could be an exciting game. Davis could run wild in a terrifying way against this front court, but the Celtics have proven that they can win in multiple ways. If things come together properly for the Celtics, this should be a comfortable victory to put them two games above .500.
More from Hardwood Houdini
This article originally appeared on