Preview: Boston Celtics vs Minnesota Timberwolves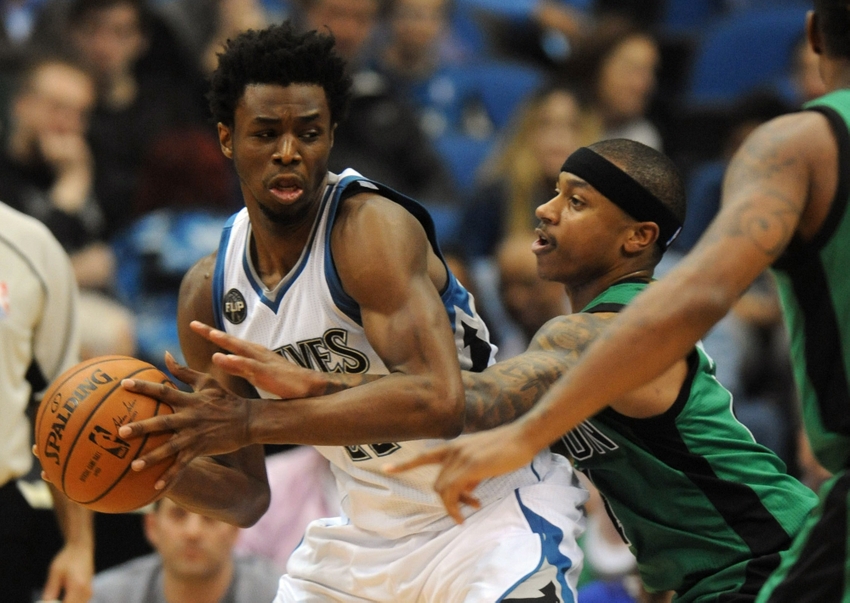 Finally at full strength, the Celtics face off against the best young trio of players in the NBA
The Boston Celtics are finally at full strength, and it did not take long for getting healthy to make a difference. Al Horford had his best game with the Celtics upon his return, and did everything the Celtics needed to secure a victory against the Detroit Pistons. Next up, the Celtics get the most exciting young core of players in the league in the Minnesota Timberwolves.
While the Timberwolves are a disappointing four games below .500, their trio of young talent has continued to look better. Karl-Anthony Towns is picking up form his historic rookie season, Andrew Wiggins is seeing his scoring sky rocket with a deadly jumpshot and Zach Lavine is starting to look a lot more like a complete player, rather than raw athleticism.
This game could have been disastrous had Horford not returned in time. With the state of their interior defense, it is hard to imagine what kind of damage Towns could have done. The Celtics got Horford largely because of his ability to improve their interior defense, and these are the exact kind of match ups they needed him for.
Even with Horford in there, Towns could have a strong game in the paint. Horford has little help in the front court ad could be left on a lot of islands. Towns should have an opportunity to try and assert his will in this game, and it is vital that Horford is able to slow him down.
Wiggins could see a few different defenders, but should expect Jae Crowder for the majority of the game. Crowder should be very disruptive. His aggressiveness should eliminate a lot of the space Wiggins will need in order to have a strong shooting game. Defensively, Horford and Crowder cannot afford to show any rust. They need to be strong on the defensive end, and if they manage to get an advantage, the guards could destroy this game for the Celtics.
Zach Lavin will get both Avery Bradley and Marcus Smart, and they should be able to make him uncomfortable. These guards should be relentless on him and if that forces him to defer a lot, he could disappear from this game. Ricky Rubio is likely to draw Isaiah Thomas, but he has been far too limited offensively to do too much damage. If he starts to get hot, then the Celtics could give Smart more time with the starters to defend him.
These three have been one of the most exciting trios in the NBA. They have three players that are all above 19 points per game, and that is a lot of firepower. Without Crowder and Horford, the Celtics could have been in a lot of trouble. With them, they have that ability to have a comfortable matchup across the board. It has been fun stretching the limits of Smart's versatility, but he could look a lot stronger getting to guard the proper position.
Boston's defense has been steadily improving since the embarrassing start, and now that they have two of their best defenders back, they need to prove that they can be as good as everyone thought they would be this offseason.
On offense, the Timberwolves are a team the Celtics could exploit. Thomas will be looking to bounce back from a bad day from the field, and he needs to make sure the ball is moving against a defense that could make things difficult for the Celtics in the paint.
The Celtics need the shooting they have been getting, especially from three point range. The Celtics rank ninth in the league shooting 36 percent from deep, but the Timberwovles rank seventh, allowing opponents to shoot just 33.7 percent. The Celtics depend too much on the three point shot to struggle in that area, and that is how they will open things up in the paint.
The Celtics should also start to see more results from their second unit. With Smart and Kelly Olynyk back with the reserves, they should be able to get the kind of advantage that was customary last year. Smart has been playing much better on offense this season, shooting better than 30 percent from three the whole way through.
Smart needs to be able to take advantage of the Timberwolves' bench, and give the starters some of the help they may need to account for some of the most remarkable young talent in the NBA. The Celtics will have to accept that these players will be able to score, and they need to have a response.
The Celtics have been making up of the second unit for the majority of the season. Against a team that leans so heavily on three players, the Celtics need to be able to get a boost from their second unit.
The Celtics will finally look to go on a good run this season. With everyone healthy they have the Timberwolves followed by the Nets, two teams well below .500. The Celtics have been disappointing and inconsistent, but they were able to avoid disaster while hurt, and now they need to start winning more games.
More from Hardwood Houdini
This article originally appeared on