Preview: Boston Celtics vs Houston Rockets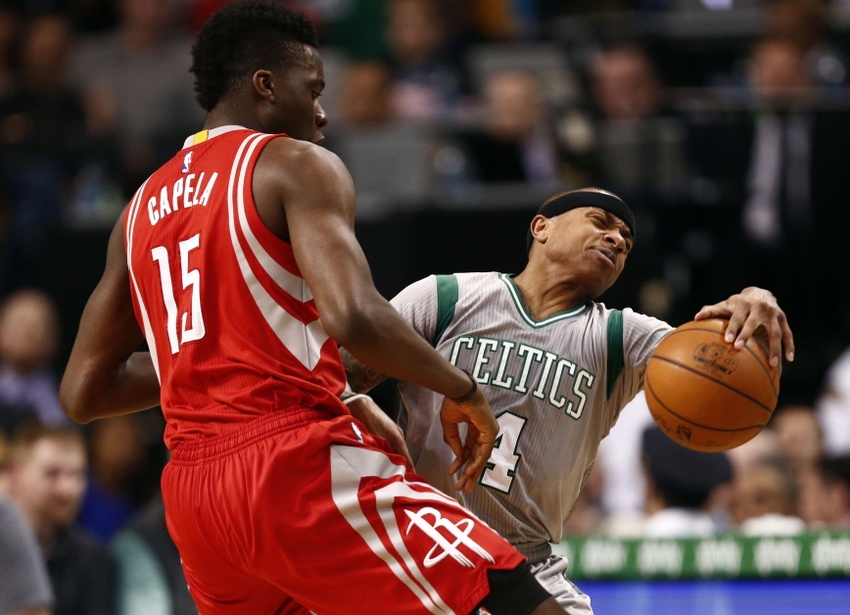 The Boston Celtics defense will get one of their toughest match ups of the season against the Houston Rockets
The Boston Celtics have benefitted from a weaker schedule since they have returned to full health, with their one game against a top team being a close loss to the Spurs. The Houston Rockets are due up next and while they are not quite as challenging as the Spurs, it will be their second most difficult game over this recent stretch.
The Rockets are also beginning a road trip for the Celtics. They had consistency issues over the last few home games and while they did a solid job of securing wins, they had a tough loss to the Pistons and a far too close victory to a shorthanded 76ers team.
The Celtics have been playing well enough to do a good job against inferior teams, but that will not be acceptable against a Rockets team that has one of the most unstoppable forces in the NBA in James Harden.
The good news is that the Celtics have multiple players that they believe can help slow down Harden, and they will certainly need to throw different looks his way if they are going to slow down one of the highest functioning offenses in the NBA. Avery Bradley will get his opportunity to slow down the point guard, but his size could force Stevens to use either Jae Crowder or Marcus Smart more frequently.
More from Hardwood Houdini
Harden has been truly unstoppable this season, and that is in every way imaginable on offense. He has managed to maintain his incredible shooting and scoring while emerging as one of the best distributors in the league. The Rockets have embraced three point shooting like no other, and Harden has more than enough weapons around him to run teams off the court with their three point shooting.
For the Celtics, scoring is pretty much a given with Harden. With his ability to hit isolation shots combined with an unmatched knack for generating contact and getting to the line, the Celtics will have to accept that Harden will get on the scoreboard. Having a successful defensive game is less about keeping Harden's scoring down, and more about keeping his distribution down, and making sure the Rockets are not getting all kinds of open shots in rhythm.
The Rockets have everything running through Harden. They have multiple shooters that need to be respected, but without Harden those players will not get the looks they need. The Celtics cannot break down on the defensive end, and they need to get back to generating turnovers like a season ago.
The interior defense will get their easiest game in a while. Clint Capela has done a solid job of looking comfortable in such a fast three point shooting offense, but Al Horford and Amir Johnson should have no problem preventing him from destroying them on the inside. The Rockets get every bit of their offense driving to the rim and shooting three pointers, but they do not have a physical presence that can dominate the interior. The Celtics need to make sure they do not allow the Rockets to get those easy buckets on the inside, because they have proven that they will force the issue.
The fact that Johnson is undersized should be less of a problem against the Rockets, and Horford's focus could become a lot more about help defense, rather than a singular matchup. Horford will continue to be vitaly important, and they need him to put at least a little resistance in the paint. Horford needs to make sure that they do not get the easy looks that they depend on, and they need to be forced to win this game on the outside. The problem is that they are more than capable to get the shooting they need even if they cannot get tit going in the paint.
On top of Harden's ability to knock down shots, they have seven players who are hitting more than 35 percent of their three point attempts, and that includes Ryan Anderson, Eric Gordon and Trevor Ariza who are all taking more than six three pointers for game. The Rockets have turned their offensive weapons into volume three point shooters who hit their shots efficiently, and there may not be a team in the NBA that has the defenders to account for all their weapons.
The Celtics will try to force the Rockets to win the game with their three point shooting, but they need their perimeter defense to be on point. Fortunately, they have bigs that are comfortable defending on the outside, and they have three guards who have the aggressiveness and energy to leave very little space for the shooters on the outside.
The Celtics are allowing teams to shoot just 34 percent from these this season, good enough for the fifth best mark in the league. The Celtics have the defensive approach to slow down one of the most dangerous attacks in the Rockets, but it will be one of their most challenging games of the season.
If the Rockets are able to open things up in the paint or if they are continually getting three pointers in rhythm, this will be a very long day for the Celtics, who will have to take advantage of one of the weaker defensive teams in the NBA. The Rockets have proven that they can score on anyone, and even if the Celtics have a strong defensive game, they will need more of a complete offensive effort than they have been getting in the last couple games. Isaiah Thomas has looked great and Horford has looked great, but now they need the two of them to have a great game at the same time against a team that has far too many ways to destroy a game with their offense.
The Celtics should be confident that they will be able to score on a team giving up over 107 points per game. That being said, an average offense night is rarely enough against the Rockets, and they  cannot afford to have a bad night on either end and still expect to get a victory.
This article originally appeared on