Preview: Boston Celtics vs Golden State Warriors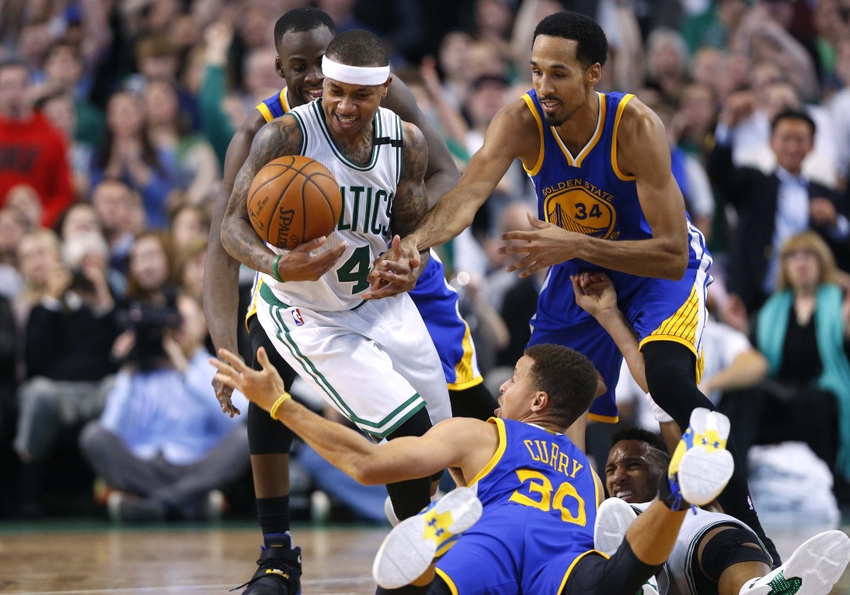 With Al Horford's status up in the air, the Celtics have their biggest challenge of the year against the Warriors
The Boston Celtics get their biggest test of the season against the Golden State Warriors, and things do not look great for Jae Crowder and Al Horford. While it is known that Crowder will once again miss the game, Horford is going to be a true game time decision, but there is little reason to be more optimistic than than the previous few games.
The Celtics are going to be shorthanded, but that did not slow them down last year. The Celtics still have not looked as good as they did last year, and, oh yeah, Kevin Durant is also on the Warriors now too. The Celtics have always found a way to compete with the Warriors, but this is going to be their most challenging situation.
The Celtics may not get abused on the boards too much, but they will need a miracle from their back court if they are going to make up for a front court without Crowder or Horford. There is a good chance that Marcus Smart will get the biggest test of his career against Durant. The Celtics have pushed Smart's versatility to the limits this year, including some time on 7'3 Kristaps Porzingis. Durant, on the other hand, will look to attack such an undersized matchup, and with Smart's aggressiveness, he could spend a lot of time at the free throw line.
The Celtics may try to use Amir Johnson, Jaylen Brown or even Jonas Jerebko or Kelly Olynyk, to try and slow down Durant. With the way Boston's front court defense has been this season, Durant could be in line for a huge game.
At times in the past, the Celtics have proven that they can slow down Stephen Curry or Klay Thompson. The Celtics have been able to hurt their efficiency, and force them into more mistakes. If Smart is drawn to Durant, then they have little hope of doing that again this game.
Avery Bradley will need to have a career game on Curry. Bradley has been showing the league that he can be one of the best two way guards in the NBA. The defense will be key, and any chance at winning starts with stopping Curry. Bradley has proven he is capable of it, but Curry is always going to have an impact.
There really is only so much the Celtics can do on defense in this game. With the way Draymond Green is used, the Celtics should get good opportunities in small ball situations, and getting Brown in with Smart and Bradley gives them their best defensive versatility.
The Celtics will not be winning this game with just defense, and with the way their defense has been this year, they have to expect a lot more from their offense. Isaiah Thomas cannot afford to have three quarters like he did last game. Kelly Olynyk needs to open things up in the paint with his shot, because Thomas needs to be driving and getting to the line if he is going to be able to do enough to keep it close.
The Celtics have been getting surprise shooting from Smart, and Bradley is having his best scoring season, by far. The Celtics know that the front court battle is a lost cause in this game, and they need their back court to win their battle.
More from Hardwood Houdini
Things could get a lot easier if Horford manages to get on the court. Tonight would be a perfect time for Horford to get his first action because they need another good defender. Crowder may have been more valuable because of his ability to matchup on Durant, but Horford could be the most impactful defensive player in this game.
The Warriors offense has been reaching hew heights this year, but they have a defense that can be attacked. The Celtics have three starting guards that have been proving what they are capable of on the offensive game, but anything short from a career night from the three of them may not be enough.
It is an exciting rematch as the Celtics ended the Warriors' home winning streak. There could be some added animosity because many fans believed there was a real chance Durant could have gone to the Celtics this offseason.
All of that will be in the back of their minds, but the Celtics will look at this as a great opportunity to prove themselves. The Celtics have struggled a lot more than expected, and that is not only because of injuries. With or without Horford, this is Boston's opportunity to gain some of the respect they lost in the Eastern Conference race.
The Celtics may just have to hope for a bad game from the Warriors, but they will be ready to pounce if the Warriors start to struggle.
Hopefully the Celtics can continue their trend of keeping these games close, but they will need to have their best game of the season across the board if they have any hope of getting a second win in a row.
This article originally appeared on