Prediction: Sacramento Kings' Box Score Game 15 vs Oklahoma City Thunder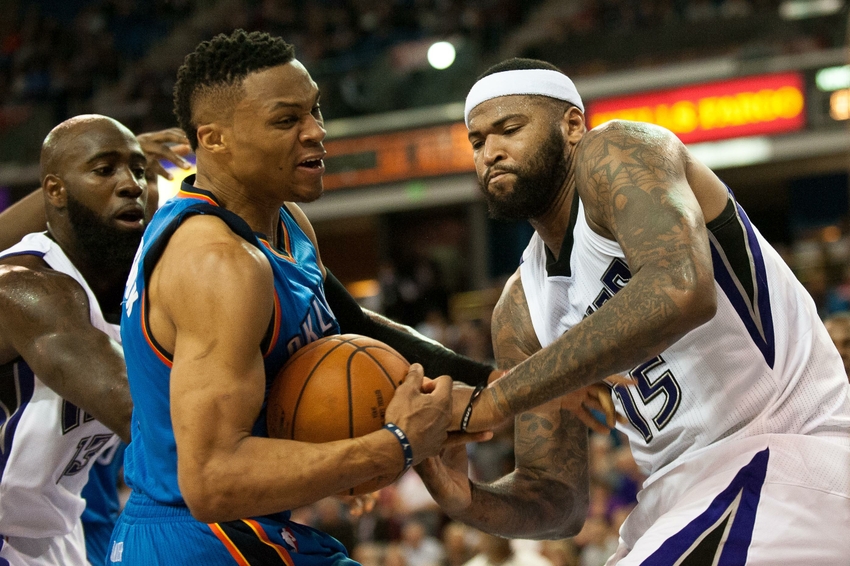 The Sacramento Kings host the Oklahoma City Thunder on November 23, 2016.  This article predicts the Kings' box score for that game.
Tonight, the Sacramento Kings host the Oklahoma City Thunder for a showdown at the Golden 1 Center.  The Kings righted the ship in the last game defeating the Toronto Raptors 102-99 in a very controversial game.  Below is a highlight video from that contest in case you missed the action.
Oklahoma City enters tonight's contest on the second of a back-to-back having played the Los Angeles Lakers on Tuesday.  That will be worth monitoring throughout tonight's game.
Without further ado, let us get to my prediction of the Kings' box score against the Oklahoma City Thunder tonight.
Box Score Prediction
Oklahoma City entered last night's contest with the NBA's 4th highest pace.  They, also, rate as the 5th best defensive rating this season and 14th in opponents points allowed per game at 103.8 points.  All according to NBA.com/stats.
You will notice I predicted a subpar game for DeMarcus Cousins.  That is not by mistake for his career over 20 games against the Oklahoma City, Cousins averages 10.5 rebounds, 1.7 assists, 1.9 steals, 1.1 blocks, and 18.6 points per game while shooting 37.7 percent from the field and 69.0 percent from the free throw line, according to Basketball-Reference.  Do not be surprised if that trend continues tonight.
I expect the changes to the rotation and starting lineup Coach Joerger enacted last game to stick.  The Kings were victorious, but it will be interesting to see how the bench minutes shake out.  Ben McLemore and Willie-Cauley Stein only got cameo appearances in the last game it will be worth monitoring if they are part of the nightly rotation or just ancillary pieces used in special situations.
Summary
There you have it, my predicted Sacramento Kings' box score for tonight's contest against the Oklahoma City Thunder.
The Kings should be fired up tonight coming off a win and playing a tired team on the second of a back-to-back.  This game looks primed for a Kings' victory so come out or tune in and root for win number six on the season.
Be sure to check out the game preview and all the great content on A Royal Pain.  Thank you for reading.
This article originally appeared on