Prediction: Sacramento Kings' Box Score Game 12 vs San Antonio Spurs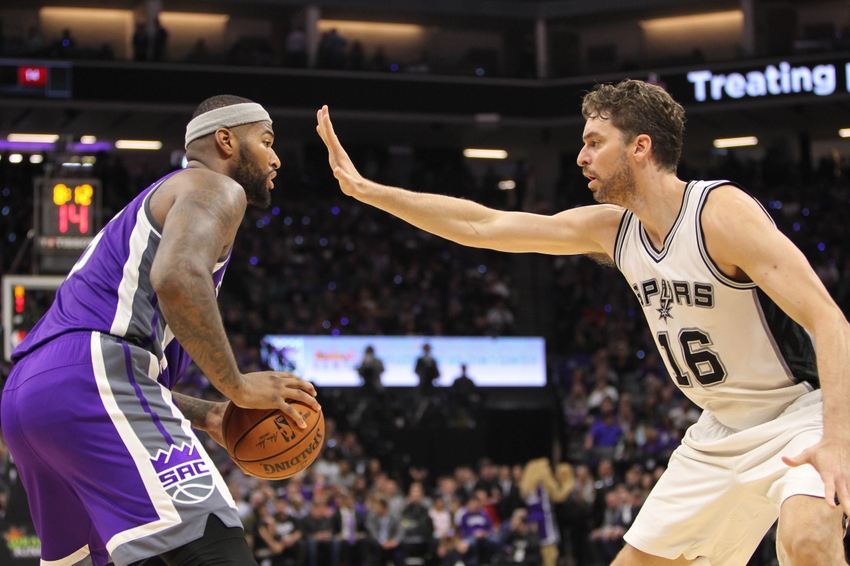 The Sacramento Kings host the San Antonio Spurs on November 15, 2016.  This article predicts the Kings' box score for that game.
The Sacramento Kings play host to the San Antonio Spurs tonight.  This is the Spurs second visit to the new Golden 1 Center.  San Antonio defeated the Kings 102-94 on October 27th.  Below is a highlight video from that game to give you a refresher on the action.
Without further ado, let us get to my prediction of the Sacramento Kings box score for tonight's contest against the Spurs.
Box Score Prediction
I project a big game for DeMarcus Cousins tonight.  Cousins had his best statistical game of the season in the last meeting with San Antonio dropping 37 points, 3 three-pointers, and 16 rebounds.  Cousins should dominate Pau Gasol and LaMarcus Aldridge to the tune on a solid double-double tonight, but don't be surprised if it is another monster.
Darren Collison did not play in the first meeting, but I expect him to have a solid game tonight.  The Spurs struggle to defend at the point guard position with Tony Parker and Patty Mills.  I think Collison should produce a solid yet unspectacular game tonight.
It is worth monitoring the bench minutes again tonight.  Jason Jones of the Sacramento Bee wrote a great piece about Casspi being out of the rotation if you care to read more about that topic.  It is worth monitoring if Tolliver gets minutes and who gets what minutes off the bench in general.  Coach Joerger has the rotations a bit muddy at this point, so let us hope tonight's game is another step toward clarity.
Summary
There you have it, my prediction of the box score of tonight's game against the San Antonio Spurs.  Here is to hoping that the Kings protect their home court and pick up a win against the Spurs tonight.  Last game was close until the Spurs went on a late run to ice it.  It should be a fun game, either way, so please tune in and cheer on the Kings.
Be sure to check out the game preview and all the great content on A Royal Pain.  Thank you for reading.
More from A Royal Pain
This article originally appeared on