Predicting the Los Angeles Lakers' Final Roster, Depth Chart For 2016-17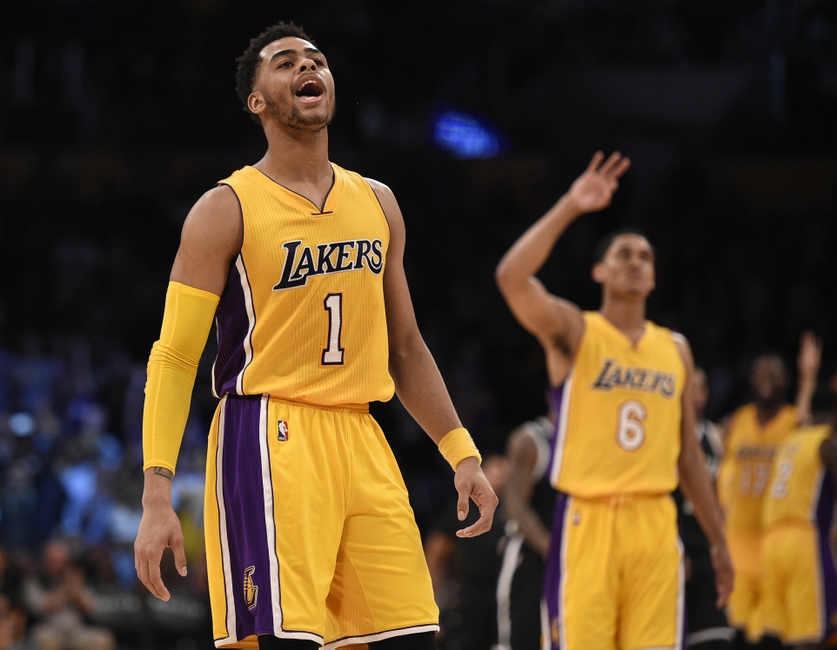 The 2016-17 campaign has officially begun for the Los Angeles Lakers. How will their final 15-man roster and depth chart look when training camp comes to an end?
Believe it or not, the Los Angeles Lakers are only about a month away from getting their 2016-17 campaign under way. Training camp has tipped off, and it's time to start looking towards a brighter future for one of the NBA's most storied franchises.
At this moment, there are 20 players on the Lakers' roster. Before their first game of the upcoming season gets under way, that number will need to shrink to 15. That means there are going to be some tough decisions to make in the next month.
Before those decisions are made, though, it seems logical to predict how the Lakers' roster will look when training camp is over. That's really all we can do at this point–speculate.
I know there are only so many ways this can turn out in the end. Unless a no-name training camp invitee surprises, there won't be too many shocking roster decisions in the coming month. Still, the final spot or two could very well be up in the air.
And then there's determining the depth chart, which is a whole other story.
Instead of diving too deeply into that here, let's just take a look at my predictions for the Lakers' final roster and depth chart for the 2016-17 season.
Point Guard
1. D'Angelo Russell
2. Jose Calderon
3. Marcelo Huertas
It's pretty clear who the starter will be at point guard for the Lakers this year. After serving mainly as a backup during his rookie campaign, D'Angelo Russell is ready to take the reins in Year 2.
He showed well during the Summer League, and should emerge as the Lakers' go-to playmaker during training camp.
He'll be backed up by veteran Jose Calderon, who was acquired this offseason as part of a salary dump. While not the most exciting of options off the bench, he's an experienced passer and deep threat. Calderon will also provide Russell with an excellent mentor.
The same can be said for Marcelo Huertas, who should round out the point guard depth chart. The Brazil native proved to be a sparkplug off the bench last season, using his unique ballhandling and passing skills to dazzle.
While his minutes will be limited, he'll be a valuable part of the Lakers' 2016-17 roster.
Who didn't make the cut: Julian Jacobs
Shooting Guard
1. Jordan Clarkson
2. Lou Williams
3. Anthony Brown
I'm very excited to see what the shooting guard spot brings for the Lakers.
Jordan Clarkson is a rising star, and should benefit greatly from the departure of Kobe Bryant. Now cemented in across from Russell as the other starting guard, the former second-round pick should emerge as a legitimate gamebreaker for Los Angeles. It's going to be a big year for Clarkson.
Backing him up will be Lou Williams, the 2014-15 Sixth Man of the Year. While he wasn't a star for the Lakers last season, he provides a spark for the second unit with his plus scoring skills.
I don't think he brought quite as much value as Los Angeles expected, but he's an above-average option off the bench.
Anthony Brown, the Lakers' 2015 second-round pick, should round out the shooting guard depth chart. While his rookie campaign was a bit disappointing, he showed good progress during the Summer League.
He's got some significant upside and the Lakers will be looking to unlock it in 2016-17.
Small Forward
1. Luol Deng
2. Brandon Ingram
3. Metta World Peace
Luke Walton appears set on bringing the No. 2 overall pick off the bench (via the Los Angeles Daily News), so that makes Luol Deng the starter–at least to begin the season.
The Lakers paid him starter money this offseason, and will be hoping to get some quality production from the aging veteran early in the year.
That makes Brandon Ingram the backup at small forward. While he may be one of the most intriguing young forwards in the game, he's still got a lot to learn. Luckily for Lakers fans, it won't take long for him to slide into the starting lineup.
Especially considering Deng's durability issues, Ingram should be starting before the All-Star break.
That means there's only one spot left on the small forward depth chart. It'll come down to Nick Young and Metta World Peace, and I believe the latter wins the gig. Los Angeles appears eager to part ways with Young, and World Peace is essentially a player-coach at this point.
He may be older, but offers far more value.
Who didn't make the cut: Nick Young
Power Forward
1. Julius Randle
2. Larry Nance Jr.
3. Yi Jianlian
This is the Lakers' most crowded position, but there's little doubt who will be starting at power forward.
Julius Randle is the man right now, coming off what was essentially his rookie season that saw him average a double-double. He's still got a lot of work to do, but the arrival of Walton's up-tempo offense should aid his progress.
Next in line is Larry Nance Jr., who should have little trouble earning plenty of minutes in 2016-17. The 2015 first-round pick showed well as a rookie, and should also benefit from the scheme Walton will implement.
His athleticism and versatility will help him thrive as a key piece of the Lakers' second unit.
While I believe Zach Auguste offers significant upside, the Lakers will likely end up going with the more established option. Yi Jianlian is a gamble, but he's also a former lottery pick–the potential is there. He offers versatility and range, plus a 7-foot frame.
It's going to be too difficult to get rid of him unless he tanks during training camp.
Who didn't make the cut: Zach Auguste, Thomas Robinson, Travis Wear
Center
1. Timofey Mozgov
2. Ivica Zubac
3. Tarik Black
I don't understand the decision, but the Lakers paid Timofey Mozgov to be the starting center in 2016-17. So that's what he'll be, at least when the season gets under way. I don't, however, believe he'll stay in that role for all 82 games.
Why is that? Because of Ivica Zubac.
The rookie big man has turned a lot of heads since the Lakers made him a second-round pick earlier this year. He ran rampant during Summer League, dominating the boards with his size and length.
If he can get stronger and continue on his upward trajectory, he'll earn the backup job and eventually steal some starts from Mozgov.
That leaves Tarik Black to round out the center depth chart. His new contract includes a team option for next season, so this is a make-or-break year for the Baylor product. He's tough, physical and versatile, but has a lot to prove if he's going to stick around in Los Angeles.
So there it is–your 2016-17 Lakers roster and depth chart, at least in one writer's view.
This article originally appeared on