Predicting the Boston Celtics' Second Unit Roles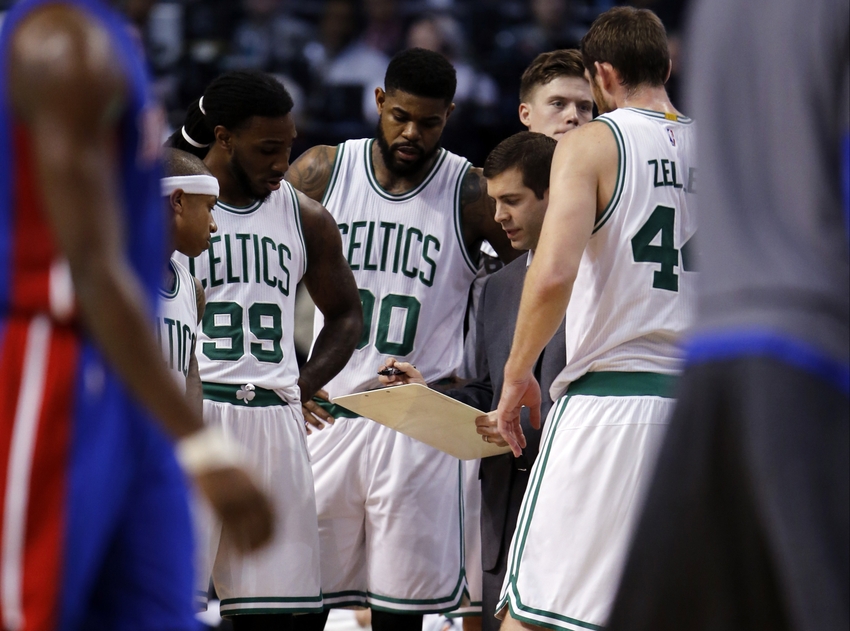 Predicting the potential roles of all the players that may find themselves on the Boston Celtics' second unit
The Boston Celtics' roster is far from set right now, and exactly who will be on the second unit is undetermined. It is pretty clear how the starting unit is going to look, but there are multiple players that will be battling for the final roster spots, and no one on the team can be completely ruled out now.
This will be looking at the potential roles of all the players currently on the roster, even though it is impossible for all of them to be on the team. The problem with determining some of these roles is they can be fluid in Stevens' system.
More from Hardwood Houdini
The Celtics could look to multiple players as ball handlers, have many different options for play makers and the front court defense may currently be the hardest to define. The Celtics have embraced versatility in their players and that leaves a lot of potential to have dynamic roles for multiple players.
The second unit has been vitally important to the Celtics' success and they need to figure which players can be optimized in which roles or they risk losing what has consistently been one of the most important second units in the NBA.
Taking into account what the Celtics should be hoping to get out of their potential second unit players, here is an outlook of their potential roles this upcoming season.
Rozier should expect to make the biggest jump from his role a season ago. It was not until injuries started piling up that he was able to play significant minutes and show the Celtics how he could have an impact. Clearly, Rozier did enough to establish trust with the coach, because he is expected to take on much of Evan Turner's responsibilities as a ball handler.
Rozier may not be the only ball handler on the second unit, but he will certainly get the chance to be the primary ball handler. The key for him is the aggressiveness. Rozier's aggressiveness with the ball in his hands was clear in college and reinforced in the summer league. The Celtics need to push the pace and that is one area where Rozier should have no problem making sure the offense gets the volume of opportunities they need.
Rozier will get that opportunity as the primary ball handler, but it will not be the same kind of role that Turner took on. Turner was an efficient shooter and a great distributer. While Rozier will certainly need to become a better distributor, that will not be his strength.
Rozier will be pushing the pace by forcing things into the paint. Rozier will look to be a play maker not as much through his passing, but through his ability to draw in defenders. Rozier will have more scoring responsibility than Turner, with slightly less distributing. The biggest question mark, however, will remain his shooting. If Rozier's shooting does not improve then he will struggle to create offense for himself and that will lead to limiting the opportunities of his teammates and a lot of time spent in the paint.
Rozier is also expected to have a great impact on the defensive end. Marcus Smart will certainly draw the more difficult match ups and will be the primary on ball defender. Rozier needs to become the most impactful rebouding guard on the team, and he needs to get the team going in transition.
The second unit should be in a solid position to force turnovers, and Rozier needs to be there to push the ball and make sure defenses suffer for the mistakes forced by their great team defense. Rozier is still young and has a lot to prove but he is in line to be one of the most important and prominent players on the second unit.
Smart will be the undisputed leader on the second unit, and he will be the start of everything on the defensive end. He will be drawing the toughest defensive match ups, and Stevens has shown a willingness to put him on players that have a distinct height advantage. Since his rookie season, Smart has been a standout defender and that has secured his role on the team.
As long as Smart continues to have the same impact on the defensive end, he will continue to be one of the most prominent players on the second unit. His ability to force ball handlers into tougher situations, and his ability to generate the steals that they need to be successful has been crucial to the team.
Defense needs to be a given for Smart at this point, but offense remains a huge question mark. Smart has spoken about improving as a shooter and he has benefitted from Stevens giving him an unwarranted green light. Unfortunately, the only way he can improve is by hitting more shots, and that has been the biggest question mark throughout his career.
Smart will also get some time as a ball handler. He is significantly more comfortable than Rozier with the ball in his hands, but the role he has been going towards is more off the ball as a shooter. He has not been successful, but Stevens has been working on developing Smart in a particular way on the offensive end, and that has been taking the ball out of his hands.
A lot could depend on the kind of success that Rozier has, but Smart needs to become a trusted shooter on offense, and that is where he can have his best offensive impact on the second unit. Smart has all the aggressiveness he needs to keep the offense in rhythm, but he cannot make any more progress until he develops as a shooter from all over the court,
Olynyk has already done a great job of solidifying an important role on the second unit. He has separated himself as the best three point shooter on the team, and he is a matchup nightmare for opposing second units as a stretch five.
The Celtics know they can trust Olynyk to hit his open shots and they know they can trust him to be an unselfish player. Olynyk has never looked to over extend himself and has never stunted the team by taking matters into his own hand. Now, on a second unit that will be searching for more play makers, it may be time for Olynyk to take on some of that responsibility.
Olynyk will always remain useful because of his ability to provide floor spacing. No one else on the second unit is respected by defenses they way he is from beyond the arc, and he is now in a position to do more with his ability.
Depending on how successful Rozier is as a ball handler or how successful Smart is as a shooter, Stevens will look to run more of the offense through Olynyk, and see how far he can expand his impact on that end. His shot fake became useful last season, but that remains a part of the bare minimum for his role.
Stevens could experiment more with the ball in Olynyk's hand and if he starts attacking more, he could develop the aggressiveness that is essential to running the Celtics' offense. There remains the chance that Olynyk stays exactly how he has been, and that will still make him one of the most important players on the second unit.
In either case, he will be essential to the offense of the second unit and he will continue to be carried along on the defensive end. Olynyk will not be a difference maker on the defensive end, and that is why he needs to continue to expand his impact on the offensive end. In a contract year, how much Olynyk expands his game could be a huge factor in whether or not he is a part of Boston's long term plans.
Brown is a 19 year old rookie that is expected to be a work in progress on offense. That being said, the lack of small forward depth will inevitably put him into a key position on the second unit. Right now, his role will be all about defense. Whatever Brown can do on the offensive end will be considered a bonus, but they need him to be strong on the defensive end, particularly against second units.
The number one thing the Celtics know they can get out of Brown is elite athleticism. Brown has the physical traits to be the most versatile defender on the second unit, and he will be playing with some of the most aggressive defensive guards in the league in Smart and Rozier.
Brown needs to be able to physically matchup with top athletes and he needs to be able to hold his own. The Celtics need him to have an impact as a rebounder because their second unit front court could be disastrous on the boards. Smart gives the Celtics a lot of versatility on the defensive end, but there is an added dimension with Brown's size and athleticism.
Small ball lineups could be where Brown has his biggest impact. He will be undersized, but he will could be taking on a Jae Crowder type defensive role with the second unit. He will have little time to prove that he can succeed as an undersized defender, but if he can have an impact protecting the rim then he will be one of the most important defenders on the unit.
On the offensive end, the key for Brown will be getting comfortable. The Celtics cannot expect good shooting from him, but they can expect aggressiveness and intelligence. Brown cannot be throwing away opportunities with stupid plays, and he also cannot be throwing away opportunities with tentativeness.
The one area the Celtics can expect an offensive impact from Brown is in transition. He will not be a ball handlers and he will not have many responsibilities as a distributor. That being said, the second unit will need to be successful in transition and Brown's physical tools will make him their biggest threat in that area.
There are a lot of question marks surrounding the 19 year old rookie, but his physical ability is not one of them. Whatever role Brown takes on this season will be taking advantage of what could be the most dominant athlete on the roster.
Jerebko has one of the easiest roles to predict. He has been put in the same situation each year he has spent with the Celtics and there is little reason to expect that to change this year. A brief surge in the playoffs last year could be a sign of an increased role, but he cannot expect to be a prominent player on the team.
The Celtics know that can get shooting depth from Jerebko and they know they can ge that out of a serviceable defender. That being said, he is unlikely to become anything more than just solid depth. Jerebko has never broken the 20 minutes per game mark with the Celtics, and there is no reason to believe that will change.
Stevens will continue to use him because of how desperately they need his shooting, but nothing has changed with his game in these past two seasons, and therefore there is no reason to believe that his role will change.
The Celtics lost Turner and that opens things up for players on the second unit, but Jerebko cannot take on any of those responsibilities. Jerebko is not a distributor and he is not a ball handler. Jerebko is one of their lone trusted shooters but if that was not enough to earn him more minutes in the past, it should stay the same this season.
That being said, Jerebko will be far from irrelevant. Jerebko is on the edge of the rotation, but he will still be a factor with the second unit. Particularly with how poorly the two primary ball handlers will shoot the ball, Jerebko will continue to be important as a three point shooter, but he is one of the only players that should expect to remain in the exact same role from a season ago.
The former dunk champion still has to fight for a roster spot, but could provide some much valuable scoring depth, particularly at the guard position. On a second unit that will be lead by Smart and Rozier, who shot 34.8 percent and 27.4 percent last season, Green could be the top offensive option in the back court for that unit.
Green will be a big step back on the defensive end, and if he struggles a lot on that end he could see his playing time cut down completely. That being said, he can be the most electrifying finisher on the team, and a much needed three point shooter that can be trusted.
Green has proven that he can be trusted when it comes to three point shooting, even more so when he is compared to the other two guards ahead of him. Green has shot 36 percent throughout his career and has peaked above 40 percent. That is the kind of shooting that the Celtics dream of getting out of Smart or Rozier, and he has sustained it for enough years that there is a sense of security there.
Green will not do much in the play making category and would rarely play with the ball in his hands but Green could become a go to scorer for that second unit. Stevens has spoken about his potential to score in bunches, and he is a hot hand that the second unit will have no problem continually going to.
Green could also benefit from the aggressive nature of the defenders around him. Smart, Rozier and Brown could all do a great job in generating turnovers, and Green could be on the receiving end of a lot of those opportunities in transition.
Green's role will always be limited because of his defense and ability to run the offense, but as long as he is shooting well, he will find his way into the lineup. The Celtics have too much ground to make up shooting the ball, particularly from three, to not see what Green is capable of.
Given how much more of an offensive impact Olynyk can have with his three point shooting, Zeller will need to be much improved on defense to get his fair share of minutes. The problem is that Zeller has not even been a capable defender, he has been a liability and has continually been abused by big men.
Zeller has tremendous potential with his mid range shot, and he has shown signs of being one of the better rebounders on the team. Zeller has already shown certain abilities that can be valuable to the Celtics, but that will not be enough anymore.
If Zeller returns to shooting 60 percent in any portion of the mid range game, then he can be one of the more valuable offensive options off the bench. Zeller has also been given more time to develop physically. If he can establish himself in the paint he will be in a much better position to have an impact rebounding, compared to players like Olynyk or Jerebko who will spend more time on the exterior.
Zeller has proven that he can be comfortable in Stevens' offense, and that gives him a lot of potential in the mid range game. The problem last season was he could not be trusted to hit those shots the way he did the season before.
If Zeller can put last season fully behind him and return to where he as the year before, then he will be one of the featured front court players on the second unit. How much bigger that role gets would then depend on his defense. Zeller needs to show some improvement, but he will get tremendous defensive help from his guards.
Zeller does not need to be a difference maker on the defensive end, but if he is not at least a serviceable rebounder and a trusted shooter, then he will disappear out of the rotation.
Bentil remains one of the biggest long shots to make the roster. There is little room for the rookie second round draft pick, but he has the potential to give the Celtics something they have been searching years for, a stretch four who can defend.
The high end potential of Bentil's role is basic depth for the front court, particularly in small ball lineups. Bentil stands at 6'8 which gives him great position versatility in the front court. Weighing in at 230 pounds gives him unique potential to defend the paint while stretching the floor.
Bentil can help with the complete void of small forward depth, but his intrigue is what he can do as a power forward in smaller lineups. The Celtics tried desperately to get good enough shooting out of Jared Sullinger, and even Amir Johnson attempted to become a three point shooter.
If the Celtics believe there is any chance that Bentil can bring that shooting and help with the depth of their interior defense, then he could have the second biggest role as a rookie, right behind Brown.
The problem is that Bentil was a good but not great shooter in college. If there is any kind of adjustment period, he will not be good enough to have a roster spot. The same goes for the defensive end. Bentil did nothing spectacular, but was a strong presence in the paint. If Bentil loses any of that by transitioning to the NBA, then he will need to spend his time in the D League until he catches up.
Bentil has no play making potential, but he can be a solid two way player for the second unit. Bentil can be a player that Stevens can trust on both ends, and there is no doubting that he would use him in multiple different lineups and positions if he can approach a 35 percent mark from there point range.
Jackson is another player that is more likely to end up with the Maine Red Claws this season. He has to deal with even stronger depth ahead of him than Bentil, making the only realistic situation where Jackson gets legitimate minutes an injury. Jackson has a least four and up to six guards ahead of him on the depth chart, and all of them have a greater degree of trust established than Jackson.
The great appeal to Jackson would be what he could do as a shooter. Unfotunately, both R.J Hunter and Green are also trying to fill in that role of shooter. That being said, two of Jackson's three seasons at Notre Dame were above 40 percent from three, and that gives him the potential to surpass Green and Hunter.
Of course, even if Jackson establishes some trust with his shot, that alone will not be enough. He needs to be significantly improved on the defensive end. Green and Hunter are not standouts in that area, but with how poor Jackson was in college, he could be a bad liability out of the gate and is certainly behind both Green and Hunter in that area.
The Celtics have great defensive guards on their second unit, but they need to improve their offensive depth. Long term, Jackson can be a significant factor in getting the Celtics better shooting out of their guards. Right now, however, it could take multiple injuries from Jackson to get any kind of opportunity.
The Celtics have proven to be patient with their guards and they have shown a willingness to play them in their rookie seasons. Unfortunately for Jackson, the ones who excelled on offense in college have tended to require the most patience.
Hunter is one of the bigger mysteries on the Celtics. He played a similar role to Rozier for the majority of last season, but neither of them were relevant. Then, when the injuries piled up, it was the stronger defender in Rozier that was given the bigger role.
There is a lot that is undetermined with Hunter. He is yet to really show the kind of potential they hoped he could have from three point range, but he has been a more capable defender than expected. He has shown an ability and willingness to be a passer, but that is not going to get him  a role with the second unit.
Hunter cannot be ruled out of the rotation because he has established some degree of comfort in Stevens' system, and that means he is a great three point shot away from being a big factor. Hunter's length and size can be used on the defensive end but everything will hinge on that three point shot.
The Celtics need as much shooting as they can get on the second unit, and they have the two primary ball handlers that should be focused more on getting their teammates looks from three than themselves. If Hunter can start to be a factor shooting the ball, then he will continue to see his opportunities increase.
The Celtics drafted Hunter knowing he would need time to develop in multiple areas, but the moment his shot is good enough, they cannot pass that up on the second unit. Hunter has high end potential to be a more complete player but, right now, they need him to be someone that can dominate with his three point shot.
At this point it would be foolish to expect Young to take a role. The Celtics have been patient with him and he is still one of the youngest players on the team. Unfortunately, nothing has changed since his last two season, except that all the players ahead of him are better.
The offensive potential must be what is keeping him around and that combined with his size is something that the Celtics would love to have. The problem is that Young has done nothing to suggest he is approaching that potential.
Young may fall into one of the final roster spots, but what he has given the team so far would be enough to earn him garbage time minutes in blow outs. The Celtics have great guard depth and they have more than enough options. They have players who are significantly better defenders and they have players who are much closer to their offensive potential. And that is not even including the top four guards on the team.
Young's time with the Celtics could be coming to an end, and this could be one of his last opportunities to make the team. The Celtics have clearly seen something in him because they have kept him around this long. The problem is that it will only be a matter of time before the Celtics give up on what ever potential they have seen in Young.
This article originally appeared on