Power Rankings: How the Clippers stack up
Taylor Buckley/FanSided via Clipperholics

Fansided
It's everyone's favorite time of the week! It's time the nations' Power Rankings finally come out. Luckily for y'all, we have them here in one place. Enjoy! (WEEK 14)
"Since Christmas, the Clippers have a 9-11 record, the NBA's 24th-ranked defense (110.6 points allowed per 100 possessions) and have a minus-2.5 net rating, which ranks 21st. They lost their ninth straight game to the Warriors on Thursday, furthering the distance between themselves and the Western Conference elite."
No easy way to put it, the Clippers aren't as good when one of their superstars is missing. Who would've guessed that?
"According to ESPN's Basketball Power Index, LA's February schedule ranks as the toughest month any team will face all season, followed by the Suns' December and Houston's March; Oklahoma City's January and Chicago's March are tied for fourth. The Clippers, of course, are facing all of this without Chris Paul. They're 19-7 this season when CP3, Blake Griffin and DeAndre Jordan are all in uniform but have been missing at least one of them just as often, and are 12-13 in those games."
Oh yay. Can Chris Paul hurry up and get healthy? Nothing like going into the toughest month, in the whole NBA, with your most important player sidelined.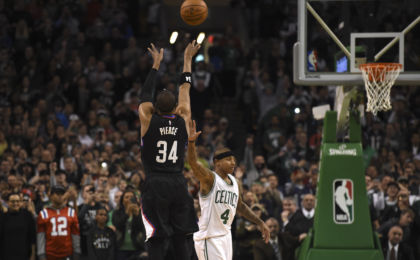 "OK, so this could totally be filed under Celtics news, but take a minute to revisit Paul Pierce draining this three at the end of his last game in Boston. Between this and the Super Bowl, good day for New England. The Clippers…rode shotgun."
Sounds like Boston had a good week.
"Hey, maybe we should sacrifice all of our depth for a ball-dominant, high usage star who doesn't defend," is an idea being floated, which shows you how bleak their prospects are with what is still a very talented core. Imagine if this team was in the East. How good would they feel about their situation?"
Imagine how any Western Conference team would feel playing in the East. Plus, we wouldn't be giving up all of our depth.
13
LA
Clippers
(31-21)
Last week:
1-2
Last rank:
N/A
Look, I get it, the Clippers have struggled without their superstars. Once CP3 get backs and healthy, I think the Clippers will be much more like the team that started the season so hot, and less like the team they are now.
This article originally appeared on