Power ranking NBA Western Conference point guards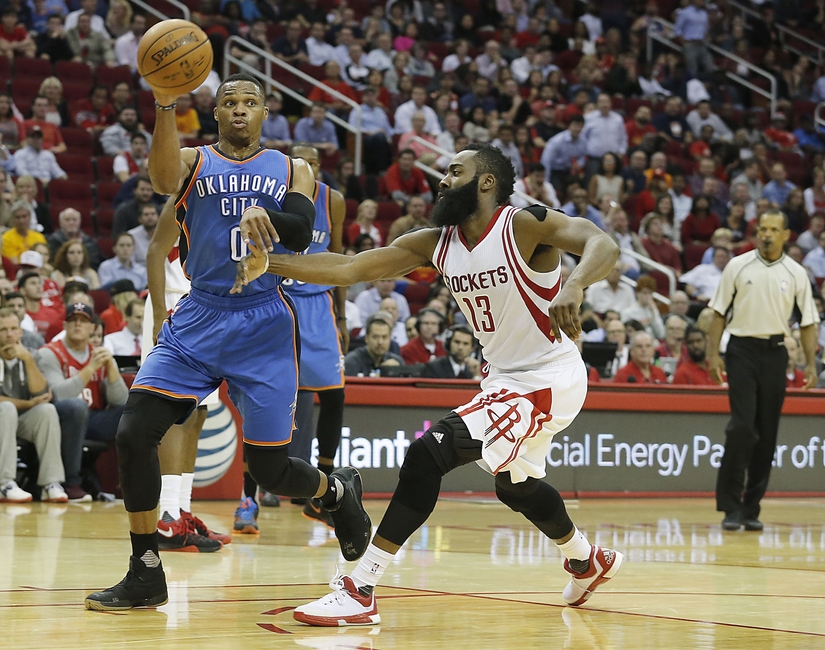 The NBA is immersed in its golden age of point guards and the Western Conference has some of the best.
The talent at the point guard position has helped revolutionize the NBA in recent years. As a result, nearly every team has a franchise floor general; only the 76ers, Bucks, and Kings haven't invested highly into one.  Play has sped up, scoring has increased and the game has been brought out to the perimeter as point guards dominate the ball more and more. The quality of point guard play is no more evident than in the Western Conference, where you will see multiple quality point guards on a brutal road trip.
With the conference stacked from top to bottom with playmakers, a simple All-Star nod at guard will be a great honor this year. But with so much talent, it's not entirely clear who the best ones out West truly are.
Fans of the NBA will look back at this era and wonder just how so many great players ended up playing against each other in the same conference. Power ranking Western Conference point men is a topic that is hotly debated, but we've got the answers for which have been the best in the 2016-17 season.
Western Conference Point Guard Power Rankings:
15. Darren Collison, Sacramento Kings
14. Emmanuel Mudiay, Denver Nuggets
13. Tony Parker, San Antonio Spurs
12. Deron Williams, Dallas Mavericks
11. De'Angelo Russell, Los Angeles Lakers
10. Ricky Rubio, Minnesota Timberwolves
9. George Hill, Utah Jazz
8. Jrue Holiday, New Orleans Pelicans
7. Eric Bledsoe, Phoenix Suns
6. Mike Conley, Memphis Grizzlies
5. Damian Lillard, Portland Trail Blazers
Prior to last season, many expected the Portland Trail Blazers to miss the playoffs and rebuild after losing four starters in the offseason. But Damian Lillard didn't want to rebuild, so he brought his game to the next level, increasing his scoring by over four points per game. His defense improved and he notched a career-high in assists. The season culminated with a Second Team All-NBA nod and the Trail Blazers won a surprising 51 games.
Lillard emerged as a true franchise star last year.
Thus far this season, Damian Lillard has improved again. His scoring is up to what would be a career high 28 PPG. However, Portland has struggled without power forward Al Farouq Aminu and have had their issues so far. Despite that, Lillard and C.J. McCollum continue to show why they are one of the league's premier backcourts; they keep the Trail Blazers afloat. If Portland resolves some of their issues, they will match or exceed last year's success on the strength of their franchise player.
Key Statistics
28 ppg, 4.8 rpg, 4.5 apg, 24.8 PER, 32.2 Usage
11th in Win Shares, 15.2 Player Impact Rating, 34.9% from three
Trail Blazers 8-7
4. Stephen Curry, Golden State Warriors
Placing the defending unanimous league MVP fourth in a power ranking of players at his position in his conference is ridiculous. But, the Western Conference point guards are ridiculous.
Stephen Curry has played at an All-Star level this year; he is ninth in the league in scoring despite a lower usage rate than last year. But other than a historic night against the Pelicans, Curry just hasn't been as electric.
The arrival of Kevin Durant, one of the most talented players on the planet, was naturally going to make Curry's numbers dip this year as his usage goes down. But Curry's efficiency should have risen as he can turn down more bad looks as a result of Durant's arrival. And yet the exact opposite has happened so far.  He is shooting a career-low percentage from three and isn't playing at the same level of the last couple years.
The season is still young and Curry may just be taking time to adjust to playing with Kevin Durant. Curry is a good enough player where his "struggling" is still All-Star level play. Despite his dip in play, the Warriors are 12-2 and playing at a high level. But given what we've seen so far in the 2016-17 season, Chef Curry is the fourth best point guard out West.
Key Statistics
26.4 ppg, 3.8 rpg, 6.0 apg, 25.2 PER, 29.7 Usage
Ninth in Win Shares, 14.6 Player Impact Rating, 40.09% from three
Warriors 12-2
3. Chris Paul, Los Angeles Clippers
Most players don't improve noticeably at the age of 31. But then again, most players aren't Chris Paul. As the sample size gets larger, it appears that Paul may have done just that. During an offseason in which he needed to rest a fractured hand, he decided to get Lasik eye surgery and it may have drastically improved his outside shooting. He's shooting a career-best from three by four percent (44.3%) and is playing some of the best basketball of his career.
The Los Angeles Clippers have taken the league by storm thus far this year. They are 13-2 and have had numerous blowout wins. They're averaging the second-most points per game on offense and allowing the third least. Their point differential is best in the league by three points. Los Angeles is firing on all cylinders.
If the season ended today, Paul may very well be MVP. Already arguably the most complete point guard in league history, his improved shooting could have brought his game to a new level. The Clippers playing at this level are real NBA title contenders. Chris Paul isn't ready to hand the West over without a fight.
Key Statistics
18.4 ppg, 5.2 rpg, 8.6 apg, 29.9 PER, 24.4 Usage
First in Win Shares, Second in Box +/-, 21.6 Player Impact Rating,44.3% from three
Clippers 13-2
2. James Harden, Houston Rockets
First thing's first, James Harden is more of a point guard than a shooting guard. Patrick Beverley is the team's nominal point guard but is more of a shooting guard on the offensive side of the floor. Harden dominates the ball for Houston and creates plays of his own and for others. Accordingly, he is currently first in the league in time possessing the basketball. He finished sixth in the league in assists last year and is leading the league with 12.5 assists per game this year. Harden has become a point guard.
In 2015-16, Harden became the third player in league history to average 29 points, 7.5 assists, and six rebounds per game. He joined Michael Jordan and Oscar Robertson as the only players in league history to post those stats. At this point the season is still young, but Harden will probably eclipse those statistics. His nightly averages right now stand at 28.7 points, 12.5 assists, and 7.8 rebounds a game. Nearly every statistic posted by James Harden this year is remarkable.
Harden came into this season in the shape of his life and has reaped the benefits. The arrival of Coach Mike D'Antoni has helped elevate Harden's game to a new level. No doubt one of the league's premier playmakers, if he continues his current play then he can become more than that. Harden is one of the premier playmakers in NBA history.
Key Statistics
28.7 ppg, 7.8 rpg, 12.5 apg (league leader),31.0 PER, 33.3 Usage
Second in Win Shares, third in Box +/-, 20.4 Player Impact Rating, Second in Value Over Replacement
Rockets 9-5
1. Russell Westbrook, Oklahoma City Thunder
Russell Westbrook improves every summer and comes back and plays basketball at a higher level every season. Due to last year's First Team All-NBA selection, this was going to be hard to do this year. But Westbrook has matched or eclipsed his career highs in scoring, rebounding, assists, and three point percentage so far. Moreover, advanced metrics place him as one of the league's best defenders now, too.
Westbrook has taken over a larger role on the Thunder and become a better player at the same time.
Many fans hoped Russell Westbrook's numbers would be crazy with Kevin Durant out of Oklahoma City. And those people aren't disappointed. Triple-doubles are routine for him at this point. He is a few boards and points short of averaging a triple-double while leading the league in scoring. While some people will nitpick Westbrook, he has been an absolute force this year and is having a truly special season. Above all, nobody can say that he doesn't deserve to be MVP this year.
Key Statistics
31.6 ppg, 9.6 rpg, 10.4 apg, 31.38 PER, 40.8 Usage
Sixth in Win Shares, First in Box +/-, 22.8 Player Impact Rating (league leader), 44.7% field goal, fourth in Defensive Box +/-,  33.3% from three
Thunder 8-6
This article originally appeared on