Power Ranking Every Atlanta Hawks Player from 2016
Nile Goodwyn/FanSided via Soaring Down South

Fansided
22 different players suited up for the Atlanta Hawks during the 2016 calendar year. Who impressed the most? And who showed the fans the least in their time on the court?
2016 was an exciting year to be an Atlanta Hawks fan.
In order to really understand how the Hawks year went, there was only one way to dissect the year. The solution was ingenious; rank every player that played time for the Hawks during the 2016 calendar year. Dennis Schroder or Jeff Teague? Justin Holiday or Taurean Prince? Al Horford or Dwight Howard? Check the rankings and find out.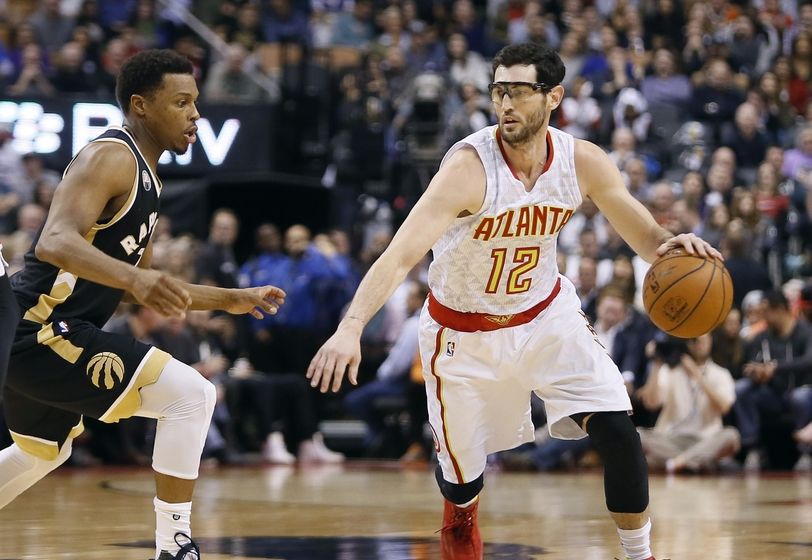 Tier 4
22. Ryan Kelly– 1.1 PPG, 1.1 RPG, 0.6 APG, 5.2 MPG, 12.2 PER in 9 games
21. Kirk Hinrich- 0.5 PPG, 1.0 RPG, 1.3 APG, 6.9 MPG, 6.2 PER in 11 games
Hinrich and Kelly, in 2016 at least, were nothing other than roster fillers. They played a combined 115 minutes, or 2.4 full games. Kelly was brought in during the 2016 training camp, and played in six preseason games, averaging 4.8 points and 2.7 rebounds in 14.9 minutes per game. He was re-signed on October 31st, after Edy Tavares was released. He has played in nine games as a Hawk, so far, averaging 1.1 points per game.
Hinrich was acquired during the trade deadline, in a three-team deal that saw Justin Holiday and Shelvin Mack being shipped off to Chicago and Utah, respectively. Hawks fans have thought negatively of this trade as time goes on, especially as Mack and Holiday prosper with their new teams. Meanwhile, Hinrich was not re-signed after the season, and is currently a 35-year old free agent.
Tier 3
20. DeAndre' Bembry – 2.3 PPG, 1.1 RPG, 0.2 APG, 7.3 MPG, 6.3 PER in 11 games
19. Edy Tavares – 0.5 PPG, 1.0 RPG, 1.3 APG, 6.9 MPG, 6.2 PER in 11 games
18. Taurean Prince- 1.1 PPG, 1.1 RPG, 0.6 APG, 5.2 MPG, 12.2 PER in 9 games
17. Lamar Patterson– 0.5 PPG, 1.0 RPG, 1.3 APG, 6.9 MPG, 6.2 PER in 11 games
16. Justin Holiday- 1.1 PPG, 1.1 RPG, 0.6 APG, 5.2 MPG, 12.2 PER in 9 games
15. Shelvin Mack- 3.8 PPG, 0.9 RPG, 1.3 APG, 6.1 MPG, 15.4 PER in 12 games
14. Malcolm Delaney– 5.4 PPG, 1.6 RPG, 2.6 APG, 16.4 MPG, 7.0 PER in 32 games
13. Tiago Splitter– 5.6 PPG, 3.5 RPG, 0.8 APG, 16.2 MPG, 13.7 PER in 13 games
12. Mike Scott-3 PPG, 3 RPG, 0.1 BPG, 11.9 MPG, 9.18 PER in 7 games
This group is mostly filled with players whose opportunities were not consistent enough. In Bembry, Prince, and Delaney's cases, their numbers will be continued to be called even more during 2017. In limited time, all three have impressed, to an extent, and in case of injury, the three will likely be given abundant opportunities.
On the other end of the spectrum, Tavares, Patterson, Holiday, and Mack were never given the time they needed to produce. They were only given playing time during blowouts, and in the instance of injury. Mack and Holiday were traded for Kirk Hinrich, and are now producing at a high-level with their new teams. Tavares was released by the Hawks early in the 2016-17 season, and has been a game-changer defensively for the Raptors' D-League team, Toronto 905. Patterson is also wrecking the D-League, averaging over 21 points per game for the Reno Bighorns.
Splitter's time, as of now, has been a huge disappointment. Injuries upon injuries have made him nothing more than a "what-if" for fans. In his 20 appearances in 2016, he scored in double-digits 3 times, and looked to fit in well in the rotation. Going into 2017, it seems as if Splitter's return, if it ever happens, won't be a factor in Atlanta's overall performance.
Scott's situation is about the same, as Kris Humphries' addition to the team and lingering injuries had him relegated to the bench. When he did play, though, he was electric as usual.
11. Kris Humphries
5.4 PPG, 3.2 RPG, 0.6 APG, 0.4 BPG,14.8 PER,12.4 MPG in 43 games
When Humphries was brought in on March 1st, 2016, no one could have known his impact. Though he is a talented player, his Kardashian-tainted personal life has led to him becoming nothing more than a joke to some. Hawks fans quickly learned that "Hump" was not a joke. In fact, his rugged play has erased any ideas of "softness" that fans could have. He has temporarily replaced Mike Scott in the rotation with his surprising outside shooting touch and tough play in the trenches.
8.1 PPG, 1.8 RPG, 1.2 APG, 0.4 SPG, 12.1 PER, 18.8 MPG in 77 games
Hardaway Jr. barely escaped Tier 3, but with a strong start to the 2016-17 season, he eclipsed his peers. His scoring numbers are watered down by a 2015-16 season where he averaged just over 6 points a game. His 11 points per game in his later months of the year, if it had been sustained all year, would place him 7th on the team, just ahead of Kyle Korver. An increase in minutes (16.9 in 2015-16 to 21.8 in 2016-17) has made Hardaway much more valuable than players found below him, yet a slow beginning puts him behind more integral players.
4.9 PPG, 2.6 RPG, 0.9 APG, 0.5 BPG, 14.5 PER, 13.5 MPG in 65 games
Atlanta's best kept secret has finished off 2016 supremely well. His year began as the fourth or fifth big man on the roster, and he finished it as arguably the third. For an extended period of time, he was the best shooter in the league, percentage wise. During the 2016-17 season, Muscala has averaged 8.1 points per game, while shooting a scorching 43 percent from the three-point line. He has also assured that when and if Tiago Splitter returns, his job will not be in question.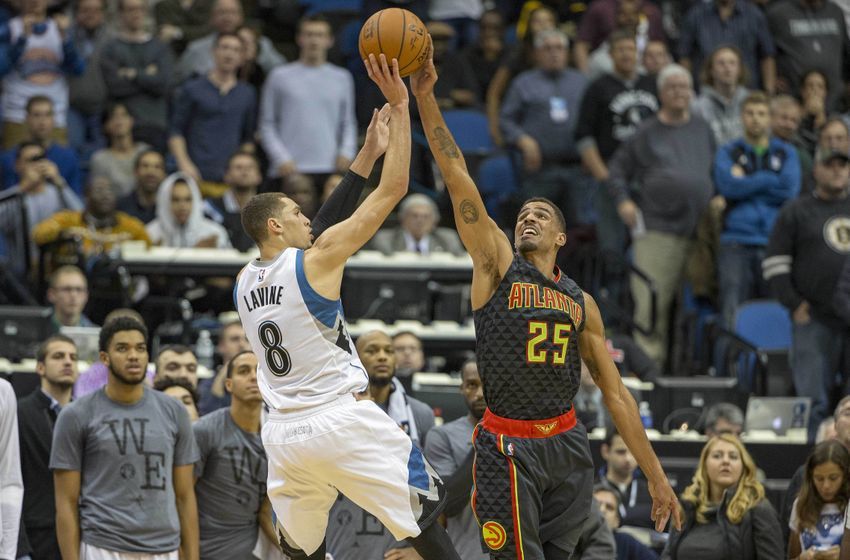 6.9 PPG, 4.6 RPG, 1.5 APG, 1.4 SPG, 24.2 MPG, 13.0 PER in 74 games
The Hawks' resident perimeter stopper, Sefolosha has been locking down the opponent's best scorer for all of 2016. Along with an effective, yet not flashy offensive game, Sefolosha has become many Hawks' fans favorite role player. His 6.3 Win Shares rank him 3rd on the Hawks over the past year, only behind Paul Millsap and Al Horford. This shows that while many fans overlook him, he has likely been the glue that held the Hawks' reserves together.
7. Kyle Korver
9.2 PPG, 3.1 RPG, 2.1 APG, 40.2 3P%, 29.5 MPG, 9.8 PER in 77 games
Korver, while declining at a visible rate, was still a huge key to the Hawks' 2016 success. At 35 years old for most of the year, Korver wasn't expected to be anything more than a pure deep-range dead-eye shooter. He lived up to this well, shooting 40 percent from behind the arc on five tries per game is extremely effective. Towards the end of the year, Korver has been relegated to a reserve role, in which he is allowed to shoot, and be more of an important part of the offensive sets. May a 36-year old Korver be able to win the Hawks games with his supreme stroke in 2017.
6. Dwight Howard
14.4 PPG, 13.0 RPG, 1.2 APG, 1.4 BPG, 28.9 MPG, 23.3 PER in 27 games
Howard has proceeded to change the Hawks as a franchise since he was signed early in free agency during the summer of 2016. Unlike Al Horford, Howard grabs rebounds and strikes fear into his opponents in the paint. A return to his hometown seems to have given him a new outlook on life, and the game. In Houston, he was accused of "not caring about the game". Now, in Atlanta, he is arguably the most passionate player on the court. His 25.2 percent rebound percentage, which tells the percentage of available rebounds that a player grabs, is currently 1st in the league, and his 4.7 offensive rebounds per game leads the league as well.
11.2 PPG, 4.5 RPG, 2.4 APG, 27.7 MPG, 12.2 PER in 76 games
Bazemore is a rarity with 2016 Hawks; he was rewarded for his progression and success. A four-year, $70 million contract greeted Bazemore early in free agency, after he became a high-level starting small forward in the NBA. 2016 was a big part of his breakout, as he started all but three of the games he participated in. His streaky shooting was detrimental at times, but his pesky defense made him worth every penny.
4. Jeff Teague
15.6 PPG, 6.0 APG, 2.7 RPG, 1.2 SPG, 27.9 MPG, 17.9 PER in 48 games
Teague was the pinnacle of Hawks point guard perfection for nearly three years, from 2013-2016. In 2016, he was coming off a 2015 where he made the All-Star team. In 2016, he played just as well, but the team as a whole had lost some of its luster. With this, Teague was forgotten, and placed with some of the league's other "average" lead guards. His numbers stated much more. 16 points and 6 assists per game is much more than average, and when he matched up with the elite guards of the league, he went out of his way to prove how "average" he was. Ask Kyrie Irving, who Teague dropped 28 points on in their April 1st match-up.
3. Dennis Schroder
12.9 PPG, 4.9 APG, 2.7 RPG, 0.9 SPG, 23.3 MPG, 16.1 PER in 80 games
This may be one of the more controversial selections of this list. Putting Schroder over Teague is equivalent to putting Steve Young over Joe Montana. The forefather of Hawks point guard play in the 2010's being placed under his protege? In short, Schroder's placement came down to one detail: games played. After being Teague's backup for the beginning of 2016, Teague was traded to Indiana, and Schroder has started every game since. His game has elevated even more recently; in December, Schroder is averaging 20.6 points and 6.9 assists per game, while shooting 51percent from the field.
2. Al Horford
15.1 PPG, 7.3 RPG, 3.4 APG, 1.5 BPG, 32.1 MPG, 19.4 PER in 48 games
Horford's departure from Atlanta makes his lofty placement a tough pill to swallow. He did make the 2016 All-Star team, being one of two Hawks to do so (Paul Millsap). His versatility in nearly all facets of the game made him invaluable. The Hawks ended the season as the second-best defense, only behind the San Antonio Spurs. In comparison, Dwight Howard, who is "much better defensively" has the Hawks at 9th, which is still great. But, any Hawks fan could ask themselves "What if Horford stayed over Howard?"
1. Paul Millsap
17.1 PPG, 8.8 RPG, 3.3 APG, 1.5 BPG, 1.8 SPG, 32.8 MPG, 20.6 PER in 75 games
Who else? The Anchorman surely lived up to his nickname for the Hawks in 2016. Millsap was consistently the most impactful player for Coach Budenholzer over the span of 12 months. He was arguably a top-three player in the Eastern Conference, yet was kept under the radar due to his non-flashy style of play. He led all Hawks in Win Shares with 12.6, eclipsing the second-highest by over 3 (Al Horford, 9.4).
This article originally appeared on