Power forward remains a concern for the Miami Heat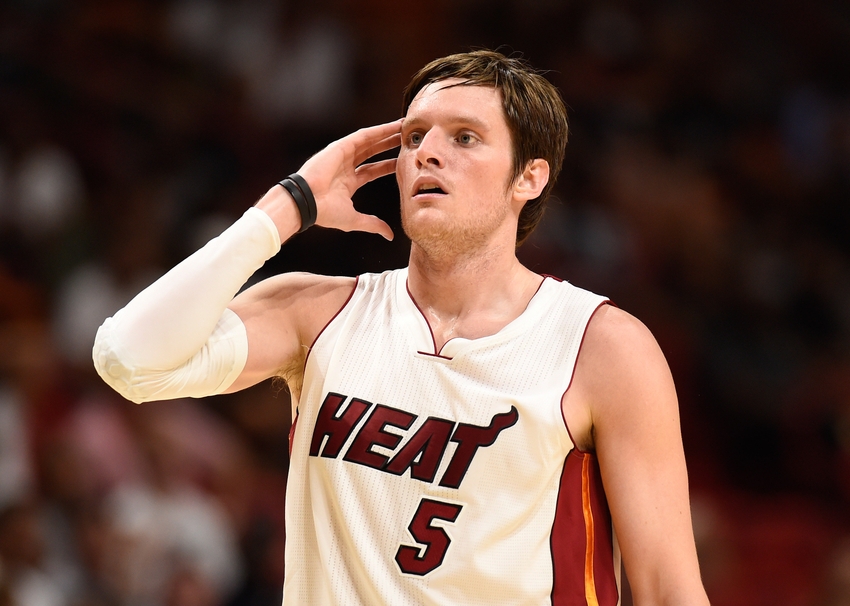 Luke Babbitt has started the first three games for the Heat – should they persist with him?
Although the Miami Heat's season is just three games old, some aspects to the team have quickly come to the surface.
As expected, Hassan Whiteside and Goran Dragic have been the standout performers of the team. Whiteside has produced at an all-star level, posting averages of 21.7 points, 14.7 rebounds and 3.3 blocks per game. Dragic, meanwhile, has averaged 18.3 points and 6.7 assists per game whilst shooting at 46.2 percent from beyond three. However, having lost the past two games, some other areas of the Heat's rotation are going to need to be addressed.
One such area is the 4 spot vacated by Chris Bosh's untimely departure. Through three games, sharpshooter Luke Babbitt has taken the mantle. He is averaging 6.7 points, three rebounds and two assists in 21.3 minutes per game. And although Babbitt has hit at a 40 percent clip from three-point range, he is just 1-of-6 for shots taken beneath the three-point line.
Granted, Babbitt is in the lineup primarily as a floor spacer. His spot on the floor allows the guards the freedom to drive to shoot/dish, and also gives Whiteside the room to maneuver down low. Besides averaging two made three-point point baskets per game, Babbitt's other contributions leave a lot to be desired.
The latest game against the Spurs showed how good defensive teams are going to have their way against Babbitt. Multiple times during the game, Babbitt would catch the ball only to pump-fake and not release a shot, such was the close-out proficiency of the Spurs. And if he were to drive by his opponent, he has shown to this point virtually no other scoring option.
Over the first three games, Babbitt has received just one pass in the post area. Further, he has received just one pass in the paint whilst receiving zero passes on the elbow, per NBA.com. In simple terms, this means he is roaming around the three-point line, either receiving a pass or standing as a decoy. The Heat may get away with this tactic against the likes of Orlando in the opening game. But once the opposition gets stiffer, things do get a little tougher.
Furthermore, on a per-36 minutes basis, Babbitt is producing is just 11.3 points per game. If the Heat persist with this lineup, Babbitt's versatility is going to continue to come under question. The instant drop off in versatility from Bosh to Babbitt has been pronounced.
The next option the Heat have used at this spot has been another newcomer, James Johnson. Johnson impressed in the first up victory over the Orlando Magic, posting 11 points and six assists including 2-of-4 from downtown. His past two games, however, have been a disaster. Over these two games, in 18.7 minutes per game he has produced zero points on 0-of-8 shooting and averaged four rebounds per game.
However almost as alarming has been Johnson's net rating. Against Charlotte, the Heat had an offensive rating (number of points scored per 100 possessions) of 74.2 and a defensive rating of 99.2  (number of points allowed per 100 possessions) when he was on the floor, per NBA.com. This equates to a net rating of -25 points. In the most recent game against San Antonio, the Heat had an offensive rating of 90.1 and a defensive rating of 123.5 when Johnson was on the floor. This equates to a net rating of -33.4.
So whilst Babbitt has made very little impact, his backup in Johnson has fared no better. Which leads to the other option the Heat have at this option. Derrick Williams was brought in this offseason on a one-year deal, certainly keen to try and find a home and establish his career. When Bosh went down, most people would've thought this would represent a tremendous opportunity for the former No.2 overall pick. And although he started in four of the eight preseason games, Williams has yet to play a single minute through three regular season games.
Starting in place of Babbitt in the preseason due to injury, Williams certainly displayed the most versatility and seemed to complement the other players on the floor. Granted, Babbitt is starting primarily as a knockdown three-point shooter. However, Williams does (somewhat) possess three-point range and certainly has more to bring to the table, such as his athleticism and ball handling abilities. The merits of providing Williams with an opportunity should certainly be explored.
It will be interesting to monitor how the Heat and head coach Erik Spoelstra play this out moving forward. The Heat will soon be welcoming back shooting guards Josh Richardson and Wayne Ellington from their respective injuries. One possible reason for Babbitt starting is that Spoelstra wants a legitimate three-point specialist on the floor with the starting lineup. Current starting 2 guard Dion Waiters certainly does have three-point range, but his role is more as a creator off-the-dribble. It could be argued that he and Williams possess similar skill-sets. Therefore, they don't give the unit the same balance if they are sharing the court.
It's also worth noting that Josh McRoberts is still working his way back from injury, and could provide another option at the position.
It is commendable that Spoelstra and his staff have a rotation they think will work. They will give these players the confidence and time to work things out. But if the contributions of the last two games continue, they will quickly need to reassess their plans.
This article originally appeared on